oday is my soon-to-be six-year old daughter's first day at school.
Or is it her last day of childhood?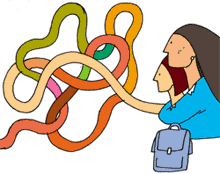 My heart is heavier than her new, big-girl schoolbag as I see her off at the bus stop. Playschool, nursery, kindergarten -- those are mere preparation for separation.
Class One is the rough, rigorous, Real Thing.
 
Twenty-odd workbooks, textbooks, notebooks. As we sat covering them in regulation brown paper, I noticed they were a lot more colourful and child-friendly than the schoolbooks I remember.
Still, they seem like way too many, especially to carry back and forth.
Not long ago, CBSE asked the 6,000 schools across the country following its syllabus to reduce the school bag burden. "Schools should also not set any homework for students of Classes I and II," CBSE Director (Academics) G Subramanian said in a circular.
Some schools are making provisions for lockers. Most aren't.
What is most frustrating is that what you feel on such issues -- as a parent -- really doesn't matter. You may be a 'consumer' of education, paying a pretty hefty fee, but the general attitude of schools is 'take it or leave it.'
No doubt the school cannot satisfy every pushy parent, but the more fundamental issue is about balance of power. And that lies squarely with the educators.
I wonder whether it is partly to compensate for the fact that teachers -- even principals -- are one of the lowest-paid professionals in society.
There are times when I swear I can hear the teacher thinking, "Doctor/ Manager/ IAS officer, idhar sab ek samaan (it makes no difference). Here, you gotta dance to my tunes."
One-size-fits-all education
Every child is unique. Unfortunately, this uniqueness is subsumed in a completely standardised system.
Sure, there are some alternative schools. Rishi Valley, Mirambika and the like. But they are too few and far between to be an option for everyone.
At the regular schools, the ability to quickly ingest, digest and expel information is what really counts. Some kids 'pick up' and retain lessons easily. Others don't. But both kinds of kids are in the same class, learning at the same pace. Neither is happy with that.
The keen and quick learners end up bored. Everything is moving much  too slow. Where's the challenge?
Meanwhile, there are kids who are finding it hard to cope. Some are slow learners, others are distracted.
"Mere bete ka man padaai mein nahin lagta (My son's heart is not in his studies)," wail parents. To make matters worse, these kids are then sent to tuition teachers, who further sap the life and any latent love of learning out of them.
Do we need to know so much?
A wise man once said, "The aim of education should be to teach us how to think, not what to think. To enable us to think for ourselves, rather than to load the memory with thoughts of other men."
But NCERT -- and the other powers-that-be -- think otherwise.
Most school syllabi appear to be training our children for the Bournvita Quiz Contest and India's Child Genius. They cram irrelevant-to-your-future-life information into young heads.
Sure, you and I survived the mental carpet-bombing, but didn't a tiny little part of you hope that future generations would be spared?
All I remember of years of history, geography, science and Mathematics (and I was the school topper) are the few important details making up the Big Picture: Photosynthesis, Mughal invasion, Eskimos-live-in-igloos, that kind of thing. My entire recollection of geometry boils down to two Ps: Pi and Pythagoras theorem.
Here is what really irks me: while five-day weeks are the norm for working adults, seven and eight-year olds are attending school on Saturday! How vast and unending must the CBSE syllabus be to require that!
Preparing for what?
"Give me six hours to chop down a tree, and I will spend the first four sharpening the axe," was how Abraham Lincoln once famously described the purpose of education.
Lots of sharpening happening in our schools, but with no idea what trees we will be cutting.
In India, school is essentially a compulsory training ground for the Academic Olympics. We have to learn to solve quadratic equations and master organic chemistry, just in case we want to take up engineering at age 16.
Even if we know, at age 12, that we have no talent, stamina or inclination for it.
Even if this means, at age 6, a child with barely a couple of hours in a day -- squeezed in between schoolwork and homework -- to call her own.
Issues -- small and big
Ever noticed the standard Indian school uniform? It is awfully uncomfortable and unsuited to Indian weather. Pinafores, ties, socks and closed shoes.
A few, very few, schools have used common sense to modernise their uniforms. Most couldn't care less. This is the way things have always been. Why change?
Because you know what, even the vast majority of parents are uncomfortable with the idea of doing things differently. To middle class India, excellence at exams is a fundamental and elemental aspiration. It is what, we believe, makes us different from those lazy Americans.
But all said and done, the American school system is a universal one. Every child of school-going age must, by law, complete high school. Since not all kids aspire to go to college, there are different paths available to students.
Beyond some basic English, Math, History, you have the choice of taking easy courses. Enough for a career as a car salesman. Or tough ones leading you to college.
The Indian Board Exam system -- whether SSC, ICSE or CBSE -- is not designed for universal education. But to educate 'People Like Us'.
People whose kids must go to college, preferably a professional one. People who have the ability to assist their kids to 'excel'. Or pay someone to do so.
Which is why even though 39% of the students who appeared for the Maharashtra State Board's HSC examination this year failed. But we don't care a fig.
The schools our kids go to -- the 'good' ones which carefully select kids of English-speaking parents -- generally manage a 99% pass percentage.
And to achieve the extra 1%, they will not hesitate to tell parents of weak students to take their wards elsewhere. To appear 'privately', and take 100% of the blame for flunking.
Signs of change
At last, there seem to be enough dissatisfied parents to constitute a 'market segment'. A number of schools in Mumbai have shifted from the State Board to ICSE to make their schools more attractive to yuppie parents.
While ICSE is generally considered to place more emphasis on creativity and less on rote learning, the academic pressures are no less. And classroom sizes remain rather large.
So a new generation of super-elite schools offering the International Baccalaureate programme have sprung up.
Which is great if you can spend a few lakhs on your child's school education, and several lakhs more for a college education abroad.
Else, like me, you will shop around for the 'best' school in your neighbourhood. And hope that your child -- like millions of other children -- will learn to 'adjust' and fit in with the system.
But is school supposed to be an experience you survive? Or a wonderful journey where young minds bloom and thrive?
Wish someone had the answers. Or at least more of us started asking these questions!
Rashmi's other columns:
Illustration: Dominic Xavier