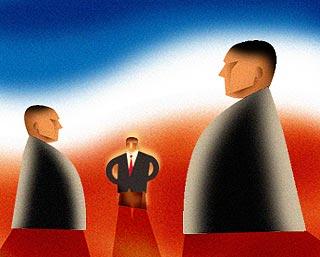 here are two kinds of MBA providers in India: The institutes and the institutions.
While practically every establishment calls itself an institute, only a handful can be called institutions.
 
The original pioneers of management education were all institutions -- no doubt aided by government generosity in land and resources, but also a founding vision.
There was a detailed thought process involved in creating the right academic environment and culture. While IIM-Ahmedabad was influenced greatly by the Harvard case study method, IIM-Calcutta went the more quantitative way, as it aligned with Massachussetts Institute of Technology's Sloan.
 
Management institutes and mission statements
Institutions invariably have inspiring (or bombastic, depending on how you look at it), mission statements.
So a Xavier Labour Relations Institute focuses on 'developing managerial competence, with an emphasis on developing a sense of social justice', while IIM-A aims to 'create new frontiers of knowledge', quite apart from the more visible output of management graduates. That is reflected in the faculty strength and its role, which is defined as more than teaching.
 
Contrast this 'institution' approach with the institutes that followed, whose prime objective was to cater to the rising demand for the MBA degree. The second wave of management education providers came in the late 1970s and early 1980s:
~S P Jain Institute of Management and Research (1981)
~Narsee Monjee Institute of Management Studies (1981)
~K J Somaiya Institute of Management Studies and Research (1984)
~Sydenham College (1984)
~Welingkar Institute of Management Development and Research (1977)
~Symbiosis Centre of Management and Human Resource Development (1978)
~Institute of Management Technology Ghaziabad (1980)
The objectives here were rather more functional. As the NMIMS web site notes it is committed to 'produce well-trained professionals who can take on the challenges and become modern day business managers.'
 
Nothing wrong in this practical, grounded approach.
Institution building does pay
However, there is clear evidence that the effort of institution building does pay. The one campus from the second wave lot which is today mentioned in somewhat the same breath as IIMs is S P Jain.
 
In the first decade of its existence, S P Jain was no great shakes. The Jamnalal Bajaj Institute was the undisputed leader, and NMIMS and Sydenham had an undergrad brand name to lean on.
Then, S P Jain took the bold step of going autonomous. Freed from the rigid university system, the institute was able to attract better faculty, innovate in curriculum and, most important, draw high calibre students.
 
While MMS institutes were bogged down by mandatory reservations, S P Jain stuck to an IIM-like merit-based admission policy. Summer training was redefined with SPJ students taking up 'socially relevant projects'. The resultant positive buzz was phenomenal.
 
S P Jain is today a worthy equal -- many would say even superior to -- a Bajaj. And former students say it is largely the vision and drive of one man: Dean M L Shrikant. During his tenure, S P Jain transformed itself from an 'institute' to an 'institution.'
 
An institute is essentially a teaching shop. An institution has added intellectual fizz. Yes, most institutions have resource jazz -- sizeable, good-looking campuses and cool infrastructure. But if that were all, any old moneybag could sire an
institution by hiring Hafeez Contractor and state-of-the-art laptops.
 
The X-Factor
Successful institutions possess the X-Factor. Through a combination of daring and skilfull positioning, they get the world to buy into their Dream.
 
There are no shortcuts in this game. Releasing full page advertisements every week in education supplements does not an institution make. Those who really 'dare to dream beyond IIMs' -- or at least dare to dream of giving them a run for their money -- do so quietly and without fanfare.
 
Take the case of MDI Gurgaon. It is one of the new stars on the businesss school horizon. For two decades, it was a training centre for practising managers, unheard of by students. Yet, just a decade after starting its post graduate programme, MDI has built up huge equity as an MBA destination.
MDI's media spend? Just a couple of admission notices a year.
 
Closely inspect the B-school ranking lists, and you will realise at once that an institution is essentially a trusted brand which can be leveraged.
IITs, for example, have successfully diversified into management education. Of course, IIT students themselves prefer the IIMs for the glamour and money quotient. But the engineers-only IIT B-schools are carving out their own niche as 'techno-managers.'
 
Similarly, the Indian Institute of Foreign Trade and the National Institute of Industrial Engineering now also offer MBAs. The mother brands impart a unique flavour to the programmes, making them more than a 'me too' MBA.
 
And, of course, the IIM franchise has been successfully extended with IIM-Kozhikode and Indore, achieving the kind of placements and brand buzz that most two-decade-old institutes would kill for.
 
A new positioning
Is the 'IIM' brand name invincible?
Yes, if you play by the rules they have set for the game. The new institution builders have to find new positioning, like the Indian School of Business, Hyderabad, did. It attacked the one 'Achilles heel' of the IIM model -- its major intake of fresh graduates.
 
ISB's one-year, work-experience only MBA was a clearly differentiated product. By aligning itself with GMAT, ISB at once established admissions credibility that was delinked from CAT.
But comparing ISB and IIM-A is comparing Aishwarya Rai and Sushmita Sen. Each has its own charm.
 
The future belongs to institutions which ride on a vision and serve a clear, definable customer need. The Mudra Institute of Communications, Ahmedabad, for example, fulfills the demand for high quality advertising professionals.
The problem is finding an enduring customer need -- an 'e-business MBA' has no takers today. Besides, most companies still prefer to recruit a good marketing brain from a credible institution over a super-specialised MBA in insurance or telecommunications.
 
Institution building is extremely hard work. It is a lot easier to view education as a business and maximise return on investment. All you really need to set up an MBA institute is a few classrooms and a bunch of 'visiting faculty.' If the IIMs are the Brahmins of the MBA hierarchy, the vast majority of B-schools are essentially merchants or 'baniyas.'
 
To the few attempting the brave and difficult path of institution building, my salutations.
You are the Kshatriyas, or warrior MBAs. Keep up the good fight!
Read Rashmi's other columns
The truth about MBA Cats & Dogs
The truth about IT Cats & Dogs
If you ain't a cat, don't worry!
Kya aap copywriter ban na chahte hain?
Illustration: Dominic Xavier