Rajpal Yadav is an unlikely hero.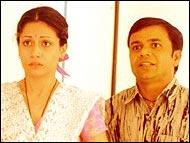 Here is a man who has nothing obviously striking about his personality. Yet, he shines brighter on screen than most conventionally handsome, muscle-flexing stars who stand taller than his tiny five-foot-nothing frame.
| | |
| --- | --- |
| | MMDBCH on rediff.com! |
| | |
An actor doesn't have to scream to be noticed, and Yadav proves this adage in editor-turned-director Chandan Arora's debut film,
Main Madhuri Dixit Banna Chahti Hoon
.
Contrast his onscreen unaffectedness with the performance of his leading lady, Antara Mali, who actually has the author-backed role and a made-to-order platform to showcase her talent.
She imitates Madhuri Dixit like she was born to the part. Her dances, mannerisms, hairdos and costumes are exact replicas of the 1990s screen goddess. But behind this glossy façade lives a small-town girl desperate to rise above her ordinary existence and follow in her idol's footsteps to become a famous star.
This is where Mali falls short of the mark. She is supposed to externalise not just Chutki's obsession with Madhuri, but also her desperation to be like her and her inability to cope with the pain and embarrassment she has to suffer in the process.
In these crucial moments of the film, Mali fails to step out of her own glamorous image and bring alive her character's inner turmoil.
But barring the shortcomings in her performance, MMDBCH is an immensely likeable film.
It is rare to find someone from the film industry painting such an unabashedly honest picture of its own idiosyncratic ways. Apart from Hrishikesh Mukherjee's Guddi, hardly has a film tried to take such a serious peek behind the outer glitz of show business.
Chutki, the uncrowned queen of the Gajrola nautanki, gets into a marriage of convenience with Raja (Yadav). That is the only way she can escape an arranged marriage with someone else and run away to Mumbai.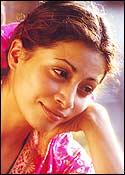 Raja, of course, is so much in love with her, he doesn't mind being used and even squeezes all the money he can from his overbearing father.
Only when they arrive in the city of dreams do they have their first brush with reality in the form of a slimy cabbie who extorts a huge sum from them before dumping them in the hands of an equally smooth-talking estate agent.
Gradually, Chutki and Raja are introduced to the gloomy side of the glamour world as they get thrown out of studios, laughed at for their naivete, and humiliated every step of the way.
A poignant picture of failure stands before them in the form of a next-door neighbour and one-time aspiring hero who eventually became an extra, but continues to work in the industry.
Another pathetic figure is Rumi, a typical wannabe who cons Chutki into believing that he is her passport to fame and tries to snatch her away from Raja. It is pretty obvious that neither Rumi nor anyone who hangs around with him will get anywhere in life.
| | |
| --- | --- |
| | More on rediff.com! |
| | |
Like thousands of others before her, Chutki refuses to give up hope and keeps doing the rounds of studios, waits outside producers' offices for hours on end, and even gets herself a brand new look. At Raja's expense, of course.
Arora gives his film an attractive visual quality without using glamorous sets, locations, or even popular stars. Also, unlike most contemporary films, MMDBCH does not suffer from the 'terrible second half' syndrome and keeps itself on track till the end. There are no jerks in the narrative on account of silly subplots or meaningless comic items.
Nitin Raikwar and Amar Mohile's lyrics and music are more functional than melodious, but suit the situations they are used in.
MMDBCH announces the arrival of a talented filmmaker and an actor to watch out for. Arora's command over the art of storytelling and Yadav's brilliant performance make this film a thoroughly entertaining experience.
CREDITS
Cast: Antara Mali, Rajpal Yadav
Director: Chandan Arora
Music: Amar Mohile
Lyrics: Nitin Raikwar
Producer: Verma Corporation, Entertainment One

Would you like to review this film? Here's your chance!