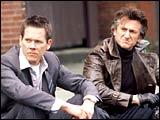 Starting with the image of three boys playing on a seemingly quiet street in Boston, Clint Eastwood's Mystic River quickly takes us on a chilling journey into three burnt-out souls.
You may not be able to walk out of the movie theatre soon after the film is over, simply because it is not easy to shake off this pulsating, gripping, mysterious, and disturbing film.
The early scenes in which one of the boys is ordered into a car seemingly driven by two plainclothes policemen and the concomitant sexual nightmare sets the tone for this brilliant study of guilt, punishment, and amoral behaviour.
Based on an acclaimed, best-selling novel by Dennis Lehane and an expert script by Brian Helgeland
(LA Confidential
),
Mystic River
deals with the fractured lives of three friends in a working class Boston neighbourhood and how, after many years, their lives are horribly entwined.
The film boasts of stirring performances from an ensemble cast, particularly Sean Penn as the father of a young murder victim.
Mystic River vies with Eastwood's 1993 Oscar-winner Unforgiven as his best film. Only a few of the 24 films he has directed have been unsuccessful.
Eastwood's new film more than makes up for some of the missteps he took in recent years in directing such disappointing films as Bloodwork. 
Admirable and engrossing though the new film is, the revelations at its end might confuse some. It could also be a bit disappointing for those who want a clear answer to what really happened to the lovely young woman whose brutal murder leads to calamitous events.
| | |
| --- | --- |
| | Also Read |
| | |
Even then, here is a film that will be widely discussed, admired, and cited as an example of a 73 year-old director being at the peak of his career.

For Warner Bros, the steady producer of Eastwood films, the new movie could become a medium-range hit (grossing about $60 million in America) and a strong contender for Golden Globe and Oscar nominations.

When Jimmy Markum's daughter Kate (Emmy Rossum) is found murdered, his childhood friend Sean Devine (Kevin Bacon) -- now a detective -- is assigned to the case. Sean thus has to go back into the world of violence and pain he thought he and his two friends had left behind.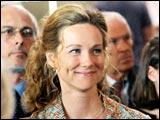 It also puts Sean on a collision course with Markum (Penn), a family man with a dark past. Impatient with the investigation, Markum is anxious to solve the crime with brutal justice. He enlists two of his criminal-minded buddies to help him.
Meanwhile, there are questions about why Markum hates Kate's boyfriend with intense vehemence. And then there is Dave Boyle (Tim Robbins), a man who hides several painful secrets. His wife Celeste (Marcia Gay Harden) doesn't believe his version of the injuries on his hand. Nor does another police investigator (Laurence Fishburne).

As the investigation continues, Celeste confides her fears in Markum, leading to a complex climax. As the film ends, Markum seems triumphant in a perverse way, with his wife (Laura Linney) looking up to him as a newly minted hero.
With the help of cinematographer Tom Stern's atmospheric work and his own brooding music, Eastwood creates an immensely dark yet colourful universe.
But with all the atmospheric touches, haunting music, and surprising twists, Mystic River would not have been a powerhouse movie, but for the solid performances by its six principal artistes.
Eastwood, himself an actor in more than 50 films, especially in the landmark Dirty Harry and Unforgiven, coaxes excellent performances even from his minor characters. Watch out, for instance, the last scene between Kate and her father Jimmy Markum. She has taken a momentous decision about her future and she wants it conveyed subtly to her father. Using an enigmatic smile and a few gestures of affection, she manages to suggest her decision to him. But he realises the importance of her hints only after she is dead.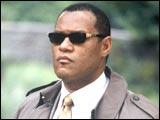 Penn, reminding us of some of the best work of giants like Marlon Brando in the early part of their career, offers a terrifying performance. He is at once sympathetic when he cries for his dead daughter, but as the screenplay peels one layer after another, we see his demonic self.
Penn makes those scenes scary, too. Though he has never been a big box-office star, Penn has excelled in such films as Dead Man Walking, Sweet and Lowdown, and I am Sam. But this is certainly his most potent work, slightly more hypnotising than his performance in the upcoming 21 Grams.
Watch out for Linney who, towards the end of the film, becomes a Lady Macbeth-like creature. Her part suddenly acquires a new dimension in the morally frightening last scene of the film.
As the deeply troubled Dave, who has to fight more demons than his childhood friends, Robbins relentlessly conveys his fears, apprehensions, and his own sense that he is doomed.
Bacon deftly conveys his dilemmas as Jimmy. He is initially reluctant to share the suspicions his partner Whitey (Fishburne) has about Dave. But as the investigation continues, he too is bugged by self-doubt. His task becomes even more difficult as his own personal life looks headed for serious trouble.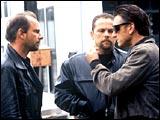 Leaving yet another unforgettable impression, Oscar-winner Gay Harden (Pollock) plays a wife who, at the end of the film, is haunted by her own guilt. Her best moments come when she calls out for her young son at a parade at the film's end. He is the only one she can cling to by then. And it is frightening to imagine what future the kid has.
Most characters in the film are beyond redemption, but not everything is bleak. Sean Devine, the police officer, seems to have good reason to look ahead to a fulfilling life.
Eastwood, having had the courage to tackle a multi-layered book, has joined a handful of Hollywood greats such as John Huston (The Dead), who showed remarkable resilience even when they were into their seventies.
CREDITS
Cast: Sean Penn, Tim Robbins, Kevin Bacon, Laurence Fishburne, Laura Linney, Marcia Gay Harden
Director: Clint Eastwood
Writer: Brian Helgeland based on a novel by Dennis Lehane
Running time: 2 hours 20 minutes
Rating: R for violence and language          
Distributor: Warner Bros