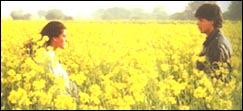 Her first book, Sholay: The Making Of A Blockbuster, sold 10,000 copies and even won the National Award.
Anupama Chopra's tale of the Ramesh Sippy classic starred the upcoming actor Amitabh Bachchan, his bride Jaya Bachchan, Dharmendra and Hema Malini, the hit jodi who were also romancing each other off screen, the jilted admirer Sanjeev Kumar (his marriage proposal was rejected by Hema) and struggling actor Amjad Khan.
The book soon found its way to the British Film Institute, which commissioned Anupama to write another one. This time on a modern classic. It was to be part of their extensive series of classics, featuring books on Thelma & Louise, Pulp Fiction and Independence Day.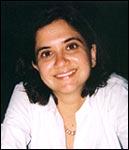 | | |
| --- | --- |
| | More on Anupama Chopra |
| | |
"They did not name any particular film. I chose to write on
Dilwale Dulhania Le Jayenge
because I thought it was a milestone in terms of what it did to Hindi cinema. It shaped Hindi cinema through the 1990s. It's also a personal favourite," Anupama explains.
Though the title is Dilwale Dulhania Le Jayenge: The Making Of A Blockbuster, the book is not about the making of the film. It simply analyses the film and why it worked. That differentiates it from her previous book.
"This book is different because, since it is meant for a non-Indian audience, I had to explain things that we Indians otherwise may take for granted. Like the background of the country and the Hindi film industry. The production part is just one chapter of the book, unlike in the previous book where it was entirely about its making."
She also admits that though she tries to analyse DDLJ in her second book, she is 'not really an academic'.
"A friend of mine called the book a fanalysis, ie fan analysis!" she laughs. "But that is okay because I am a fan. The book is not an academic deconstruction of the film. It only tries to analyse the film to see why and how it worked so well. That was a challenge because it took a step further than my Sholay book."
She interviewed a galaxy of people connected with the film, including director Aditya Chopra, parents Pamela and Yash Chopra, brother Uday Chopra, actors Shah Rukh Khan, Kajol, Amrish Puri, Farida Jalal, Anupam Kher, Parmeet Sethi, music directors Jatin-Lalit, writer Honey Irani, choreographers Saroj Khan and Farah Khan, designer Manish Malhotra, art director Sharmishta Roy, dialogue writer Javed Siddiqui, assistant director Karan Johar, publicist Rahul Nanda and many more.
Anupama also interviewed Kundan who has been selling tickets in black outside Mumbai's Maratha Mandir theatre ever since the film released in 1995.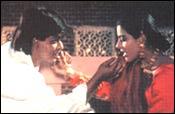 The author claims she had been trying to interview Aditya, or Adi as he is fondly called, for years as a journalist (Anupama is a journalist at India Today). The fact that her mother Kamna Chandra penned the story of the Yash Raj film Chandni, in which Adi was an assistant director, helped a lot.
Besides, her sister Tanuja Chandra was one of the writers of the Yash Chopra superhit Dil To Pagal Hai. Even then, Anupama had to 'twist his arm and remind him that this is a historical document' to make Adi talk.
Though Adi has given only one interview in eight years, the most interesting quotes came from him. "Adi is a very fascinating person," she says. "He is completely besotted with cinema. He showed me these notebooks that he has maintained from the age of 18. He watched every single film every Friday in the theatres and rate them in his notebook. He would also write his own critique of the film and predict its box-office ratings. Then he would compare his predictions with the real box-office ratings of the film. That way, he would grade himself on how accurately he could predict the box-office! It was great to see how his sensibility took shape over the years."
His love of watching films in theatres makes him elusive to the media. According to Anupama, it was very important for this young director to be able to go to the theatres and watch films like any other person because that's where he felt the honesty of his cinema comes from. If he was recognised and couldn't watch films in theatres, it would 'affect his aesthetics'.
Anupama spoke to the Chopras the most to get a feel of the film. Due to his hectic schedule, Shah Rukh Khan could only give her a few hours before taking a flight to London. "DDLJ is a film that Shah Rukh looks at affectionately because this was the film that made him a romantic hero. He was pretty much killing women before this film!" Anupama laughs, referring to his previous hits as an anti-hero, like Baazigar and Darr.
"You know, Shah Rukh did not want to do DDLJ in the beginning. He thought it was the typical loverboy kind of role. Adi had to really persuade him to do it. DDLJ established him. Though Shah Rukh and Kajol had done Karan Arjun before, DDLJ established this famous jodi. There is a poster in Adi's office in which Shah Rukh has signed, 'Thank you for making me the star that I am today'. I have ended my book with this," she says.
| | |
| --- | --- |
| | More on rediff.com! |
| | |
Kajol, on the other hand, did not remember much about the film. She had only done it because Adi was a 'good friend'.
Writing this book was much easier than the earlier one for two mains reasons, Anupama explains. "One, a lot of the key people in Sholay had died, like actors Amjad Khan, Sanjeev Kumar and cinematographer Dwarak Divecha. But the best part was that I could see DDLJ with the audience, since it is still running in the theatres. I could not watch Sholay on screen as it released in 1975."
That was an experience Anupama cannot forget. "It was amazing because most of the audience has seen it 50 times already. Yet, they still cheering, clapping and singing with the film!" she exclaims. "Even on a Monday morning, the theatre is housefull!"
But the toughest part, according to Anupama, was the research she had to do for the book. "I had to really read up on cinema and even analyse the film and the sociological context in which it became such a hit. To write about the making of a film is not difficult but it is tough to actually form an opinion and put your own thoughts down."
Not many know that Adi's second film Mohabbatein was actually written before DDLJ. Adi did not make it because he thought the subject was too mature for a debutant like him to handle.
Adi's initial version of DDLJ included Tom Cruise opposite an Indian actress because he wanted it to be an affair between an American and an Indian. Yash Chopra thought it was interesting though he did not want to make it. Later, Adi evolved the story and made the hero Indian.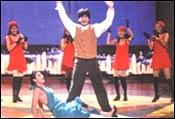 According to Anupama, father and son have their distinct styles of filmmaking, though there is common ground. "Adi has essentially taken the Yash Chopra style and put his own spin to it," she says. "But he is not as flamboyant or as bold as his father in the way he creates his women. The Yash Chopra woman is always in chiffons and pastels and is someone whom every woman aspires to be. Take Dhool Ka Phool -- it was about an illegitimate child and Trishul saw the heroine bear a child out of wedlock!
"Adi is actually very conservative. His idea that the two lovers must not rebel against the parents but must ask for their permission is very conservative. For a second-generation film person who went to [Mumbai's] Bombay Scottish School and Sydenham College to be so conservative, was very interesting."
How much did husband Vidhu Vinod Chopra (Mission Kashmir) help in this eight-month duration of writing the book? "Vinod thinks everything I write is brilliant so that's not much of a help!" Anupama laughs. "We have very different tastes aesthetically. Even though he has a lot of respect for Adi, he would never be able to connect to DDLJ like me. He doesn't respond to films as emotionally as I do. He responds to them as a craftsman. He looks at shots and the form. I look at emotion. But he is a great moral and financial support."
As an aside, the duo met on the sets of one of his films 1942: A Love Story, which was penned by Kamna Chandra.
For now, Anupama does not want to write books on films anymore: "I don't want to get into a pattern."
Click here for
More Features