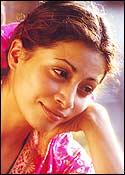 Antara Mali hates interviews.

She drawls uncomfortably and makes faces at the sight of your carefully researched questionnaire before finally agreeing to talk. "I think interviews should happen after a journalist sees a film. You have a lot to talk about then."
When you eventually wrap the interview, she exclaims: "It's over? Really? I didn't realise."
This petite 23-year-old is a refreshing change from her peers. While other actresses her age are busy lobbying for roles and publicity, Antara is content to lie low and work on unconventional movies like Company and Road. "I want to be proud of my filmography later," she says.
Antara, who is dressed in a short white kurta and fitted brown trousers, is under the weather due to a stomach upset. Sipping a tall glass of lassi (buttermilk), this Madhuri-Dixit-in-the-making talks animatedly to Sukanya Verma about her latest film: 
| | |
| --- | --- |
| | More on rediff.com! |
| | |
Main Madhuri Dixit Banna Chahti Hoon
-- interesting title, don't you think?
It's a relevant title. When I say relevant, I mean it's about a girl who wants to be Madhuri Dixit. She has lived Madhuri Dixit all her life. She has seen all her movies as a little girl. She dresses like her in nautankis [dramas].
For Chutki, Madhuri is God. Her dream in life is to be like her, to meet her, to be Madhuri Dixit. She aspires to be an actress and comes to Mumbai.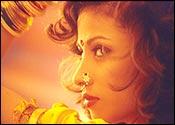 Is the subject similar to

Rangeela in terms of aspiration? Like Rangeela's Mili, Chutki too has starry dreams in her eyes.
I don't think so. Main Madhuri... is about this girl who wants to be Madhuri Dixit. She does not aspire to become a heroine.
Her goal is to look like Madhuri, dance like Madhuri and act like Madhuri. She even gets a part as Madhuri's duplicate in a film.
Have you ever felt like that?
Main
XYZ
banna chahti hoon
?
No, not really. But I wanted to be like Madhuri when I was young.
There is a striking resemblance between you and her in the Sailaab song sequence.
I have done four songs of hers [Dhak dhak, Maar dala, Ek do teen, Humko aaj kal] and you will find striking resemblance [between us] in all four.
| | |
| --- | --- |
| | Main Madhuri on rediff.com! |
| | |
It is basically the internalisation of a character which works. When I have to be Madhuri Dixit, I will look it. If there is a Shah Rukh Khan duplicate, he has to look like him. Else what's the point? Who was responsible for the look and the get-up?
Everybody. One person can't make it all happen. A costume cannot make you look like Madhuri Dixit.
The choreographer, my expressions, the designer's outfits -- everything together made it work.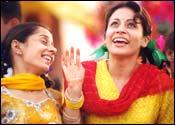 What kind of homework did you do for this role? Have you seen all of Madhuri Dixit films? Did you see some of them again to get the finer nuances?
Yeah, I have seen many of her films. You have to incorporate that style. You cannot ape an actress. It is important to get the style and technique. You internalise an actor and whatever he or she does.
Then, whatever song is played, be it a Madhuri song or any other, you still dance like Madhuri Dixit. I had to work as per that requirement.
What is Chutki of Main Madhuri Dixit Banna Chahti Hoon like? Is she very naïve or gullible?
Chutki is from a small village in Rajoura in Uttar Pradesh. I wouldn't say she is gullible. She is innocent. There is a purity about her. She has purity of heart. She has the purity of her conviction. And she has the creativity.
How did you bag the role?
Varma Corporation just called me and said, 'There is a role and this is the script. We would like you to do it.' They asked me if I was interested. I said yes.
What do you think of Madhuri Dixit as an actress?
We are making a film called Main Madhuri Dixit Banna Chahti Hoon. Obviously I think she is the bestest, greatest, most beautiful and most magical actress ever.
She is so warm, you know. You see her on screen and there is so much of charisma. It's magical the way she smiles and moves. Even if you see her back move, there is something about it. There is some intangible energy about her.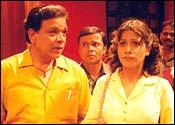 She is graceful and dignified. She never looks cheap or vulgar. She can do anything, yet look so pure.
I have worked with people who know her as a person. They have great stories to tell about her. They would keep telling me stories, 'She is so great', 'She is so good', 'She does it so well' and 'She is an amazing person'.
Have you ever interacted with Madhuri in person?
No. I haven't met her at all. But I hope to soon. Hopefully, this movie will be my ticket to meet Madhuri Dixit!
Your dad [

photographer Jagdish Mali] has taken such fabulous pictures of her.
But I was so tinnu [small]. I never attended a single photo session of my dad's.
Does

Main Madhuri Dixit Banna Chahti Hoon take a spoofish look at the film industry?
Absolutely not. It shows the industry as it is. It is not dark. It is not out of character. It is very real. Reality is not always dark or positive. It is somewhere in-between.
Where does
Rajpal Yadav
come in?
All I can say is Main Madhuri Dixit Banna Chahti Hoon would have been a very dark film without Rajpal Yadav's character, Raja. Not because he is doing comedy, but the role is such.
We are childhood friends who grow up together. He lets Chutki exist in her bubble. Because he loves her so much, he has utmost conviction in her. He protects her from things and situations that she has to face eventually.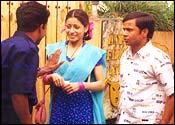 What was the experience of working with first-time director Chandan Arora like?
He is the best director I have worked with so far. Throughout the making of the film, Chandan was aware of what he was doing -- what would work, what would not. But he was open to everybody's suggestions. We made a great team because a lot of input is required from an actor and director for a film like this. I would know from his expressions whether the scene was working or not and vice versa. He was feeling the character as much as me.
The film has you as the central character. Are you excited or nervous?
More than anything, I am very interested to know what happens to the film. It is so beautiful. After watching this film, I don't think anyone will say, 'This is her film or his film'. They will come out of the theatres with a pleasurable experience.
You have worked with Ram Gopal Varma in quite a few films. Do you think in his films an artiste, irrespective of the duration of the role, has more scope to 'perform'?
Depends. A lot of actors have roles which stretch from the beginning to end but they don't register or make a mark. It depends on who you are. Like if you are an actor who has fire, you can work in any film and show that. It's your belief and talent as an actor and what you want to put across that matters.
You tend to keep a low profile.
There is nothing to talk about. I will do anything to help my film. The media doesn't really help you. Today, they are talking about me. Tomorrow, they will talk about someone else. There is always something or somebody who is topical. So that is not getting me what I want. My films are.
What next?
I am working on Prawaal Raman's Gaayab, co-starring Tusshar Kapoor, and Anurag Kashyap's Gulal, co-starring Kay Kay, Raja Chowdhury and Vijay Raaz.
Click here for
More Interviews