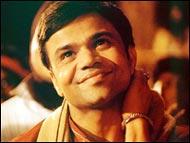 Rajpal Yadav is a believer.
He believes in doing his job earnestly and leaving the rest to God.
He believes Main Madhuri Dixit Banna Chahti Hoon is a stepping stone to becoming a lead actor.
He believes in filmmaker Ram Gopal Varma, his mentor, his godfather, as he calls him.
Varma gave Yadav a small break in Shool and Mast, followed by character roles in Jungle, Pyaar Tune Kya Kiya, Darna Mana Hai and, now, a lead role in his forthcoming production, Main Madhuri Dixit Banna Chahti Hoon.
| | |
| --- | --- |
| | More on rediff.com! |
| | |




The Kal Ho Naa Ho concert!
The Karan Johar show
Karisma-Sunjay: Clicked for life!
Ajay Devgan scores again!

Although the film centres on Antara Mali, Yadav plays the friend who helps her realise her dream.
Dressed in a floral cream and green shirt and military green trousers, with a striking Om pendant round his neck, Yadav was meeting the press in MMDBCH director Chandan Arora's suburban Mumbai office.
In this interview to Sukanya Verma, the actor recalls his long journey from a small village called Kulra in Uttar Pradesh to Mumbai, the city of dreams.
Tell us a little about yourself. Where are you from?
In Uttar Pradesh there is a district called Shahjahanpur. Fifty kilometres from Shahjahanpur, there is a small, cosy village called Kulra, where my entire family lives. I did my graduation from Shahjahanpur and then took admission in Lucknow's Bharatiya Natya Akademi. I was there from 1992 to 1994. Then I joined Delhi's Rashtriya Natya Vidyalaya. I passed out in 1997.
I came to Mumbai the same year to try my luck in films. I got a break in 1999 in Ram Gopal Varma's Jungle. I won awards for Jungle. In the past two years I have worked in 20-22 films. Now, I'm waiting for the release of Main Madhuri Dixit Banna Chahti Hoon in which I have a lead role.
Were you always interested in acting?
Since I was a young boy, I was interested in nautanki [rural dance drama]. I used to participate in school programmes. When I was doing my BA [Bachelor of Arts], I had joined a theatre group in Shahjahanpur and worked there for two-three years. By the time I was admitted at the Bharatiya Natya Akademi, I was 100 per cent sure I wanted to be a part of films.
Was your family inclined towards the performing arts?
The atmosphere in my house wasn't of the creative kind at all. No one in my family is remotely connected with films. My father is a very sweet man. He has led a very honest life. Perhaps it's the result of his goodness that I am doing well in my career. My father had a lot of faith in whatever I was doing and in me.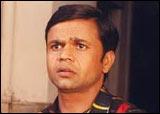 When did you decide to come to Mumbai?
After five years of training I had reached a point in life where I didn't know where to go next. Art hai, lekin aate ka intezaam hona bhi bahut zaroori hai [It is good if you are talented, but your talent must help you make a living]. There should be a place where the artiste is satisfied on the artistic and the materialistic fronts. He should not have to worry about fulfilling his daily needs.
In this respect, Mumbai is the best place not just in India but also in Asia. One can survive here as well as excel in one's chosen field. Thankfully, Mumbai ne mujhe badi pyaar se apni godi mein bithaya [Mumbai has been very nice to me].
Four of us came here from Delhi to make a living. We stayed together. Along the way, I made friends with the city as well as its people. My friends are also doing well. I have been lucky to get this break.
How did you get a break in films?
[Writer-director] Anurag Kashyap introduced me to Ram Gopal Varma during the making of Shool. A minuscule role in the film developed into a meaningful one and Ramuji was impressed with my work. His Mast was almost complete, but there was a small opening in it from me. When Mast released, Jungle was announced. And I was in it. I won two best villain awards for Jungle. For the first time in Indian cinema, a supporting villain won the award in the best villain category.
I have done almost 20-22 films as supporting actor. All these are mainstream films with Mahesh Bhatt, Subhash Ghai and GS Entertainment. The film I am doing now with Ramuji [MMDBCH] is my eighth film with him.
Do you feel you've become a recognised face because of your roles in Ram Gopal Varma's films?
Ramuji is the most important man in my life. You can say he is my godfather. I got my break through him. He was instrumental in getting me awards. Now, I am playing the lead in Main Madhuri Dixit Banna Chahti Hoon because of him. Nobody else can take his place in my life.
His casting is always perfect, that's why he manages to get the best from his actors. In that sense, he is a practical person, not an emotional one. It is his visualisation of a particular character that influences his choice of an actor, not considerations of friendship.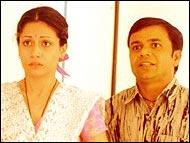 My relationship with Ramuji is still that of a student appearing for an examination. I strive to do my best, as it will lead to further progress.
Tell us about your role in Main Madhuri Dixit Banna Chahti Hoon.
The relationship between Raja [Yadav] and Chutki [Antara Mali] in MMDBCH is built on faith. A faith so strong that she is ready to go anywhere anytime if he accompanies her. There is no vested interest. Raja is a simple and honest man who adores Chutki. But she adores Madhuri Dixit. It is her dream, her aspiration, that finally becomes the goal of his life.
This is Chandan Arora's directorial debut. How is he as a director?
Chandan Arora is a very good captain. He has edited many films. He is a very good editor. You won't believe this is his first film. He was fully prepared with his shot division before he would can a shot. Since he already knew what he wanted from his actors, props and situations, he was always in complete command.
It was a team effort where everybody, including the producer, strived to give his best. I feel lucky to be a part of this unit. The audience is opening to novelty. And this is what is creating a niche for people and characters like myself. There was a lot of bonhomie and camaraderie during the shooting of this film, which reflects on the screen as well.
Is there someone you want to be like?
Main Indian Charlie Chaplin banna chahta hoon. Each of his gestures spoke volumes; even his pathos was full of life.
When you came to Mumbai and met Bollywood's big stars, what did it feel like? Were you excited or nervous?
I felt a sense of excitement when I encountered the stars. I was never nervous. I met Amitabh Bachchan on the sets of David Dhawan's Hum Kisi Se Kum Nahin (beaming). On the first day of the shoot, I went up to him and asked him not to be angry if I forgot my lines since I was born the year [1973] Zanjeer became a superhit. He has been a superstar for as many years as I have breathed on this planet. He guffawed and everything went smoothly after that. He has a lot of energy and dedication even at this age, which is a lesson to other actors.
I always remember what my teacher [theatre personality] Satyadev Dubey told me. He said: in life, neglect the bad experiences and savour the good ones. I have tried to take life positively.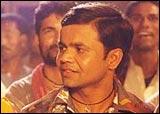 What are your expectations from MMDBCH?
MMDBCH will open a new chapter in my career. I am looking forward to doing many challenging roles.
What other roles do you have in the pipeline?
My forthcoming assignments include Love in Nepal, Kal Ho Naa Ho, Tanman.com and Tumse Milkar.
Can you name five actors you idolise?
Dilip Kumar, Amitabh Bachchan, Shah Rukh Khan, Aamir Khan and Naseeruddin Shah are my favourite actors.
Main Madhuri Dixit Banna Chahti Hoon releases on October 10.
Click here for More Interviews