t's been a long cherished dream: you want to study abroad.
You want to be exposed to the best education in an international atmosphere.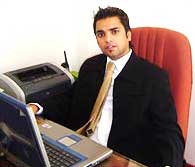 You want to know how to get started, what to do, and you have tons more questions!
This is where international education counsellor Karan Gupta steps in. Here are some answers to ourªreaders' queries:
I hold a Masters degree in Computer Applications and have been working for the last 10 months as a software programmer.
I want to do my MBA in the US. Could you suggest some good universities?
What are my chances of getting admission there and what will be the costs involved?
What are my chances of getting a part-time job or a full-time job?
- Pappin
The top 10 MBA universities, according to US News 2005, are:
Harvard University
Stanford University
University of Pennsylvania
Massachusetts Institute of Technology
Northwestern University
Dartmouth College
University of Californiaª-- Berkeley
University of Chicago
Columbia University
University of Michiganª-- Ann Arbor
The tuition fee for these MBA schools is approximately $36,000 (approximately Rs 1,571,940) per year.
You can work 20 hours a week while studying and can sometimes earn enough to pay for your living expenses.
Most of these universities have a loan programme, where you can get the entire cost of education as a loan.
Admission to these universities is very competitive and the average work experience of admitted students is around four to five years.
I am an IITªgraduate (Civil Engineering) and am now working with a leading IT firm in Pune, India.
I plan to do my MS in Autumn 2006.
Could you please suggest options where I could use my software experience to my advantage and get a scholarship?
Some seniors have suggested I could try Operations Research. Could you comment?
- Adesh
Northeastern University's web site states, 'Operations Research (OR) deals with the application of scientific methods to decision making. OR practitioners develop and solve mathematical and computer models of systems using optimisation and statistical methods. Students with a bachelor's degree in engineering, mathematics or science may apply for the MSOR degree programme.'
Computer Science, on the other hand, deals with programming, software and so on.
Since you have a non-CS background, you will have to take extra computer science classes at your college before you start the actual degree classes.
Students with your background also consider Technology Management and Engineering Management.
I am a final year engineering student and want to do my Masters abroad.
I have applied to universities in the US andªUK. My GRE score is 1300/1600.
I have gotªan acceptance letter from University of Sheffield, UK. It is ranked 6th in the UK in my field -- Electronics and Electrical Engineering.
I am waiting for a response from the US colleges.
How would you compare colleges in the UK and USA?
If I get admission into Texas A & M, Arizona or Drexel, should I goªfor them over Sheffield?
- Bharat
You can complete a Master's degree in the US in two years. You can completeªyour Master's degree in the UK in one year.
In the US, you are allowed to work for one year on your student visa itself after you graduate (under a programme called OPT).
For your course, Texas A & M, College Station and University of Arizona are well ranked universities in the US.
Drexel University is on par with University of Sheffield.
Read the course descriptions carefully and then make your decision.
How much would a graduation degree cost in US?
- Navin
A graduate Masters degree in the US ranges between $13,000 (approximatelyªRs 567,645)ªand $32,000 (approximately Rs 1,397,280) per year.
An MBA degree in the US ranges between $15,000 (approximately Rs 654,975) and $38,000 (approximately Rs 1,659,270) per year (tuition fees only).
These programmes span two years.
I am a final year engineering student, working as an intern at IBM.ªI have received multiple offers this year for a job that includes companies like IBM, GXS, TCS andªTAVANT.
I am interested in an MBA at MIT, Sloan School of Management.ªI would like to hear from you on this matter.
- Rohit
If you are looking for an MBA in the US, it is advisable to have at least two years of full-time work experience.
Now that you have multiple offers from reputed companies, weigh your options and finalise the best one.
MIT is a very competitive university. Besides significant work experience, you should have 'high' GMAT scores and a well prepared application.
To apply for the Fall 2007 term, start application procedures by August 2006.
DON'T MISS!
Got a question for Karan? Please write to us!