he world's most widely used undergraduate test has now changed.
If you plan to take the Scholastic Aptitude Test in May, you will need appear for the revised SAT.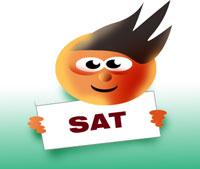 Gaston Caperton, president, College Board (the board that governs American colleges), states, "The current SAT I is the most rigorously and well-researched test in the world, and the new SAT I will only improve the test's current strengths by placing the highest possible emphasis on the most important college success skills -- reading and mathematics and, now, writing.
"The SAT II: Writing Test," he adds, "has given us the basis for now developing a new SAT I writing component."
SAT was last changed in 1994 and the previous SAT had 6 scored sections and 1 experimental section.
The Verbal Section of the previous SAT contained three kinds of questions:
Analogies (19 questions)
Sentence Completion (19 questions)
Critical Reading (40 questions)
Analogy questions test your vocabulary, ability to deduce relationships among words and the ability to recognise similar relationships in different pairs of words.
Sentence Completion questions test your vocabulary and your ability to logically fit sentences together.
Critical Reading questions (passages of about 450 to 800 words) measure your ability to read and think.
The earlier Mathematics Section contained:
Five-choice multiple choice (35 questions)
Four-choice quantitative comparisons (15 questions)
Student-produced response questions that have no answer choices (10 questions)
(Graphical, scientific and four-function calculators are permitted for the Math sections)
The new SAT will have the following changes incorporated:
1. Verbal Section will be renamed Critical Reading
Analogies will be completed eliminated and the emphasis of the test will now be on reading. Sentence completion questions will still appear on the new SAT.
The critical reading passages will have shorter passages (about 100 words). Double passages will also be present (200 words each).
Questions will be based on the relationship between two passages.
2. A Writing Section will be introduced, comprising multiple-choice questions and an Essay Section
The multiple-choice questions will be based on sentence correction and improving sentences and paragraphs.
The Essay Section will most likely ask the student to take a stance on a particular issue and discuss it with reasons, arguments, etc.
~ Essay Scoring
Two different readers grade each essay independently.
Essays will be scored on a scale of 1 (lowest) and 6 (highest). The average score that two readers receive will be the final one.
In case the score differs by more than 2 points, a third reader will be required to grade the essay.
3. Math Section will undergo radical changes
Quantitative comparison questions will be completely eliminated and math concepts like exponential growth, domain and range, equations and graphs, trigonometry and data interpretation will be tested.
Comparison between the previous SAT and the new SAT
Factor

Previous SAT

New SAT

 

 

 

Maximum Score

1600

2400

Essay score range

N/A

1-6

Math Section Time

75 min (two 30 min sections and one 15 min section)

70 min (two 25 min sections and one 20 min section)

English Section Time

75 min (two 30 min sections and one 15 min section)

70 min (two 25 min sections and one 20 min section)

Math Content

Algebra I, Numbers and Operations, Statistics, Probability and Data Analysis

Algebra II, Numbers and Operations, Statistics, Probability and Data Analysis

English Content

Critical Reading Section: Sentence Completion, Analogies and Reading Comprehension

Writing Section: N/A

Critical Reading Section: Reading Comprehension, Sentence Completion

Writing Section: Grammar usage, word choice and essays
Source: College Board
A summary of changes in the new SAT
i. A writing test will be added, including multiple-choice questions and a student-written essay.
ii. Analogies will be replaced by more critical reading passages from a variety of texts ranging from science and history to humanities and literature (what is now called the Verbal Reasoning Test will be renamed the Critical Reading Test to emphasise the importance of reading).
iii. The math test will be expanded to include topics from Algebra II, and quantitative comparisons will be eliminated.
The makers and changers of the SAT believe the predictive validity of the new SAT is higher than that of the old test.
In fact, the College Board recommends that colleges use the SAT essay instead of separate essays during college application essay.
The College Board is developing a system to allow the essay scores to be hidden or seen. This system gives students the option of showing or hiding their essay scores to the universities they are applying to.
Cost of the examination: $81.50 (Rs 3,565 approximately). The previous SAT cost about $58 (Rs 2,537 approximately).
Duration: 3 hours and 45 minutes (the previous SAT was approximately 3 hours).
So what will all these changes actually mean for Indian students? 
Helen Mathur, who trains students for SAT in Mumbai, states:
1. You will have to be more a proficient reader.
Vocabulary development will still be important, but the emphasis has shifted to reading and comprehension skills.
2. You will need to learn grammar and cultivate essay writing skills.
You will need to understand the style of writing and language usage that American high schools teach.
3. You will need to use some Math skills that are normally taught in Class XI.
Until now, you could manage with what you learnt in Class X. For the average student, the new SAT could be a challenge, but many students will find preparation for the new test more useful than simply learning up a lot of words.
4. The SAT is probably a better examination from the point of view of the colleges: SAT is supposed to be used as a predictor of college grades, and you do need good reading, writing, and reasoning skills to succeed in higher education.
Illustration: Dominic Xavier
Do you have a question for Karan? Please write to us!
Earlier Karan Gupta column
Karan Gupta is the founder of Mrijay International Education Consultants, which coaches students to study abroad. He studied at Ithaca College and the University of Texas at Austin. He worked at the Office of Admissions, Financial Aid office and the International Office, which gave him first hand experience into the workings of the admissions process for American Universities. Karan Gupta is currently the honorary study-abroad college counselor at Jai Hind College. He has written several articles on study abroad, loans, scholarships, visas and admissions.