very year, the clamour to study at American universities keeps increasing.
There is a reason why.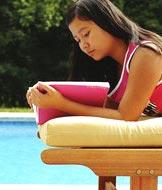 Let's take the advantages of undergraduate studies in the US.
1. Flexibility to choose your own programme
High school students at the age of 16 and 17 should not be expected to make a career choice.
If you choose engineering in India and, after a year, decide you do not like engineering, you will not be able to change your major.
If you do, you lose a year.
In the US, you can apply for a major called Undecided. And, after two years of taking classes in various streams, you can declare your major.
If you choose engineering, change your mind and decide to study philosophy, you are not likely to lose any time, and will graduate in the same time period.
Similarly, if you like two streams, say engineering and psychology, you can major in both and get two degrees in the same time period. This is not possible in India.
2. Versatility of the programme
When you graduate with a US degree, you not only have knowledge in your field of graduation, but also in other fields well. For instance, an engineering student will have to take a few classes in business or humanities. A business student will have to do some basic science classes to graduate.
3. Cosmopolitan outlook
The US attracts students from all over the world.
You get to study with international students and learn about different cultures and societies.
Your overall learning experience cannot be compared to what you will learn in an Indian institution.
Of course, a US education is expensive. You will have to look at funding for four years, since Bachelor degrees in the US span four years.
If you are academically bright, score well in your Scholastic Aptitude Test, you might qualify for funding from US universities.
Here are a few common questions I have come across and their replies.
I am studying in Class 12. I want to study engineering in the US. What are the top ten universities that I can apply to? What exams do I need for admission?
As per US News, 2005 rankings, the top 10 engineering universities in the US are:
1 Massachusetts Institute of Technology
2 Stanford University
3 University of California, Berkeley
4 California Institute of Technology
5 University of Illinois at Urbana Champaign
6 Georgia Institute of Technology
7 University of Michigan
8 Carnegie Mellon University
9 Purdue University
10 Cornell University
Also, think about your specialisation. Some universities are ranked higher for different specilisations. You may want to consider applying to those universities. While rankings could be one of the criteria to consider while applying to universities, it should certainly not be the only criterion.
When researching these universities, look at the programme content in detail and make your decision based on the programme.
Most of these universities need the SAT I and SAT II for admissions. Check with the individual university if SAT II is needed for admissions -- some universities may not ask for the SAT IIs.
If you do take the SAT II, take three subjects, two of which are English Writing and Math. Since you are an international student, you will need to take the TOEFL as well.
What is the new SAT? Do I have to take it for admissions overseas?
If you plan to apply to US universities for a Bachelor's degree, you should take the SAT.
From May 2005, the SAT would have changed and a new pattern will be followed:
i. The verbal section will be renamed the Critical Reading section. Analogies will be completely eliminated. The emphasis of the test will now be on reading. Sentence completion questions will still appear in the new SAT. 
ii. The critical reading passages will have shorter passages (about 100 words), and double passages will also be present (200 words each). Questions will be based on the relationship between two passages.
iii. A writing section will be introduced comprising multiple choice questions and an essay section.
iv. The multiple choice questions will be based on sentence correction and improving sentences and paragraphs.
v. The essay section will most likely ask the student to take a stance on a particular issue and discuss it with reasons, arguments etc.
vi. The Mathematics Section will undergo radical changes. Quantitative comparison questions will be completely eliminated and Math concepts, like exponential growth, domain and range, equations and graphs, trigonometry and data interpretation will be tested.
How long does it take to finish a Bachelor's degree in the US?
Bachelor's degrees in the US are generally completed in four years. The usual academic year starts in August and ends in May.
August to December is the first semester and January to May is the second. You will need approximately eight semesters to graduate. 
What is summer school and how does it help me?
Summer school classes are offered between May and August. If you take adequate classes during summer sessions, you can graduate faster.
For instance, if you take four classes during the entire summer session, you have completed almost one full semester worth of classes. If you do two summer sessions, chances are high that you will graduate in three years instead of four.
I am an engineering student planning to go to the US after my Bachelor's degree. How much time can one stay in US after completion of the MS?
Your student visa is usually issued for a period of five years. You can stay for one year after graduation in the US.
During this one year, you can work full-time anywhere in the US, provided your job is in your field of study.
This period is called OPT or Optional Practical Training. After this period, you will need to apply for a work visa (H-1 visa). An H-1 visa can be obtained only if your employer sponsors you.
I am in the second year of senior college and wish to apply to Ivy League universities. What are Ivy League universities and why is there so much hype about them?
The term Ivy League is used to refer to eight of America's most renowned organisations: Harvard, Columbia, Dartmouth, Cornell, Yale, Princeton, University of Pennsylvania and Brown University.
In 1945, the eight presidents of the universities agreed into a football agreement. Even though these colleges started out as football allies, today these eight universities are the most competitive and sought after institutions in the world.
Keep in mind that universities like Stanford and University of California are equally good (and for some programmes, even better), but because they are not on the east coast, they are not part of the Ivy League association.
The hype around these schools stems from the fact that graduates from these universities are almost instantly grabbed by companies and Ivy League graduates earn very high salaries as compared to other university graduates.
Admission to these universities is very competitive and your chances of getting admission as an undergraduate transfer student are very low.
I am leaving to study in the US this fall. Can I get a work visa after I graduate?
Your student visa comes with one year of optional practical training. You are allowed to work anywhere in the US in the field of your study for one year after you graduate.
After this one year, you will need a work permit (H-1) to continue working in the US.
Karan Gupta is the founder of Mrijay International Education Consultants, which coaches students to study abroad. He studied at Ithaca College and the University of Texas at Austin. He worked at the Office of Admissions, Financial Aid office and the International Office, which gave him first hand experience into the workings of the admissions process for American Universities. Karan Gupta is currently the honorary study-abroad college counselor at Jai Hind College. He has written several articles on study abroad, loans, scholarships, visas and admissions.
Do you have a question for Karan? Please write to us!