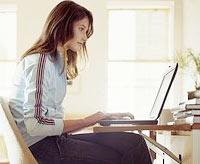 he first rule of applying to college comes from the nursery: do your homework.
A decade ago, information depended far more on word-of-mouth recommendations and doorstep-sized guides.
Today, the biggest problem you will face if you are surfing is not a lack but a glut.
Welcome to the era of information overload.
Most students assume that the college application process, whether in the United States, United Kingdom or India, is aimed at picking the best and brightest minds. This is not true.
The application process prepares you for a world of paperwork, bureaucracy and tests. The application process is an endurance test designed to weed out the lazy, the uncommitted, the unsure.
An online search for college admission guidelines will yield literally thousands of Web sites.
You could spend the four years you are supposed to be attending college simply sifting through those databases, working your way from information on GRE and TOEFL and SAT tests to specialised Web sites that rate colleges by dorms and the quantity of beer consumed at frat parties to sheafs of application forms down to weather Web sites that will surf for colleges in Siberia if required.
The trick is to focus.
There are three things you need to look for in order to use the Net efficiently, so keep them in mind:
1. Decide the stream or career you want to go into
Some online sites offer 'sorter' tests and career planners. Use them, but sparingly.
Your interests in school are likely to be a better guide.
If you have already chosen your stream, surf the many 'practice' sites that offer test papers and GRE/ TOEFL/ SAT models, and use bad cybercafe connections to your advantage.
If you can complete a model test in the allotted time with noisy fellow surfers and on/ off connectivity, you will do just fine at the actual test centre.
2. Pick the country and college you want to go to.
If you want to study in India, the Net is a bad resource. Except for the Indian Institutes of Technology, the Indian Institute of Management, and a few over-designed, under-informed college Web sites, most of your searching is better done offline.
But chatrooms and message boards focused on the student community are great places to pick up inside information, like gigantic versions of the cafes and addas, where a previous generation used to trawl for special tips.
Alumni networks offer additional perspective on the college of your choice.
If you are looking for study options in the US or UK, do not start by surfing individual college web sites.
There are so many of them, and so well-layered, that you will end up with an embarrassment of riches.
Instead, start with the 'umbrella' sites and sites that will 'matchmake' for you. Once you  have picked a few options, surf individual college Web sites.
Also take a look at umbrella campus sites that rate student living and extracurricular activities.
Use Yank spelling if you are searching for a US university and watch out for scamsters trying to sell you a Harvard education or an Oxford degree that does not involve you actually going to those institutions.
3. Look for scholarships and financial aid options.
Again, look at the umbrella sites first (Sallie Mae runs a great one in the US, and local chapters of organisations like the British Council are good places to start looking for information). Then finetune your search to specific scholarship sites.
Paradoxically, searches are easier if you want to study in countries off the normal Indian student map: Wales, New Zealand, Argentina, for example. There is less info and less clutter, so more focus.
Then hit the process sites: since there are tens of thousands of sites offering guidance on how to fill up admission forms, including checklists and reminders, use them.
Once you have sent in your application, monitor it carefully. Many sites, like the Oxbridge colleges and some US colleges, will plug you into a database where you can track the fate of your application and see where it has reached in the pipeline.
This is just the tip of the iceberg. Clever students will also use the Net to database further. If you want to join a specific department, for example, check out each professor's interests and credentials, and match your application essay accordingly.
There are no limits beyond your imagination and what you fill in the search fields.