Get Ahead invited readers who have successfully cracked the Common Admission Test to share their tips/mantras for success. Select entries now form a series of reader-driven articles on how to ace CAT.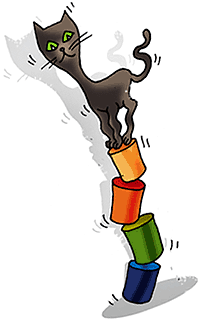 ost people think you should be very good in Math and English if you have to crack CAT.
If that is the case, post-graduates in Mathematics or English Literature should do very well in this exam.
Fact: Past results do not show any bias in favour of any particular educational stream.
In fact, the Math standard in CAT is pegged at the Class X level to ensure a level playing field.
If that is the scene, what exactly does CAT test? Here are a few pointers:
Decision-making
It is a known fact that no one is able to answer all the 150-odd questions posed in CAT.
In fact, most of those who take CAT get through attempting less than 90 questions.
Since all questions carry equal marks, it is important you prioritise properly and take sound decisions on what questions to attempt and what questions to leave.
Ability to work under pressure
No amount of practice or simulation will prepare you thoroughly for the stress you face during CAT. This is something which can only be experienced, not explained.
There are several factors that add to the pressure: Time, the standard of the questions, the unfamiliar setting, the quantity and quality of competition, etc.
CAT tests your ability to work under pressure for 120 minutes. A particular section may be unusually tough, but that should not affect the rest of your performance.
For various reasons -- nervousness, your choice of questions, etc -- you may find yourself unable to answer too many questions in the first half hour. Don't let this undermine the rest of your performance.
Adaptability
The uniqueness of CAT lies in its unpredictability.
The number of questions, their standard and pattern, the packaging of the test are all unknown and vary from year to year.
There is no preset formula.
Which mean, you have to be flexible.
This is not to say you should go into the examination hall without a plan or strategy. But the plan should be so designed that it can be adapted to unknown situations that may arise in the test.
Time management
It goes without saying that time management is very important.
The most precious resource, apart from your intelligence, is time.
How to apportion time over sections and how much time to spend over each question is something you have to decide and follow.
There is an added complexity in this decision-making: You must qualify in all sections.
In other words, you have to clear sectional cut-offs -- which means that any lopsided portioning of time will lead to disastrous consequences.
The aim here is to ensure you manage to clear sectional cut-offs and maximise your score by working in your area of strength.
Optimisation
No one is superhuman.
Every student has his strengths and weaknesses.
It is important that you realise this so that your expectations are pegged within realisable limits.
The challenge lies in being aware of your strengths and weaknesses and working in such a manner that your plan factors in your weaknesses while exploiting your strengths to the fullest to maximise your score.
The difference between people who crack CAT and those who don't is not academic brilliance, but the qualities mentioned above.
While it is important that you are thorough with the basic concepts, you should also take these factors into account if your are looking for a good result.
Kiran Joshi is director, PRIME, which offers long term class room training for competitive exams, in Pune. He has trained students for CAT for the last six years. He placed 15 students from his centre at the various IIMs in CAT 2003.
Illustration: Dominic Xavier
DON'T MISS!
• Tips to attract B-Schools
• Why do you want an MBA?
• CAT's a speed game
• CAT: For those who came in late!
• Take the fear out of CAT
• Not prepared for CAT?
• Techies can crack CAT too
• CAT: A reality check