his is the second part in the series on preparing for the Graduate Record Examination.
Before getting to the nitty-gritty of actually preparing to write the test, you must note that the GRE followed a different pattern till recently.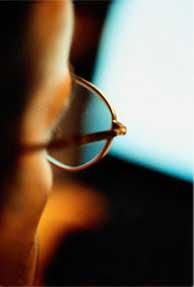 Earlier, the GRE had three sections scored out of 800 each (a total of 2,400).
The Analytical Writing Section was absent at the time. In its place existed an analytical section where those who took the GRE were tested on their logical reasoning ability.
According the official GRE web site, no more changes are expected in the near future. (For more information on the format of the GRE, visit www.gre.org/faqnew.html).
Preparing for the GRE is much like kickstarting my cantankerous old motorbike. It's an onerous task and usually involves calling the watchman to push it a good length before I can coax it to life. But once it starts, it purrs. Almost!
If you are an engineer who has not glanced at an English textbook for years now, preparing for the Verbal Ability section can be a bit of a bore. The best time to get started is around March or April.
And the best way to get started? Open Barron's word list number 1.
The average person is unaware of the meanings of around 30 to 40 words in every word list. You are also likely to be unaware of the exact meaning of several other words, though you might have a general idea of what they mean.
The best way to deal with this is to pore through two word lists a day, marking each word you haven't heard of (or have a hazy idea about). The next day, go through the marked words in the previous word lists (all of them!), marking those you forget again.
Preparing for the Verbal Ability section
The Verbal Ability section contains the following different kinds of questions:
Fill in the blanks
Antonyms
Analogies
Reading Comprehension passages followed by questions (many of which are inferential).
One common misconception is that Barron's word lists contain every single word ever likely to appear in the GRE.
Reality check: the Concise Oxford Dictionary has 1,90,000 words. Barron's has 3,500. Go figure.
What I do want to emphasise, as someone who has taken the test, is that you must have a decent vocabulary, and the ability to puzzle out meanings of words. (For more details on how to go about the latter, go through Interact In English, a reader published by the NCERT for Class IX CBSE students).
It would also help if you enjoy reading books. Personally, I would recommend the works of P G Wodehouse. With his penchant for grandiloquence, reading his work is likely to expose you to a lot of words -- the kind you are unlikely to encounter outside the confines of the testing centre. Besides, they are a great read!
But then, this is entirely my opinion, and not to be taken at face value.
Also, struggling through P G Wodehouse's oft abstruse language will prepare you for the Reading Comprehension passages in the actual GRE.
Apart from taking all the Computer Adaptive tests, it is important to attempt to write all the 27 tests in the Big Book -- at least the verbal sections, as the math questions in the Big Book are ridiculously simple.
This will also instill in you the patience essential to read the passages in the GRE, and remove the RC-phobia that many of us suffer from.
As far as analogies go, the only way you can become proficient at them is practice, practice and more practice. Also, be aware of the usage of several words.
Preparing for the Quantitative Reasoning Section
You are likely to face two kinds of questions in the Quantitative Reasoning section:
Comparison questions
Normal math questions, with solutions
The Quantitative Reasoning Section, especially for students who have taken mathematics courses in Class XII, is unlikely to cause any headaches.
But for those who have been out of touch with mathematics for years, the best route to take is to dig your old math textbooks out.
For engineering students, it shouldn't be too difficult to score 750-plus in the Quantitative Reasoning Section.
Should I focus on Verbal Ability or Quantitative Reasoning?
For an engineer, Verbal Ability is another ball game. So a strong focus on Verbal Ability would be a good idea.
Note: Sometimes, the GRE springs a surprise with questions on advanced statistics, probability and coordinate geometry. It is best to take a dekko at these topics before you walk into the test centre.
The Experimental Section
Many students receive two sets of questions from the same section.
If you are among them, please bear in mind that only one out of the two will actually be scored. But there is no way of knowing the real McCoy. So try to do well in both. Do not, at any point, decide that a given section is experimental.
Some other students have also received research sections instead. The research sections are clearly marked out, and usually involve a bit of money to be earned (if you perform creditably).
All the very best for your GRE test!
Siddhu Warrier is an engineering student at Anna University, Chennai. He has has been awarded an SMA Graduate Fellowship to pursue a Master's degree at the Singapore MIT Alliance, a consortium consisting of the Massachusetts Institute of Technology (MIT) and National University of Singapore (NUS). He scored 1560 on 1600 with 5.5/ 6 in Analytical writing at the GRE. This article is based on his own experience.