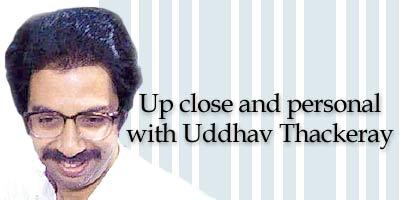 Till a few years ago it was believed that Raj Thackeray would inherit control of the Shiv Sena from his uncle Bal Thackeray. After all, he had mastered the Sena chief's fiery oratory and mannerisms. He also dressed a bit like him and drew cartoons, something the senior Thackeray did before entering politics.
Then Uddhav Thackeray, youngest of the Sena chief's three sons, emerged on the scene and everything changed. Uddhav was appointed the party's working president in January 2003 and has had complete control over the organisation since.
Don't worry if you don't know much about Uddhav, that is how it is meant to be in the Shiv Sena. Nobody must outshine the chief. But here is a brief low-down on the man who could one day become chief minister of Maharashtra.
Tell us something we don't know about Uddhav.
He was never really keen on politics. Arts and nature were always his first love. Very little is known about what made him take the plunge finally, but he has done well for himself. The Shiv Sena won the Brihan Mumbai Municipal Corporation election in 2002 under his stewardship, and he had earned his spurs.
How old is he?
He is 43. DOB: July 27, 1960.
Is he also of a fiery temperament?
Actually he is very soft-spoken. He is also a good organiser. In a short span of time he has created a formidable base for himself in the party. A genial person, he has friends in other parties too.
Uddhav's USP
His father's unstinted support. Nobody can question Bal Thackeray's decisions in the Shiv Sena and he has, for all practical purposes, declared Uddhav heir apparent. As the party's working president, Uddhav has been given a free hand.
Family life
He lives with wife Rashmi at his father's bungalow, Matoshree, at Bandra in northwest Mumbai and has two school-going sons.
What is his style of functioning?
He keeps in touch with Sena workers personally. He also meets union leaders and senior party members to keep abreast of day-to-day developments. Uddhav also spends considerable time in New Delhi networking with national leaders, something his father never did. He travels extensively in Maharashtra.
Dress sense
Prefers casuals. Open-collared shirts, T-shirts, cotton trousers and jeans are his favourites. But he is comfortable donning a kurta-pyjama when the occasion demands, which is frequent these days.
Hobbies
Uddhav's first love is wildlife photography, and he holds exhibitions of his work almost every year in Mumbai. He is a keen nature lover too. He is passionate about cricket and has many friends in the Hindi film industry, actors Suniel Shetty and Sanjay Dutt being among his buddies.
Achievements
Apart from victory in the municipal elections, he has brought a whiff of democracy into the Sena set-up. Unlike his father who took pride in being a dictator, he consults several people at different levels before taking a decision. He has also brought corporates closer to the Sena. Recently, he hosted a party for captains of industry in Mumbai -- and quite a few big names turned up.
Drawbacks
Considered a little laidback. Loves his siesta and a game of badminton in the evening. The soft-spoken Uddhav also seems a little misplaced in a party known for its militant past.
Despite public pronouncements, he does not share a rapport with his cousin Raj, who commands considerable following in the party.
Biggest challenge
He must ensure a thumping win for the Sena-BJP alliance in Maharashtra in the Lok Sabha election. If they can win 30 or more seats out of the 48 in the state, there will be no stopping Uddhav.
Also in this series:
M Venkaiah Naidu
Atal Bihari Vajpayee
Sonia Gandhi
Rahul Gandhi
Image: Rahil Shaikh