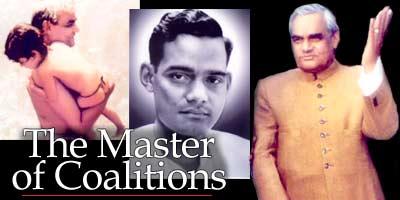 Full Name

Atal Bihari Vajpayee
Age
79. He was born on December 25, 1924.
Native place
Gwalior in Madhya Pradesh.
Parents
Krishna Bihari Vajpayee and Krishna Devi
Education
Master of Arts in Political Science from Victoria College, Gwalior
Earlier Profession
Journalist and social worker. He edited Rashtradharma, a Hindi monthly, Panchjanya, a Hindi weekly and Swadesh and Veer Arjun, both dailies.
Married?
No. But one of his foster daughters Namita, her husband Ranjan Bhattacharya, daughter Niharika and Namita's mother Mrs Kaul live with him. The other foster daughter lives in the US.
Political activity
Founder member of the Bharatiya Jan Sangh in 1951 and founder member of the Janata Party in 1977. He was the president of the Jan Sangh (1968 to 1973) and president of the Bharatiya Janata Party (1980 to 1986).
Best friend in politics
L K Advani.
When was he first elected to Parliament?
In 1957. He was then elected to the 5th, 6th, 7th, 10th, 11th, 12th, 13th Lok Sabha and to the Rajya Sabha in 1962 and 1986. He is perhaps the only Indian parliamentarian elected from four different states -- Uttar Pradesh, Gujarat, Madhya Pradesh and Delhi -- at different times.
When did he first become prime minister of India?
On May 16, 1996.
Political highpoints
Jailed during Quit India movement in 1942. Arrested during the Emergency in 1978. He became India's first non-Congress external affairs minister during 1977 to 1979. Made a memorable speech in Hindi at the United Nations in 1978. The only prime minister since Jawaharlal Nehru to occupy the office of prime minister through three successive mandates.
Milestones as prime minister
Conducted the nuclear tests at Pokhran in 1998. Travelled in a bus to Lahore for peace talks with Pakistan in February 1999. Carried out economic reforms and divestment of public sector companies.

Worst political disappointment
Lost the Lok Sabha election from his hometown, Gwalior, in 1984. He lost to the Congress leader Madhavrao Scindia.
Health problems
Right kidney removed in 1986. Replacement surgery for left knee in 2000, and right knee in 2001. These have often led to rumours about ill health and retirement.
Trademarks
Poet and lover of poetry. Eloquent speaker. Voracious reader. Fond of Indian music and dance. Author of at least 20 books.
Image: Rahil Sheikh