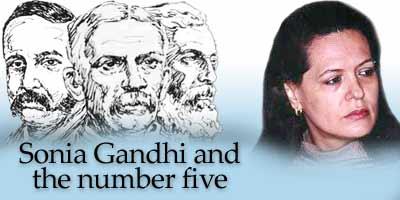 Tell us something one did not know about her.
A lot is made today about her foreign origins, but did you know that she is actually the fifth foreigner to become president of the Indian National Congress?
The party web site lists the names of four foreign presidents before Sonia Gandhi -- George Yule, Sir William Wedderburn, Alfred Webb and Sir Henry Cotton.
When did she become an Indian citizen?
1984, 16 years after her marriage to Rajiv Gandhi.
Maiden name?
Sonia Maino. The Mainos are from Orbassano, 80 kilometres from Turin, Italy.
How old is she?
57. Born on December 9, 1946, she is a Sagittarian.
Where and how did she meet Rajiv Gandhi?
At Cambridge in the 1960s, where Rajiv was a student. She was an English language student at the university. They got married in 1968 after three years of courtship that began in a Greek restaurant in Cambridge University town.
Children?
One son, Rahul, and one daughter, Priyanka.
What did she do after husband Rajiv's assassination in 1991?
She led the life of a recluse for six years, but for her appearances at a few events. In those years, she produced two books: Rajiv and Rajiv's World.
When did she become Congress president?
She officially took charge of the Congress party in 1998
But didn't she all along detest politics?
Sonia had shown an aversion to politics for long. She detested politics and opposed her husband Rajiv entering it, according to biographer Nicholas Nugent in his book Rajiv Gandhi — Son of a Dynasty. Sonia even threatened to divorce her husband, Nugent writes. Rajiv said later that Sonia felt she would be losing him to politics.
Her biggest asset?
The family name. Despite rumblings, the Congress largely remains united because of her.
Biggest drawback

Language. Her speeches, especially in Hindi, do not have the mesmerising effect of Prime Minister Atal Bihari Vajpayee.
Electoral record
Under her leadership, the Congress won power in Delhi, Madhya Pradesh and Rajasthan in the 1998 assembly election, in Karnataka and Maharashtra in 1999, in Jammu and Kashmir in 2002, and in Himachal Pradesh in 2003. But in the 1999 general election, the Congress turned in its worst performance since Independence. It also performed poorly during the assembly election in 2003, losing Rajasthan, Chhattisgarh and Madhya Pradesh to the Bharatiya Janata Party.
Inner resistance
In private, party leaders are uneasy over her foreign origins. In May 1999, Sharad Pawar, Purno A Sangma and Tariq Anwar challenged her suitability as prime ministerial candidate.
Other interests?
She is also chairperson of the Rajiv Gandhi Foundation, Indira Gandhi Memorial Trust, Jawaharlal Nehru Memorial Fund, Nehru Trust for Cambridge University, Kamala Nehru Memorial Society and Hospital, Nehru Memorial Museum and Library, Indian Council for Child Welfare Trust and Swaraj Bhawan Trust. Plus, she is patron of Round Square (International Group of Schools), the United Kingdom
Quotable quotes
'When I first came to Delhi in 1968, my father had given me a return ticket. But Delhi was the place of my second birth and the ticket, like my past, was lost in the mists of time.'
Special interests
Indian handlooms and handicrafts; contemporary Indian classical and tribal art; a special interest in oil paintings and their conservation.
Image: Rahil Shaikh
Also Read: Get to know Rahul Gandhi