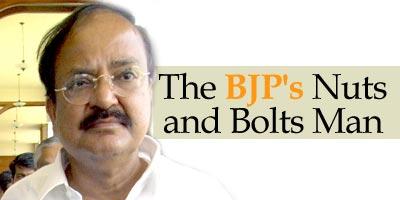 His stint as president of the Andhra Pradesh Students Union and his conviction in Jayaprakash Narayan's movement in 1974 crystallised his belief that an aggressive posture was the only way that he could move ahead in Indian politics.
When Muppavarapu Venkaiah Naidu became president of the Bharatiya Janata Party on July 1, 2002, his supporters were thrilled that his aggressive persistence had paid off spectacularly.
Antecedents
Born on July 1, 1949 to agriculturist parents in Andhra Pradesh's Nellore district, Venkaiah was deeply involved in student politics and studied law.

Married?

He tied the nuptial knot in 1971 to Usha and has a son and a daughter.
Political conviction
Venkaiah's formative years were shaped by his 'admiration for nationalist leaders whose selfless sacrifice left a deep impression' on him. He also developed a respect for those who opposed the Emergency imposed by Indira Gandhi in June 1975 and her authoritarian rule.
Prominence in BJP
He became a BJP legislator in Andhra Pradesh in 1978. A decade later, he became the state party president. National general secretary between 1993 and 2000 he was a member of the BJP parliamentary board and the central election committee.
Party spokesman
In 2000 he became party spokesman, and reporters covering Parliament were astounded at the way he tackled belligerent questions with equally belligerent answers.

He stoutly defended the party's position, whether it pertained to the Mandir-Masjid dispute in Ayodhya, the Common Civil Code or Article 370 of the Constitution. His tone and tenor were combative, rather than defensive, and the party leadership was greatly impressed.
Winning over Vajpayee
Prime Minister Vajpayee was impressed at the way Venkaiah handled the party spokesman's brief and made him a Cabinet minister, giving him the rural development portfolio in September 2002.

Naidu had already became party president in July succeeding K Jana Krishnamurthy.
Re-elected unopposed as BJP chief
His growing stature in the party and his proximity to the PM and Deputy Prime Minister L K Advani consolidated his hold on BJP affairs. He was re-elected unopposed as party chief.
Significant blunder
His meteoric rise was suddenly jolted in 2003 when he described Advani as a lauh purush (iron man) and Vajpayee as vikas purush (icon of development).
This description did not go down well with officials at the Prime Minister's Office who interpreted it as a none-too-subtle move to project Advani over Vajpayee for the 2004 parliamentary election.
A visibly disenchanted Vajpayee soon let it be known that he was ready to fight the election under Advani's leadership. When reporters cornered Naidu at the BJP's Ashoka Road headquarters on what exactly he meant, the usually unflappable politician appeared to lose his cool.
Naidu later met Vajpayee and virtually apologised, contending that he did not mean what was being interpreted. The issue was amicably resolved with Naidu contending that the 2004 general election would be fought under Vajpayee's leadership.
Future role
The BJP chief gave the clarion call for contesting 300 parliamentary seats during its Indore national executive meet. His mantra for achieving this goal was emphasising the Congress governments' failures in states ruled by that party while underscoring the Vajpayee government's achievements at the Centre. 

He has many rivals -- Arun Jaitley, Narendra Modi, Pramod Mahajan, Sushma Swaraj and Uma Bharati, not to forget Dr Murli Manohar Joshi -- but could the Telugu from Nellore one day become India's prime minister?
Also see: 'I hate waywardness and confusion'
Image: Rahil Shaikh