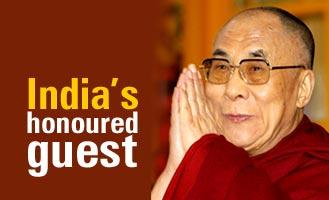 In the months following our nuclear tests of 1998, there was not a day on which either Naresh Chandra, India's ambassador to the USA, or I did not face questions from the press, the think tanks, Congressmen or other interest groups on different aspects of Indian foreign policy.
Armed with facts and figures, we welcomed every opportunity to defend our nuclear policy.
The invitation of the National Press Club in Washington for a daylong discussion on the tests in August 1998 was a bonanza for us. The national and international press was there and the panelists were from diverse backgrounds.
I sat attentively to listen to them as I was expected to speak at the very end to respond to the points made. The presentations were on predictable lines and I had the necessary ammunition to defend the tests. But the last speaker, Major William Corson, introduced as "an intelligence aide to President Eisenhower" in the late fifties, threw a bombshell that I was not ready for.
He said India's decision to give "political asylum" to the Dalai Lama was in return for US assistance to its nuclear weapons programme. He went on to say that Pandit Nehru had it conveyed to President Eisenhower that "if India was to accept the Dalai Lama, the US would have to help New Delhi develop nuclear weapons."
According to Corson, "Nehru was a notorious hard bargainer and the favour Eisenhower was asking carried great risks to India." So, apart from providing India a nuclear reactor under the atoms for peace programme, the US agreed to accept 400 Indian students in American Universities, who eventually became the corps of bomb makers in India.
He went into great detail about the escape of the Dalai Lama to India as part of the deal. The whole thing sounded absurd, but since I had no hard information, I would have left his story untouched.
The moderator of the discussion, however, would not let me gloss over the issue. While inviting me to speak, he pointedly asked me to comment on Corson's story. As I walked up to the podium, I formulated a response: "It sounds like a fairy tale. I have never heard this before," I said, "As far as I know, the decision to give refuge to the Dalai Lama was an Indian decision and it was taken not on political grounds, but on humanitarian grounds, on account of our reverence for the spiritual leader of Tibet."
I went on to say that the Dalai Lama and his people were respected guests in our country. Corson himself had left by then and the press reports next day carried his and my versions. I reported the exchange, but I still do not know whether the Corson story had any truth in it. Months later, I discovered that one newspaper reported that I confirmed Corson's version, by quoting me as having said that it was a "fair tale!" By dropping of a single letter, the opposite meaning was obtained.
Apart from this encounter with the Dalai Lama issue, I learnt during my days in the United States and Austria what a grand following the Dalai Lama had in the West. Several US Congressmen and Senators told me that their regard for India stemmed from the way India treated the Dalai Lama and his followers. Only a great country could risk the wrath of China by giving refuge to the Tibetans.
The appointment of a Special Representative for Tibet by President Clinton was very much the result of the efforts these leaders had exerted on behalf of the Dalai Lama. Austria, as the home of Heinrich Harrer, one of the Dalai Lama's teachers, glorified in a Hollywood movie, Seven Years in Tibet, also had a large following for the Dalai Lama.
In fact, it was in Austria that I had an audience with the Dalai Lama, which opened my eyes to the simplicity and greatness of His Holiness. The city of Graz underwent a total transformation to host the Kalachakra ceremony, presided over by him. Months before he arrived in Austria, his representative came to invite me to the ceremony and to greet the Dalai Lama.
'I'd like to perform a Kalachakra in Tiananmen Square'
Thousands of people were milling around the new township created by the municipality of Graz when we arrived and we were ushered into the audience chamber of His Holiness without a hitch. The chamber was magnificent, but he himself was the picture of simplicity. He received us warmly and spent nearly an hour till the time came for him to move to the auditorium, where he addressed about 10,000 people.
The Dalai Lama has stated that he is nothing more than a Buddhist monk and his manners and conversation are those of a monk and not of a spiritual leader or a head of state. He can oversimplify matters and laugh off important issues as though they do not matter. He does not try to give everything he says an aura of authenticity or moral authority. He does not even seem obsessed with his political problems with China. He is sadder about the suffering of his people in Tibet than about the inconveniences of his people who have come to India. He believes that his initiative for a dialogue with the Chinese will eventually bear fruit and his people will be liberated.
'We want only genuine autonomy'
In the meantime, he is grateful to India for the reception accorded to him and for the facilities afforded to the Tibetans. He has no bitterness even against the Chinese. They are also human beings, pursuing their own path to happiness and they deserve our compassion, he said.
The Dalai Lama personally escorted us to our seats in the auditorium and instructed one of his senior advisers to sit with us and translate his speech in English for us as he spoke in Tibetan and the interpretation was only into German. At one or two points in his speech, he publicly asked the official whether the true meaning of what he said was conveyed to "our Indian guests."
His address to those who were being initiated into kalachakra was very simple and pragmatic. He did not quote from the scriptures to make his points, but gave analogies from ordinary life in the west to illustrate his ideas. No matter where we come from, we are all human beings. We all try to seek happiness and avoid suffering. We have the same basic human needs and concerns. All of us want freedom and the right to determine our future.
Nothing could be simpler than that.
To a question as to what the meaning of mandala was, he surprised the whole audience by saying: "We monks like to make a mess of any place we see!" and laughed loudly at his own joke before explaining the meaning of the shapes and colours of the mandala. Again, the explanation was simple. During meditation, it is important to have something to contemplate on. Mandalas are imaginary palaces with deities and inanimate objects. They represent some aspects of wisdom and indicate some guiding principles.
There were no further questions on such a complex concept, on which treatises have been written.
As we drove away from Graz after the audience with the Dalai Lama and his discourse, I felt that I had encountered divinity in human form.
T P S Sreenivasan, one of India's most distinguished diplomats, served as Deputy Chief of Mission at our embassy in Washington, DC.
He can be reached at ambassador86@hotmail.com and tpsreenivasan@gmail.com
Earlier in the series:
King of Tonga
Zubin Mehta
Ratu Sir Kamisese Mara
J N Dixit
Steve Solarz
P V Narasimha Rao
Photograph: Str/AFP/Getty Images