T P Sreenivasan, among India's most distinguished diplomats, continues his column based on his encounters with some of the world's most famous people.
ALSO READ: Dixit was short, but his presence was gigantic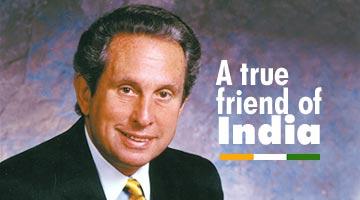 "Why didn't the Indians integrate with the local communities?"
"What was the nature of the guarantees the British gave Indians when they came here?"
"What did the Government of India do to prevent discrimination against Indians?"
"Would the Indians rise in armed revolt if discrimination persists?"
The questions came at me like machinegun fire and I had to answer them swiftly and briefly. The next question followed in the same fashion and I had just enough time to catch my breath. The young Congressman had his eyes riveted on me and he appeared impressed with my answers, but he did not respond to them. He continued with his questions.
The year was 1987 and the venue was the residence of the US ambassador to Fiji, Edward Dillery. US Congressman Steve Solarz had come to Fiji to study the plight of Indians there soon after the military coup by Sitiveni (Steve) Rabuka. Solarz had specially asked to meet the Indian ambassador and, therefore, Dillery had invited me to lunch with the Congressman. I was exhausted by the time he finished the questioning and reached out for a strong gin and tonic as I studied the man.
ALSO READ: Ashwin Mahesh on The Home Coming
Solarz, in his mid-40s and with a handsome face and piercing eyes, was the very picture of an American intellectual. It was then my turn to question him, but I did so slowly and hesitatingly as he did not seem inclined to share his views with me. But soon he opened up and spoke his mind. He had digested everything I had said, compared my points with what he had already learnt and reinforced his conclusions. I urged him to influence US public opinion in favour of Fiji Indians, who knew no other country as theirs. India was a distant land for them. He reassured me that he would try his best; he had no hesitation in taking up the Fiji Indian cause.
I did not meet Solarz for the next 10 years. I knew he was India's best friend in the US Congress, that he had set up the India Caucus in the Congress, that he was instrumental in setting up a South Asia Bureau in the State Department, that he had got into trouble on account of some technical irregularities relating to his personal cheques and that he lost his Congressional constituency on account of a delimitation exercise.
Indian Americans were upset about his downfall and continued to give him support. Solarz became an unofficial lobbyist for India after he left Congress. He studied issues relating to India-US relations and spoke and wrote about them with conviction, clarity and persuasiveness. He gave the impression that he was for India, right or wrong, but he had cogent arguments to substantiate his points in favour of India.
President Clinton found in Solarz a reliable adviser on South Asia and by the time Clinton began his second term, Solarz and others had convinced him that a new policy towards South Asia, with India at its centre, was warranted. Another staunch supporter of India, Frank Pallone, became the head of the India Caucus. But Solarz continued to support the Caucus's efforts from outside. He also traveled to India several times to meet Indian leaders and to deepen his understanding of the country.
ALSO READ: Washington's fallible South Asia policy
I met Solarz socially in Washington a few times after I arrived in Washington in October 1997. But it was at a Congressional hearing in May 1998 that I first witnessed what Solarz could do for India. The Congressional hearing on India was planned several months before the nuclear tests of May 11 and 13, and was meant to highlight the positive elements in the new US-India relationship that Clinton ushered in. It was also planned as an occasion for Senator (Jesse) Helms, Chairman of the Senate Foreign Relations Committee, to speak positively about India after he had a change of heart about the country at the behest of Swadesh Chatterjee, an Indian-American activist from North Carolina.
But the hearing, which was held within days of our nuclear tests, was a catastrophe from India's point of view. The hearing which came about because of the embassy's efforts, turned into the worst tirade against India in US Congressional history. The testimonies of participants, which were meant to boost bilateral relations, turned into accusations of betrayal and deceit. Helms himself was at his anti-Indian worst and suggested that India would be a threat to the US itself in the days to come as it had a space capability. 'India has not just shot itself in the foot, but also in the head,' he thundered. At the end of the tirade, he suddenly remembered that he owed his Indian-American friends something and said some kind words about the contribution of Indians to the US. But that did not detract from the venom he spewed on India.
It was then the turn of Steve Solarz. He spoke of India's strengths as a democracy, of the long tradition of India-US relations and the new economic reforms which led to the opening of a huge market for US goods. He spelt out the contours of the Clinton policy towards India. As for the nuclear tests, he referred to India's threat perceptions, particularly its experience of Chinese aggression in 1962 and the continued occupation of Indian territory by China. While conceding that India had violated the non-proliferation regime, he sought an understanding of India's compulsions to guarantee its security. Solarz's testimony sounded like blasphemy for a majority of the audience, which was in a mood to condemn and castigate India. But it saved the day for India; there was at least one lone voice to support its position on that fateful day. Every word he spoke was worth its weight in gold for India.
Solarz became an official lobbyist for India soon thereafter, together with three other firms which were already working with the embassy. Solarz joined a lobbying firm to legitimise his role, but worked more or less alone to support India's case on the Hill and elsewhere. His main role was as a strategist who advised us on how to approach different Congressmen and senior officials. My weekly meetings with lobbyists came alive as Solarz gave new ideas and approaches, which were thoroughly discussed. Solarz himself spoke to a number of Democratic Congressmen and enlisted their support. He helped us draft Congressional letters and other documents with the skills of a seasoned Congressman.
Solarz worked hard on the idea of marshalling Indian-American resources to India's advantage on the same lines that Israel had worked on the Jews. But in the absence of a unified leadership and unity within the community, the plan did not work out. But his standing in the community and his general reputation as a friend of India helped advance our cause in Washington. He was not expected to be objective when it came to India, but his presentations were compelling and absorbing.
Solarz spoke warmly about me at Ambassador Naresh Chandra's farewell in Washington at the end of 2000. He said he had known that India's best diplomats were sent as Deputy Chiefs of Mission to Washington and that the post was "a one-way ticket to stardom." I had to add that the same was true of ambassadors to the United States.
Solarz is a politician whose talents have not been fully used by his own party and country. His intellectual abilities and people skills should have given him a unique position in the Democratic Party. He continues to be intellectually alive and active, but he is considered a spent political force. I saw him in India in the winter of 2003 on a plane to Udaipur. He was his own self again, firing questions at me with the same rapidity as he did in 1987. He appeared aged, but no less sharp and no less enthusiastic about India.
T P Sreenivasan was India's former ambassador to the United Nations, Vienna, and former governor for India, International Atomic Energy Agency, Vienna
Previously in the series:
Dixit was short, but his presence was gigantic