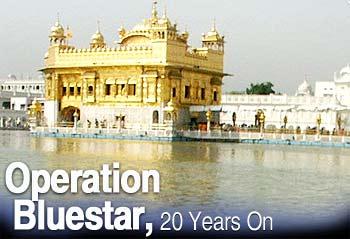 Twenty years ago almost to the day an event occurred in Punjab that shook the Republic of India to its very foundations.
Sikh extremists seeking to carve an independent country had been slowly but surely taking control of the state over the previous couple of years, striking terror in the hearts of politicians, law-enforcers, and the general population.
The killings began in 1983 with a murder here, a shootout there. Through the year, however, the frequency of attacks and the toll kept rising and by May 1984 dozens of innocent people were being murdered daily in cold blood, all in the name of 'freedom.'
A massive religious cleansing movement was underway in Punjab, which had become India's granary after the Green Revolution of the mid-to-late 1960s. Law and order had collapsed, and the corrupt and demoralised Punjab police was simply not up to the task of restoring it.
Heading this bloody movement was Jarnail Singh Bhindranwale, a preacher turned separatist who ran his terrorist campaign from the confines of the Golden Temple, the holiest shrine of the Sikhs, in Amritsar. Bhindranwale openly defied the Indian State from his sanctuary. But the police dared not enter the temple complex, for fear of outraging the sentiments of the Sikhs, arguably India's most dynamic and popular minority community.
With the situation rapidly getting out of hand, Prime Minister Indira Gandhi took a momentous decision. She ordered the Indian Army to move into Punjab and decisively tackle the terrorists who were armed and aided by Pakistan.
To flush the terrorists and their masterminds out of the Golden Temple complex, the army launched what is possibly its most controversial action, Operation Bluestar, under the command of Major General Kuldip Singh Brar (who later retired as lieutenant general).
But the operation, which began in the wee hours of June 6, 1984, was like a dagger through the heart for Sikhs everywhere. Thousands railed against the Indian State, the army, and all those who were connected in any way with the operation. A large number of Sikh soldiers, enraged by rumours that the Golden Temple had been damaged (the temple itself remained untouched, though the Akal Takht was damaged), deserted the armed forces. Author Khushwant Singh famously returned his Padma Bhushan award in protest. Captain Amarinder Singh, now the chief minister of Punjab, resigned from the Congress party. Four months and three weeks later, Indira Gandhi paid the ultimate price for ordering Operation Bluestar.
Twenty years on, rediff.com takes a fresh look at the events of June 1984 and the circumstances leading up to them.
Part I: 'Pakistan would have recognised Khalistan'
Part II: 'We went into a death trap'
Part III: 'You are not acting against any religion but against a section of misguided people'
Part IV: 'Bluestar was most traumatic, most painful'
Part V: 'The stench of death was overpowering'
Part VI: Why Osama resembles Bhindranwale
Image: Uttam Ghosh