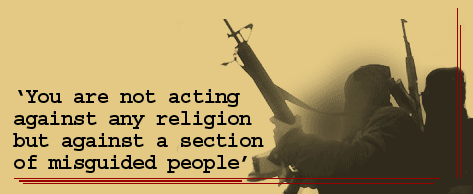 Part I: 'Pakistan would have recognised Khalistan and crossed the borders'
Part II: 'There is always a limit to how much any country can take'
Lieutenant General (retired) Kuldip Singh Brar commanded Operation Bluestar 20 years ago, when the Indian Army entered the Golden Temple to remove the terrorists who turned the holiest Sikh shrine into a private bunker. It was one of the Indian Army's most difficult operations, and also the most controversial.
In the third part of a four-part interview with Deputy Managing Editor Amberish K Diwanji, General Brar talks about his feelings as a Sikh who sent soldiers into his religion's most revered site.
Why were you were chosen for the task?
I have no idea. I was then commanding 9 Division [as a major general] based in Meerut. Two of my brigades comprised of Sikhs. My brigades were in Meerut, Delhi, Jalandhar, and I was asked overnight to move to Amritsar. A division was sitting in Amritsar, but it was moved to the border in case Pakistan decided to move in. I had no clue as to of the layout of the Golden Temple; I had to set up an operations room and I was given charge of the paramilitary and the Punjab police.
I could not tell them why I was there for fear word might leak out, so I didn't tell the others until just before the operation. The wheat agitation [farmers had threatened not to send wheat out of Punjab] was happening in Punjab then and killings were rising.
When you were summoned from Meerut, did you know what was in store?
Not at all. It came as a big surprise. I was called for a meeting to Chandimandir [Chandigarh] on May 31. In fact, my wife and I were all set to fly to Manila... the Philippines... on the night of June 1; I was off on a month-long vacation. We had our tickets and our travellers' cheques ready and, on May 31, I get this call asking me to come to Chandimandir. So we drive at night from Meerut to Delhi and I tell my wife to buy the gifts from Cottage Industries and tell her I'd take the helicopter to Chandimandir and get back by evening so that we could take the night flight to Manila. At Chandimandir, there were cars waiting for me and maps laid out on the table and I was told I'd have to take a flight to Amritsar.
I said I was going on vacation to Manila. [Lt General Ranjit Singh] Dayal [chief staff officer to Sundarji and in charge of Amritsar during Operation Bluestar] and Sundarji conferred with each other and later told me I'd have to cancel my leave. So I said give me two minutes to call my wife and tell her that I am not returning to Delhi and to cancel our tickets. In fact, our hosts did not even know we were not on the flight and were waiting for us at the airport; it was only later when they saw the news on television that they realised why I had not made it to Manila.
As a soldier, you don't question why. You do your task. I would say Sundarji and Dayal had faith in me. I had been involved in anti-insurgency operations in Nagaland and Mizoram and was thus tested.
But how did you feel as a Sikh? Are you very religious?
I am religious but in moderation. I am not a person who has to be in a temple every single day, but I have a fear of God. I respect religion, and respect the fact that I am a Sikh.
But as I said earlier, a Sikh or a Hindu has no meaning here [in the armed forces]. You don't even think about it. You are convinced you are not acting against any religion but against a section of misguided people who have held the country to ransom, who are ready to fragment this country...
But the operation did hurt the sentiments of hundreds of thousands of Sikhs, including many who had never supported the militants.
Certainly, I don't deny that. But this had to happen and yes, many were hurt by what happened.
My own mama [mother's brother] who lives in London -- he didn't keep long hair, he used to smoke, visit pubs and I used to stay with him whenever I was visiting the UK -- suddenly changed. He began to grow his hair and beard; he used to regularly participate in the functions at Southall [in London] where the Sikhs vowed revenge; he went to Pakistan; he swore he'd have never have anything to do with me. He broke ties with my parents… his own sister.
Then just three years ago, I was in London and found out he was dying of cancer. I decided I must see him and went to the hospital. The staff told me he had about 24 to 48 hours to live. When they informed him of my presence, he told them to bring me to his bedside and he held my hand; he had tears rolling down his cheeks and he told me he now understood I had to do whatever I did.
I got a letter from a Sikh gentleman in Canada who said that after reading about Operation Bluestar, if he had had the chance, he would have killed me. But he said that after reading my book [Operation Bluestar: The True Story], he realised the people who had let the Sikhs down were some Sikhs and the internal politics of the Akalis, and he understood that, as a soldier, I did what I had to do. He said I cleaned the temple.
He even offered to pay for translating the book into Punjabi so that more people could read it. In the event, my publishers did the translation and this book has gone into 10 or 11 reprints and is now easily available outside gurdwaras all over Punjab.
How about your parents? There is this well-known story of how the mother of General Dayal [also a Sikh] refused to eat until her son personally assured her that the Harmindar Sahib was safe. Were your parents similarly perturbed?
Not so much. They were, of course, upset that I, as a Sikh, had commanded the operation. But my father too is a soldier [D S Brar served in World War II and retired as major general] and he understood the compulsions of a soldier. In fact, they didn't even know I was commanding the operation until the whole thing became public.
Next: 'Operation Bluestar was most traumatic, most painful'
ALSO SEE
Part I: 'Pakistan would have recognised Khalistan and crossed the borders'
Part II: 'There is always a limit to how much any country can take'
Image: Rajesh Karkera