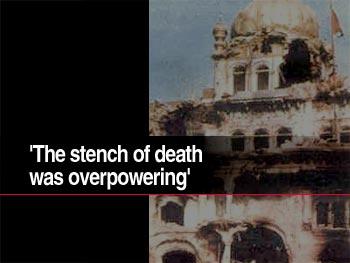 It was around five in the morning on June 6, 1984, when I was summoned to the army cantonment area in Amritsar. When I reached there, I was given a special task.
Around six in the morning I reached the Golden Temple complex, which had been ravaged during Operation Bluestar launched by the Indian Army to flush out terrorists holed up in various places, including the Sri Akal Takht Sahib.
What I saw shook me emotionally. Half the Akal Takht [see image above] was devastated and bodies lay all around in the parikrama of the Sri Harmandir Sahib. There was deathly silence. As a policeman I knew how to overcome my emotions. I controlled myself and went to the Darshni Deodi.
Jarnail Singh Bhindranwale, Bhai Amrik Singh, General Shubeg Singh, and other dreaded terrorists lay dead. Bhindranwale's face was swollen and blood was oozing from the wounds in his bullet-riddled body.
My job was to identify Bhindranwale's body. The man who lay dead was indeed Jarnail Singh Bhindranwale.
I was entrusted with the task of removing the bodies from the temple complex in view of the impending visits of then prime minister Indira Gandhi, and President Giani Zail Singh. When I returned in the evening I started working on removing the dead, which included women and children. We removed 800 dead from the complex and other buildings in the vicinity.
What made me sad was that many innocent lives had been lost which could have been saved with a bit of effort. Worse, the Punjab police was not even informed about the operation and everything was being controlled by the army and paramilitary forces. Only those police officers who were required for certain jobs were summoned from time to time.
On June 4, I had had a meeting with Lieutenant General Ranjit Singh Dayal and Major General Kuldip Singh (Brar) in the cantonment area with the help of some senior officers of the Punjab police. I had requested General Dayal to allow me some time to negotiate a surrender by visitors and terrorists who were inside the temple complex.
I got a positive response from General Dayal and he gave my mission the green signal. About 250 persons -- men, women and children -- surrendered before someone in the army blew up a water tank in the temple complex. This provoked the terrorists who started firing. Many innocent people lost their lives in the crossfire. No further efforts for surrender could be made as there was mistrust amongst the terrorists. Post-mortem reports later confirmed that some of those who had been killed had had their hands tied behind their backs.
By the time Mrs Gandhi and President Zail Singh visited the temple complex it had been cleaned up thoroughly and not a trace of blood or flesh could be seen anywhere. But the stench of death was still overpowering and could bother you for days in case you managed to get some of it with the air that you breathed.
The Punjab police is often blamed for letting arms and ammunition into the temple complex. But on an average 2,000 vehicles go into the complex area and even if we had spent one minute per vehicle it would have taken us days to clear 2,000 vehicles while the additions would have awaited their turn.
The amount of weapons seized during Operation Bluestar was nothing compared to the weapons seized during Operation Black Thunder a few years later.
Apar Singh Bajwa, who was deputy superintendent of police in Amritsar at the time of Operation Bluestar, spoke to Chief Correspondent Onkar Singh.
Image: Uttam Ghosh