Noted Bollywood filmmakers and actors rallied around Aamir Khan on Monday evening to express their solidarity and support to the actor and his latest film,
Fanaa
.
The fraternity felt it was not right, on the part of Gujarat Chief Minister Narendra Modi's government, to not provide adequate security to the film that released on May 26.
| | |
| --- | --- |
| | More on rediff.com! |
| | |
Yash Chopra, Subhash Ghai, Pahlaj Nihalani, Anil Kapoor, Anupam Kher, Sajid Nadiadwala, Amit Khanna, Ashutosh Gowarikar and Ronnie Screwvala said that Aamir Khan, as an individual, had the right to express his opinion, as stated in the Indian Constitution. They had assembled under the banner of Association of Motion Pictures and Television Programme Producers of India and Film and Television Producers Guild of India.

Modi had openly criticised Aamir after he expressed solidarity with the Narmada Bachao Aandolan leaders and said the actor had no right to favour them against the dam, as the people of Gujarat would be deprived of water. BJP leader V K Malhotra further said that Aamir needed to apologise, but the actor refused, saying he hadn't said anything wrong, adding that he wasn't against the dam. He said the people being displaced by construction must be given rehabilitation.

Fanaa was unofficially banned in Gujarat, as theatre owners feared violence.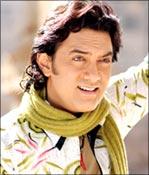 "I am not a political person and I don't have political ambitions. But I feel whatever happened to Aamir and Fanaa is not right," said Anil Kapoor. "Look into your hearts and see if there is anything wrong in what Aamir is saying. The answer is no. Today, the world is looking forward to India because it is a rising power. If we do such things in our country, we are not practicing democracy. Aamir has a right to his opinion."
Actor Anupam Kher added, "Aamir is not doing this for publicity. He felt that the people who were affected by the construction of the dam needed homes, so he spoke in their favour. There was nothing wrong in it. We support him."
Interestingly, only two days ago, actor-turned-BJP Parliamentarian Shatrughan Sinha had said that Aamir's behaviour was irresponsible. When asked to comment on his statement, producer Pahlaj Nihalani said, "Shatrughan Sinha is not a representative of the film industry. He is associated with a political party. It is his personal view."
Other film stars turned politicians like Vinod Khanna, Dharmendra and Hema Malini have chosen to keep mum on the subject.
Yash Chopra, who produced Fanaa, said he had anticipated trouble for the film and had therefore met Modi to resolve the issue. "Narendra Modi told me he would give my film adequate protection," he said. "I thought this matter would be resolved but, unfortunately, exhibitors in Gujarat refused to release the film fearing attacks on their theatres." He further stated that Fanaa was suffering a loss of Rs 1 crore everyday from Gujarat. "I had sent the prints to Ahmedabad, but had to take them back because theatre owners refused to screen the film," Chopra continued. He claimed he did not know which groups were responsible for threatening theatre owners.
The assembled group also said they want Fanaa to release in Gujarat this week without delay or else they would have to chalk up a new strategy. When asked to elaborate, Nihalani said, "I cannot say anything now. Let us wait and see what the Gujarat government does. We hope we will be able to solve the problem." 
When asked to comment on a report that Aamir was willing to return his acting remuneration fee because of losses in Gujarat, Chopra said, "Aamir did not say this to me. The question is not about money but about democracy and an individual's right. Every individual has the right to express opinions on any issue and Aamir did the same."