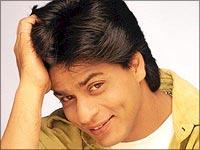 Kabhi Alvida Na Kehna is a story about broken relationships. The trailer, in typical Kabhi Khushi Khabie Gham style, opens introducing us to our couples -- Shah Rukh Khan-Preity Zinta and Abhishek Bachchan-Rani Mukerji.
Both marriages are fast on the downward spiral. Abhishek yells at Rani, asking why his wife won't sleep with him. Rani snaps back that there's more to marriage than sharing a bed.
Preity tells Shah Rukh that he's taking out his failed career frustrations on his marriage, and that's sad. SRK, eyes brimming with tears, turns and asks, 'you know what's sadder? us.'
The couples are estranged, and interlinked -- their paths cross. And then there's Amitabh Bachchan, sharing some relationship wisdom as he wheezes from a hospital bed.
Kabhi Alvida Na Kehna, a typically larger-than-life Karan Johar film, seems filled with heavy dialogues, tons of melodrama, and overdone emotions galore. And we all know how the Bollywood audience loves that.
Kabhi Alvida Na Kehna is slated to release in August.