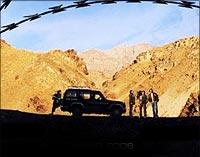 The promos of Yash Chopra's Kabul Express were released along with Fanaa's opening in theatres on Friday.
John Abraham and Arshad Warsi head into Kabul, Afghanistan, to do a story on terrorism. All seems okay for the first couple of frames till an inexplicably accented voice starts telling us about a bunch of characters -- 'Two Indians, one Pakistani, one American' -- and goes on to talk about these folks in the alien land of Kabul.
The film looks well shot and John Abraham straddles a tank with ease.
John and Arshad exchange comical one-liners, and share good chemistry on screen.
If only Warsi didn't stop and point to 'Osama bin Laden!' in the final shot, we might have been excited instead of royally tickled.
Directed by debutant Kabir Khan -- who is married to Indian Idol host Mini Mathur -- Kabul Express will release in July.