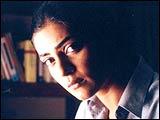 Two 'heroine-oriented' films -- Main Madhuri Dixit Banana Chahti Hoon starring Antara Mali and Samay: When Time Strikes starring Sushmita Sen -- released today.
Co-starring with them are character actors Rajpal Yadav and Sushant Singh, both originally from the Ram Gopal Varma camp.
Which combination will take the honours?
Having seen the latter film first day first show at a near-empty theatre, I would say Antara's Chutki stands a better chance than Sushmita's ACP Malvika Chauhan.
Writer-director Robby Grewal's Samay has no unwanted romantic or comic track, no foreign locales and no big star cast. Despite a focused screenplay, the film's slow pace prevents it from becoming an interesting edge-of-the-seat suspense thriller. And, when the suspense unfolds at the end, one is left without that why-did-I-not-think-of-this-before feeling, which is a vital ingredient in any good murder mystery.
| | |
| --- | --- |
| | Samay on Rediff! |
| | |
India's top businessman, 34-year-old Kapil Sharma, is murdered at his residence. Assistant Commissioner of Police Malvika Chauhan (Sushmita Sen) and her assistant Satya (Sushant Singh) cannot find any clue at the site. No fingerprints, no telltale signs of struggle or any motive for the crime.
Investigations reveal the victim's wife was having an affair with Kapil's friend Raghu Kotian, who was present at the scene around the time of the crime. But Malvika is not convinced he is the murderer.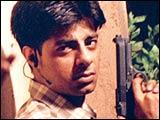 Next, India's best actress Ritika is murdered in the makeup room of her movie set. People suspect that actor Rocky, who was responsible for giving the actress her first break, finished her off.
Malvika doesn't buy this argument either. She feels both crimes have been committed by a third person.
Soon, she realises she is being secretly pursued. A few chases through Mumbai's crowded streets and slums later, the cops land at the country's most popular contract killer Suleiman Bhai's hideout, only to find him dead.
Malvika finds some strange connections between the three cases. Each of them has been executed so cleanly and with such perfect timing, purposely leaving behind just enough clues to keep the cops on the hunt, that she is sure the murderer wants to challenge the cops.
| | |
| --- | --- |
| | More on Rediff! |
| | |
This leads her and her team on a manhunt against time.

While certain scenes are well written and executed, there are others that leave the viewer confused. Like, what makes Malvika think the same person committed the first two murders? There aren't any logical reasons when she says that initially.

She gets a blank call on her cell from her police station. She rushes inside to find the line has been dead. The murderer, in the film's climax, boasts he had been giving her clues like this throughout. What sort of clue was this?

Or when the forensic expert (Rajesh Khera) says, 'Behind every successful woman, there is a man,' she realises all three victims wore spectacles and thanks him for help. Ahem, what's the connection?

Maybe writer Grewal had something in mind which he forgot to tell us.

The film has two songs composed by Sandeep Chowta, of which Laaila is hummable. The cinematography is good, especially the scene where the cops surround and enter Suleiman Bhai's hideout in a slum area. The sequence reminds you of Ram Gopal Varma's Satya.

Of the cast, Sushant Singh, Rajesh Khera and Prashant Dalvi (as Malvika's family friend) lend adequate support.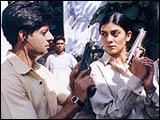 Sushmita Sen, playing the solo 'hero' for the first time, manages to deliver a satisfactory performance. While she looks comfortable in shirts and trousers, and does not hesitate to order her male counterparts around, she does not quite look the extraordinarily intelligent India's best police officer that the dialogues repeatedly make her out to be.
However, she makes up for this towards the climax when she portrays a tense and nervous cop running out of time; a cop who knows she might be the next target.
Writer-director Robby Grewal makes a decent debut, sticking to his storyline and not allowing market pressures to add item numbers or dream sequences. However, he fails to elicit extraordinary performances from his cast.
Samay could have offered viewers a nail-biting sojourn if it had a faster, tighter screenplay. We hope Time will work in Grewal's favour the next time around.

CREDITS
Cast: Sushmita Sen, Sushant Singh, Rajesh Khera, Prashant Dalvi
Producer: iDreams Productions and Red Ice Films
Writer-Director: Robby Grewal
Music: Sandeep Chowta                       
Lyrics: Abbas Tyrewala
Cinematographer: Mohanan
Would you like to review this film? Here's your chance!