In late 1979, I was working at the Hotel Chola Sheraton in Chennai.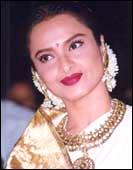 | | |
| --- | --- |
| | Send in your wishes! |
| | |
One night, when I reported for work, I found the place in a tizzy. As the girls in reception told the story, Kamal Haasan and Rekha Ganesan were in the latter's room in the hotel when Kamal's then wife Vani Ganapathy landed up and gave her husband a public dressing down.

At that point in time, I was more into cricket than films, so Rekha and, for that matter, Kamal, were just names that meant little more than an excuse to chat up the reception girls. Who, as it turned out, had all the dope -- Rekha was the daughter of Gemini Ganesan; she was big in Mumbai; she was in Chennai to shoot for Meendum Kokila co-starring Kamal and Sridevi...

Weeks later, I learnt that for some unspecified reason, Rekha had been tossed from that project, and that Malayalam actress Unni Mary had been drafted to play her role.

When the movie was released in 1980, I was no longer working at the Chola. I was, however, still in touch with a couple of the girls there, who seemed to feel a proprietary interest in the film.

In any case, that was how I happened, for the first time after I had 'grown up', to go for a 'first-day-first-show'. As it turned out, I enjoyed the film, despite my companion's tendency throughout its duration, to lament the presence of Unni Mary and how much better Rekha would have been.

By the mid-1980s, I was a 'film journalist' -- one of two people who (I can only blame an overdose of alcohol for this) decided, with nothing more than an electric typewriter between us, to start and run an English fortnightly tabloid on Southern movies.

What that stint did bring was easy access to, and familiarity with, stars, producers and directors in Tamil, Malayalam and Telugu films; what it did not bring, despite my trying my damnedest, was an interview with Sridevi.

For film journalists at that point in time, Queen Sri was the ultimate. Only, she just could not be got. She shot a lot in the studios in and around Kodambakkam, where I spent all my days and most of my nights, but for all the good that did, she could as well have been on the moon.

On the sets, she was regal; before the cameras, amazing. To the journalist, and the public, she was aloof.

There was this Praetorian guard around her, in the fashion of a monarchy, an outer ring of assorted functionaries, the inner circle of makeup man, dress designer, hair stylist, and the like, and finally, next to the throne, the ultimate, insurmountable, obstacle -- her mother.

Directors like Bharati Raja, who had worked with her during her early years, and some of her Tamil co-stars from that period, talked of how 'Sri' had completely reinvented herself after switching to Mumbai.

The reason, they said, was Rekha. As they told the story, 'Re' had taken Sridevi under her wing, when the latter began acting in Hindi films; the motivation, they said, was that Rekha had traumatic memories of landing up in Mumbai knowing neither the language, the people, nor the ethos; having gone through that experience, she wanted to help a fellow South Indian in similar plight.

Rekha, the Southside film people said, had taught Sri all there was to know about the industry. Rekha, they said, was responsible for teaching Sri the grammar of style, makeup, and deportment. Rekha was responsible for Sridevi's transformation from naïve, gawky duckling to screen stunner.

They said, too, that Sri, having learnt all there was to learn from Rekha, had then 'ditched' her mentor.

In 1990, I was working for the Mumbai tabloid Mid-Day -- and film coverage comprised a good-sized segment of its editorial matrix.

In November that year, I was sent by my editor to Udaipur, to cover the shooting of K C Bokadia's Phool Bane Angaarey; the editorial attraction, and focus, was Rekha who was then recovering from a traumatic episode in her life.

The previous year, she had been married to businessman Mukesh Aggarwal; within six months -- even, in fact, before the glut of post-nuptial interviews had died down -- Aggarwal had committed suicide.

Media coverage had been, by and large, vicious. It was said that her career was virtually over. She had by then been eclipsed first by Sridevi and later, in the late eighties, by Madhuri Dixit. Angarey, thus, was reportedly the sign of her descent into oblivion, via B-grade films.

I had a lot of expectations going in; by then, I had seen several of her films (Do Anjaane, Khoobsurat and Silsila remain in the mind, though my all-time favourite was -- still is -- her portrayal of the raped wife in Ghar).

We -- there were half-a-dozen of us in the press party -- checked into the Laxmi Vilas Palace late one evening; by the time we woke up next day, the unit had already left for the shooting spot. A unit car took us, at our leisure, to the day's locale -- a marketplace where Rekha was then shooting a stunt sequence.

I remember my first sight of Rekha. The shot in question had her grabbing hold of a baddie's shoulder, running up a wall, jumping over the bad guy's head and putting the boot into his head on her way over.

They were setting up the shot -- director Bokadia, the stunt choreographer, stuntman, and Rekha herself. And I looked at her and thought, jeez, this is the gorgeous Madam Re?

She was diminutive. I would, reaching back 13 years into memory, put her at about five foot five. She was not 'attractive,' if you go by the textbook on physical attraction. Narrow on top, big hipped, with somewhat thickset legs, she had what in the beauty business they call an A-line figure.

During a lull, I strolled up, thinking to do my interview; habituated to the free and easy mores of a Southside film set. I wasn't prepared for the elaborate protocol that was apparently needed before you could talk to Rekha.

Her secretary Farzana intercepted me; made me explain who I was and which publication I was with; then told me she would check with madam and let me know.

A day later, I had interviewed Bokadia, had had breakfast with Prem Chopra ('Prem, you can call me Prem'), chatted up a storm with Dalip Tahil, and ran out of questions to ask Alok Nath.

I finally got my interview, through sheer rudeness. On the morning of Day 3, I spotted Rekha having breakfast with Farzana and Prem Chopra; I went up and wished Chopra good morning with all the manufactured bonhomie of a journalist who knows it is as much as his job is worth to fall down on an assignment; then quickly turned to Rekha and introduced myself, before Farzana could butt in, and asked for time.

Okay, she said, we can talk for 15 minutes after breakfast. I selected a strategic table. She couldn't get out of the restaurant without passing me. A while later, she came over, sat down, and said hello and 'No personal questions, please; I will talk of the film, but nothing more,' all in one breath.

I don't have my notes from then, so I can't do you a verbatim recap. What I do have, are impressions:

Of an aura that is difficult to describe. When face-to-face with a good-looking woman, you tend to give her the once-over. With Re, your inspection begins with her chiselled face -- and stops with her eyes. They are bright, alive, alert -- and they lock into your eyes and don't let go. It is strange how few men and women look you in the eyes all the time they are talking; Rekha holds your eyes throughout, and the effect is, in a weird way, mesmeric.

Of an indescribable stillness. Whether she is dead-panning responses to clichéd questions ('What is your role?' 'What film will you be doing next?') or speaking animatedly about some chance question that captured her fancy ('Do you consciously model your behaviour on the likes of Greta Garbo and the other reclusive stars of Bollywood?'), her hands, her body, retain a cast-in-stone stillness; when you contrast that with the sparkle that comes into her eyes when she is interested in the answer, the overall effect is -- I can't think of a better word for it -- sexy.

Of a carefully constructed emotional wall, strong enough to keep everything out, and herself in.

A standard trick for a journalist who has to ask uncomfortable questions is to save them for the end; to first ask a lot of soft questions. That way, if you pop the big one and get tossed out, you at least have a fairly decent 'interview' to take back to your boss. On those lines, I waited till the very end to approach her recent tragedy; even then, I went at it roundabout, asking -- if I remember right -- something like, 'How do you bounce back from personal tragedy, is there something like prayer, or meditation, or some such, that you use?'

It must have been obvious that, her prohibition notwithstanding, I was asking about the demise of her husband. I don't remember the exact words she used; I do, though, remember the sum of her response: I have never, she said then, had an entirely happy relationship with anyone; be it my father, or my mother, or sisters, or a man in my life; always, there has been happiness; always, there has been hurt. And when that happens, consistently and over time, you learn to put up inner defences, to shield yourself from pain.

She talked, then, of finding joy in little things; if I recall right, she had recently got hooked to bonsai, and she spoke of how the minutiae of growing one, caring for one, could be soothing; how even the most mundane household chore could lift you out of yourself.

She talked, in that brief interview, of how her shyness had often been misinterpreted as a Garbo-esque aloofness; of how she often found herself doing the roles she got, as opposed to the roles she longed for and wished she could get; of how, over two decades and more in films, she had learnt to shrug off the doomsday pundits who were constantly writing finis to her career...

She talked simply, with no flourishes, no gee-whiz phrases and stand-out expressions; yet in that simplicity of expression, there was, as I recall, a strange kind of eloquence.

I remember spending the best part of three days watching her, taking copious notes of the scenes she shot for and how she did her action shots and how she delivered her dialogues and what she did between takes.

I came away with the impression of a woman whose demeanour was characterised by a structured politeness, yet who could be extremely charming; a woman who was not beautiful, but beguiling; a star whose talent was so prodigious that it shone through even in context of the shooting of a kitschy masala movie.

Back home in Mumbai, I then attempted to translate those notes, and her own words, into a pen portrait that would adequately bring out the nature of the woman, and the star. I remember toying with many ways of writing it; trashing each attempt, starting over, and trashing that... until I finally gave up.

On that occasion, I used the favourite journalistic cop-out: when you find you cannot do justice to a subject, the short-cut is to do a straight question and answer; you ask, she answers, there is no need to strain your brain.

Thirteen years later, when the current editor of the rediff.com movies section asked me to do an impressionistic piece on Rekha, I thought of that long ago encounter; thought, too, of the movies of hers I have seen between then and now, and sat down to try and capture the essence of her in words.

I find I still cannot. Rekha defies description; she transcends the standard palette of adjectives and descriptive phrases we hacks use as a substitute for insight.

Like a firefly in the night, she belongs out there -- a glimmering, mysterious presence as much imagined as seen, to tease our senses and to tantalise the imagination.