Let me tell you a story, about me and the object of my fascination.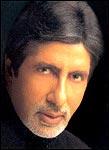 Some time in 1981, I had my first onscreen encounter with an actor. The film was Yaarana. I was only three. But I recall watching the actor strut in a black outfit with tiny lit bulbs woven on it.
Next, I saw him in Silsila. I cannot remember anything apart from a couple of plane crashes. Things improved slightly with Kaalia. After I saw it, I would often find myself saying, 'Kaalia, kaalia, kaalia.'
| | |
| --- | --- |
| | Send in your wishes! |
| | |
That's the echo that plays in the background every time
Kaalia
appears on screen.
Then came the turning point in my life. I saw Shakti. I have written about this incident earlier, but let me reproduce it for you. I went to see this highly hyped film with my family. Throughout the movie, my five-year-old imagination could sense something was fishy. Vijay's dad was constantly gunning for him. In the climax, Vijay is shot dead by his father.
That was too much for me to bear. Much to my mother's chagrin, I began wailing loudly in the theatre, "Vijay mar gaya (Vijay is dead)."
Only after I saw his next release Sharaabi in a seedy theatre in Bareilly, Uttar Pradesh, I realised it was all make-believe.
I finally stopped mourning Vijay's loss.
Even so that climax scene stayed with me for a while. My brother Suparn and I would often enact it for fun. But I always got to play Vijay's father.
My dialogue was "Ruk jao Vijay, warna main tumhe goli maar doonga (Stop, or I will shoot)."
My brother got to mouth the sympathetic, "Dad, yeh to hona hi tha (This was inevitable, father)."
And Amitabh Bachchan became part of my life.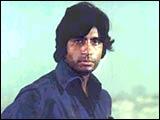 Although I have no memory of his accident on the sets of Coolie, I remember reading Amitabh comics. Big B used to feature as a super hero in these cartoon series, dressed in a pink and yellow costume. Now those comics may seem down market, but back then they were very cool.
Watching movies in a theatre was not regular. So I made sure I watched only Amitabh Bachchan movies. I saw most of his films from 1980 to 1990 at cinema halls, even the likes of Toofan, Ajooba and Indrajeet.
Still, there was a whole bunch that I hadn't watched. That's when emotional blackmail came handy.
We were vacationing in Delhi. I fell sick. Perfect opportunity to watch an Amitabh blockbuster, I thought.
"I am sick and dying and my last wish is to watch Amitabh's Khuddar," I declared.
My wish was granted.
In retrospect, I think I should have asked for Satte Pe Satta instead.
His superb comic timing, hilarious facial contortions and dialogue delivery in Chupke Chupke, Amar Akbar Anthony, Namak Halal, Satte Pe Satta and Sharaabi always managed to put me in good spirits.
That is why he is a genuine entertainer. He makes you happy.
Not that I don't dig his legendary angry young man image. In Zanjeer, he was raw. In Mili, he seethed. In, Sholay, he was brooding. In Aakhri Raasta, he was exciting. In Deewar, he was tragic. In Trishul, he was tactful. In Aks, he was delirious. In Aankhen, he was dangerous. So on and so forth.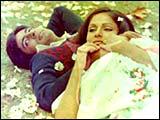 How can I forget his poetic outbursts in Abhimaan, Muqaddar Ka Sikander, Kabhi Kabhie and Silsila. The romantic AB, however, was predominantly overshadowed by his angry image.
His new crop of films is dependent on his effective personality. A case in the point is the boring and slow drama Armaan. Only when AB (though in that hideous wig) entered the frame, Armaan came to life.
The moment he left, Armaan was dead too.
I have never met him. I have only heard stories about him.
The reaction is always extreme. Some are in awe. Some think he is an interviewer's worst nightmare. Some find him monosyllabic. Some think he is phenomenal.
Maybe he is just human.
Yet, is he?
What makes him special in my eyes is that Amitabh is a fighter. No matter how down, he was never out. His resurgence, personally and financially, after the television game show Kaun Banega Crorepati, is one such inspiring chapter.
1942 is an important year in Indian history. Not only because it marks the Quit India Movement, but also because the film industry's biggest blockbuster Amitabh Bachchan was born.
October 11, 1942, to be more specific.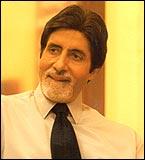 At 61, Amitabh is as good as it gets. While most men his age are spending their days in retirement, Big B is one of the busiest actors around.
Age hasn't dimmed his glory. Nor my fascination.
This is where my story ends.
Happy Birthday to my fellow Libran!