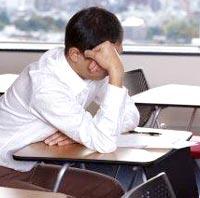 reparing for the GRE/ GMAT?
You will generally find that everyone who has taken/ is planning to take these exams pours through almost each and every preparation strategy advocated by experts.
In the process, they sometimes tend to forget they also need to focus on two important non-academic aspects that influence how they will perform in these exams.
~ Maintain your concentration level
~ Answer the first few questions correctly
Let's find out how important these factors are.
Concentrate, concentrate, concentrate
If you want to maximise your scoring potential, you need to concentrate when you write the test.
i. Difference in evaluation pattern
Getting stressed will not help you perform better in tests where you are evaluated on knowledge alone.
This is because your memory plays a bigger role than your ability to think on your feet.
In the case of the latter, you can comfortably encounter different questions even if you are in a fatigued state of mind.
But the GRE and GMAT are primarily tests of reasoning and mind power where one needs the knowledge of Mathematics and English.
Hence, the more alert you are, the better you will score.
ii. The time factor
Time is another aspect. You do not have the liberty to go through anything more than once, so you need to analyse and deduce things fast.
Lack of attentiveness can eat into your valuable time.
iii. The Educational Testing Services trap
ETS deliberately traps students with extremely enticing options in the choices offered for answers.
In order to beat the ETS ploy, one has to remain extremely alert and vigilant and tread with extreme caution.
The Reading Comprehension passages are mostly on uncommon subjects and are likely to disturb one's concentration; this could lead to time loss and a poor overall performance at the test.
Quick tips to increase concentration
Here are some ways to ensure your concentration is at its peak during the exam.
i. What should your frame of mind be?
You need to be absolutely calm and fresh.
Don't study too much or stretch yourself in any way the previous day. Make sure you sleep enough, so you are well-rested.
If you feel drowsy or tired, your mind will not be alert and this could be your undoing.
ii. When should you give the test?
You can book for the test any day from Monday to Friday. I suggest you take it on a Monday, if Sunday happens to be your weekly off.
This would ensure you go for the test in an energetic frame of mind.
Any other day could mean you reach there partially or fully fatigued.
iii. Which shift should you choose for the test?
You can opt for either a morning or evening shift. We suggest you go for the morning session. This is because your mind tends to get a bit tired by afternoon.
Part II: Taking the GRE/ GMAT? Try this strategy
DON'T MISS!
Rituparna Roy Chowdhury specialises in helping students frame essays/ SOP and edits thesis for PhD students, conveying their themes with better communication skills. He is currently working on a short-term project for Kaplan, a Washington Post Company, and a leading Test Preparation Company in the US, to edit content for their simulated Tests on SAT, TOEFL, GRE and GMAT. He has worked with The Princeton Review, a leading MNC in the GRE/ GMAT/ SAT training segment. He can be contacted at rituparnaroychowdhury@rediffmail.com.