crucial part of the application process to universities abroad is your essay and Statement of Purpose.
When the competition is tough, a good essay and SOP could just tilt the odds in your favour.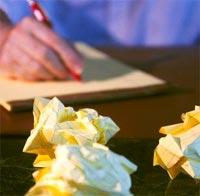 Unfortunately, many students make basic mistakes while framing them, and lose out on a good school despite having good scores.
Let's look at what you might be doing wrong and get the basics right.
Where most go wrong
~ Using flowery language
Essays and SOPs are primarily meant to get an insight into your personal and professional traits, and to understand how flexible you are when required to adjust to varied circumstances.
But most students use flowery language in an attempt to impress the admissions committee, oblivious of missing out on their strengths.
~ Writing generic essays
Writing generic essays, however well-composed they may be, prevents the admissions committee from knowing you.

Thus, you lose out.
~ Failing to depict one's vision
Many students fail to highlight their vision and how they see themselves in the future.
This makes it appear as if they lack a vision in life and could go against you when the final decisions are being made.
~ Choosing the wrong recommendation
Most end up choosing the wrong recommendation, because they are unmindful of whether they tally with their desired area of study or not.
How you can get it right
~ Personalise your essay and SOP
The primary purpose of essays is not to test your writing ability, but to know who you are.
Therefore, you should try to make it personalised by delving into incidents from your personal life and not drawing general conclusions.
This would ensure that a broad and diverse picture (about you) is portrayed before the admissions committee.
Try to vividly bring out your strongest elements by depicting how you have overcome stiff hurdles in the past or outgrown your restricted circumstances.
If you can show you have risen from the grass root levels, it would prove you are aligned to the realism of life and work processes.
If you can recall past incidents where you can show your flexibility of approach and how you adapted yourself to varied circumstances, it would demonstrate how you can outscore others.
~ Bring out your passion for the subject
The degree of love and passion you have for your subject is directly proportional to your potential for success.
Your extreme sense of oneness with your area of study should be overwhelmingly reflected through the SOP and essays.
It should stand out as if you weave dreams around it. 
~ Leadership attributes
Your ability to inspire others and be their guiding force should project you as a leader who has the vision and farsightedness to be unique. 
Always try to include incidents where you had donned the mantle of the leader to show a new path to others.
~ Projects
One's association with designing new projects is the best way to portray your progressive inclinations.
Describe the various projects you might have undertaken in the past with relevant technical details.
This would help demonstrate your drive for creating new paths, instead of following a set pattern.
Do ensure you include past projects which are associated with your intended area of study.
Otherwise, they lose much of their significance.
~ Are you a non-bookish, abstract learner?
Try to show you are not bookish.
Attribute your academic success to intuition, co-relating various phenomena and using general intelligence by perceiving things in abstraction and totality rather than by merely studying for hours.
One can learn through books, no doubt, but to excel, things have to be perceived in the abstract. 
~ Are you a degree seeker or do you have a goal in life?
Try to create an impression that your intention is not just the degree or the university tag.
You are interested in studying primarily because you have an extremely innovative bent of mind and are determined to contribute something new to society at large by utilising the opportunity of learning.
For instance, think of a problem that plagues your domain of study and come up with suggestions as to as how to solve it.
This would prove you really have a research-oriented mindset; it will surely go in your favour.
For instance, your subject could be MS in Networking.
If clogging of networks is the biggest problem that is troubling the industry, you may come up with a suggestion as to which method of research holds promise for bringing about a solution to this problem.
DON'T MISS!
Rituparna Roy Chowdhury specialises in helping students frame essays/ SOP and edits thesis for PhD students, conveying their themes with better communication skills. He is currently working on a short-term project for Kaplan, a Washington Post Company, and a leading Test Preparation Company in the US, to edit content for their simulated Tests on SAT, TOEFL, GRE and GMAT. He has worked with The Princeton Review, a leading MNC in the GRE/ GMAT/ SAT training segment. He can be contacted at rituparnaroychowdhury@rediffmail.com