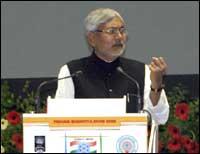 Bihar Chief Minister Nitish Kumar, these days, does not spend too much time thinking about the complex political and social realities facing him. Barely two months after coming into power, he has a simple one-point agenda: Make Bihar the best investment destination in India.
Question: Will he succeed?
Answer: He just might, going by the perfect public relations exercise that Nitish and his team of bureaucrats carried off at the Pravasi Bharatiya Divas in Hyderabad.
Here's how Bihar went about wooing investors:
It had the best pavilion at the PBD.
Nitish came with the largest number of officials. More than the numbers, the manner in which the dapper bureaucrats went about their business showed that things are changing in the Bihar administration. They were at their best, while interacting with the media and NRIs alike.
They then distributed attractive brochures and interactive CDs showcasing Bihar's potential as an investment destination.
Apart from the officials, Nitish himself sought and spoke to NRIs from Bihar.
"I want to convince everyone and prove that Bihar is also a land of great opportunities," Nitish tells rediff.com, as he interacted with a large number of overseas Indians from Bihar in Hyderabad's Hi-Tech City.
"Bihar is no longer an unsafe place for investments. Your money, your investment, will be safe, and we will ensure that you reap the benefits for coming back to your roots," he tells a group of NRI Biharis who are keen to invest in the state.
But Nitish admits that his administration has to work really hard. "We have been in the dumps for the last 15 years. I want to ensure that Bihar changes for the better in the next two years," he insists.
"Is it possible?" asks Navin Sharma, a young entrepreneur from Bihar who is in the tourism industry in the Gulf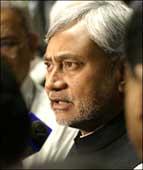 countries. Sharma says, in Jerusalem, the cradle of Christianity, Judaism and Islam, some 5,000 tourists visit day.
"I want to develop tourist projects in Bodh Gaya for religious tourism because it is the cradle of Hinduism and Buddhism," Sharma tells Nitish.
The attentive wants Bihar Tourism Secretary R S Tiwary to help Sharma. "Yes, it is my dream to showcase and show to the world that Bihar is the ultimate land of opportunities and enlightenment," he tells Sharma even as he attends to another Bihari overseas Indian.
Since 2003, this is the first PBD a Bihar chief minister has attended and Nitish was well prepared too.
It was no surprise then that his special address for NRIs hailing from Bihar was packed. Every Bihari NRI wanted to speak. "We do not want to speak about Bihar's past and present records. We want to talk about the future," said Ajay Singh, a businessman settled in the United States. "We have great hopes in you, chief minister," he said.
Like Singh, dozens of NRIs stood up and spoke; some complained that connecting with the Bihar administration was the hardest as no government department could be reached on e-mail.
Bihar's Industry and Mines Secretary Ajit Kumar, who gave a presentation on the state's industrial potential said e-governance is one aspect that the state administration is trying to fix quickly.
"We have launched a programme to network all our government departments. The winds of change are already there. These days, all the deputy commissioners and district magistrates are connected," Ajit Kumar pointed out.
As the chief minister and his team sat down, patiently listening to complaints, ideas and vision of NRIs for a developed Bihar, senior officials gave a PowerPoint presentation on 44 key projects for which the new government wants NRI participation and foreign investment.
"This is the first time that we have got an opportunity to present the investment opportunities in Bihar. We are happy and thrilled," an official said.
The presentation did have an impact on many NRIs. Some said they are ready to take up medical projects in the state. Vivek Mohanty, an NRI technocrat from Britain, said he wants to set up an engineering institute in Patna. Many showed interest in setting up other projects across the state.
What were the investment projects that Nitish and his team came prepared with?
New industrial projects like setting up diary plants, sugar mills, fruit-processing plants, cattle feed manufacturing and frozen vegetable units.

Projects integrating water generation and waste management.

Projects for developing Patna as the most modern city.

Multi-million dollar projects for power generation.

A series of projects in tourism, science and technology, education and agriculture.
Among all these projects, what is the chief minister's first priority?
"I want to build expressways between Patna and Bodh Gaya and Patna and Vaishali. And I have already had a long discussion with the chief ministers of Maharasthra and Gujarat on the modalities of building expressways," Nitish reveals.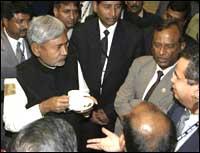 The chief minister says he has come to PBD not just to seek investment from NRIs. "I also want to see how other states are marching forward. Even we want to develop our infrastructure like Andhra Pradesh, Maharashtra and Gujarat," he said.
So does Bihar expect global players to set up shop in Patna and other towns in the state?
"Why not? We expect all the big IT companies in the new Bihar that we have decided to build and develop," asserts Ajit Kumar.
"A new, resurgent Bihar is coming up. And I promise you that you will not be disappointed," Nitish says, concluding with a quote from President APJ Abdul Kalam: "If India is to succeed, Bihar must prosper."
Photograph: Jewella C Miranda