"Gujarat is a state where you sow a rupee and reap a dollar," according to state Chief Minister Narendra Modi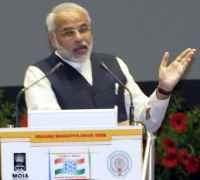 The chief ministers attending the annual conclave of overseas Indians in Hyderabad vied with one another to showcase their state as the best investment destination in India.
Complete Coverage: Pravasi Bharatiya Divas
Chief Ministers of Andhra Pradesh, Kerala, Maharashtra, Jammu and Kashmir and Bihar and ministerial representatives from states like Tamil Nadu, Karnataka and West Bengal were given 15 minutes each to present their state before the overseas Indians.
And the man who came out as the most convincing was Gujarat Chief Minister Narendra Modi.
But Modi, in his extempore speech, dished out facts and figures to the gathering saying, "Gujarat and Gujaratis have business in their blood. It is a state where you sow a rupee and reap a dollar. I want the global investor to visit Gujarat to see and feel for himself the changes taking place in my state," Modi said.
Some of the facts and figures Modi presented:
Gujarat achieved an average annual growth rate of 11.6 per cent in agriculture sector and 13.2 per cent in the manufacturing sector from 1994-2004.
Gujarat only has 5 per cent of India's population; but has received the largest investment in industrial projects with 18 per cent share.
The Planning Commission wants Gujarat to achieve annual growth rate of 10.2 per cent, the highest among all states, in order to achieve an overall growth rate of 8.2 per cent for the country.
Gujarat received four major international awards in the last two years - the World Bank's Green Award, UN-ISDR Sasakawa Award for Outstanding Work in Disaster Management, the Gold Award by Commonwealth Association for the Initiatives and Innovations undertaken in Governance and the UNESCO-Asia Pacific Heritage Award.
Gujarat is the numero uno state in India in industrialization. It ranks first in the country in fixed and productive capital employed in industry.
All these had been made possible because of the proactive measures that the state government had adopted all these years, Modi contended, adding that Gujarat was one of the first states in India to organize the most effective Global Investor's Summit in 2003 and 2005.
"We received 302 investment proposals to the tune of $ 38.2 billion from these meets. We have now set up a mechanism to monitor these projects for expeditious implementation," he said, adding, "No one understands business better than a Gujarati. That is why Gujaratis constitute the largest proportion of the Indian Diaspora in prominent activities." 
Modi praised Gujaratis for traversing the globe taking with them a cosmopolitan outlook, capital and technology.
Photograph: Jewella C Miranda