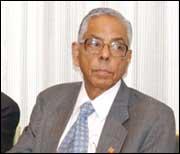 In the third part of his exclusive interview with rediff India Abroad, National Security Adviser M K Narayanan tells Managing Editor (National Affairs) Sheela Bhatt and Editor-in-Chief Nikhil Lakshman that America has not indicated a timeframe for India to separate its civilian and military nuclear plants.
Part I: 'Bush impressed with our experiments in democracy'
Part II: 'Certainly we are no supplicants'
With this nuclear agreement can we expect America to help relax the guidelines for India with the Nuclear Suppliers Group? Do you expect that to happen soon?
That is the whole purpose of this exercise.
How soon will it be done?
We have to separate civilian and military (nuclear establishments). We can do that now, in a certain timeframe. There is reciprocity and a certain amount of what you call parallel tracks that we are going to. At least, that is the understanding. When we implement it how exactly it is going to be, we will see.
Immediately we are asking for fuel for Tarapur (the nuclear power station near Mumbai), which doesn't require any major changes. If the US has problems we can get (the nuclear fuel) from either France or Russia as long as the US doesn't put an embargo on them.
'We are breaking rules for India'
The process of getting the Nuclear Suppliers Group to relax its guidelines -- that will take time.
But that is okay. We also want to do our division of civilian and military (nuclear establishments).
Has any timeframe been set for this division of civilian and military nuclear establishments?
We have not set a timeframe. There are issues involved in the timeframe, which we don't want to go public on.
We understand that the expense involved in such a division will be immense.
We want a certain amount of fissile material before we separate it (civilian and military nuclear establishments). Once you separate it you can't get fuel for our military programme.
Has America indicated any timeframe to India?
They can't. How can they indicate the timeframe?
Before President Bush arrives in India next January both India and the US need to show some momentum in taking the nuclear agreement forward. Has India highlighted some milestones it needs to achieve?
Working groups etc will work out what exactly can be done within the timeframe. That is the broad agreement. The principles have been laid down. The framework has been established. Now we have to work on the steps.
'The US has not fully delivered'
They (the Americans) also have a problem on their hands -- to get Congress to agree to support some of these steps. What timeframe then you can talk about? Our Parliament has endorsed it (the nuclear agreement); therefore we can start working on what we need to do.
We have, what I would say, agreed views on going forward. I think the Americans don't have even that. They will have to start doing something only after they get Congress' support.
Will Congressional opposition make this treaty void?
I don't know.
Our colleague Aziz Haniffa reported that President Bush would have to show something to Congress to win its support, that India would have to give him enough reasons before the administration goes to Congress. What is India going to give him?
We have already shown them what we are going to do. That we are willing to separate (the) civilian and military (nuclear establishments). That is the primary issue. We have made it very clear that we are not going to sign the NPT (nuclear Non Proliferation Treaty). These are the only two issues. One we are willing to do. We will do it in a phased manner and it will be based on reciprocity.
'Best nuclear deal India could've got'
Now, reciprocity means they (the Americans) will have to do something. That is where the matter stands. But it's not that Congress consists of a whole lot of (identical) people. There are lots of people who are for (the Indo-US nuclear agreement), some who are hesitating.
It is a question of what kind of conviction is carried -- partly by Bush, partly by the Indians there. Our scientists are talking to them and explaining.
The Indian-American community?
The Indian-American community... our own scientific community, all of us have connections. Much of the non-proliferation lobby -- most of them we are familiar with. It is for us to explain to them. There are no absolutes in this. One side says this is the time for us to make some changes and the other side is also willing to make some changes. We had so far refused to make any changes in terms of separating civilian and military (nuclear establishments). That is a major step from our side.
Photograph: Paresh Gandhi