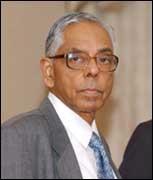 In the second part of an exclusive interview with rediff India Abroad, National Security Adviser M K Narayanan speaks to Managing Editor (National Affairs) Sheela Bhatt and Editor-in-Chief Nikhil Lakshman, about India-US relations.
Part I: 'Bush impressed with our experiments with democracy'
Is President not impressed that India will be the Next Big Thing?
Yeah, he believes it. But I think what impresses him most seems to be the spirit of India. Which he thinks probably is taking us in the direction that we are and not using short cuts.
I think much more than most other Americans he seems to recognise that we may be making pace slowly, but it is well worth it. Here again I am putting myself on a limb, but this is my impression of the meetings I attended.
Many analysts say America wants India to be successful; America wants India to be a powerful nation. They say it is a kind of balancing national powers act in South Asia. You have told us the prime minister did not mention China or Pakistan in his talks with President Bush, but can you tell us your perspective on what's on America's mind?
At no stage did I get the impression that the President or Condoleezza Rice -- those were the two people with whom we had major discussions during this visit -- ever said okay, we will do this for you so that we expect you to behave in a certain fashion.
Any of those issues on which we had major differences like the PSI (Proliferation Security Initiative) and others, that was never questioned in the discussions. If that was the American objective then they would have gained much higher profile than they did.
India needs energy, and the US
I don't think there was ever an effort to use India as a balance against China. I think they are comfortable with India. That is the impression I got from the political leadership -- not merely the President or Condoleezza Rice; we met with Rumsfeld, we met with Dick Cheney; all of them are comfortable with India.
There is no sign of conflict of perceptions on India. Of course, they would like India to perhaps be even more forthcoming on various matters but the prime minister kept telling them that I am the head of a coalition, I am the head of a democracy and there are limits to what I can do -- on American opportunities for business, this and that, when people talked about it.
But at no level and no stage was it said that can we think in terms of an Indo-US concert against China. Certainly, there was never a reference on that vis-à-vis Pakistan. All the sense I derived from that (the discussions) was a certain feeling that India is going to be an important country. And that we (the Americans) want to forget the baggage of the past. And maybe the two countries can work together
Why has America gone the extra length to bat for India, abandoning long held policies? There must be some reason why this has happened.
I don't know about America, I can certainly say this of President Bush and Condoleezza Rice. It is not all Americans have fallen in line now on these matters. It is mainly driven by the President. As I said the President has some kind of feeling. I like to think there is a philosophical linkage to the way he looks at things and the way he sees India.
India's concerns on terrorism have not been fully addressed by America…
We can fight our own battles. Let me make it clear that we are not asking America to help us. All that we are telling the United States is as one of the pre-eminent powers of the world they must recognise that Pakistan has certain camps, and now Bangladesh has, and their activities create problems. Certainly we don't want US to help us. Certainly we are no supplicants. I think we can manage our affairs.
In a certain sense it was a discussion between equals in that matter. We have the experience. We are victims of terrorism. We know that you cannot differentiate. You can't say one (act of terror) is good and one is bad. It's not that we want you to bomb place A or place B. We can handle that.
We don't require any assistance from anywhere to deal with terrorism. But it will certainly help if countries of the world got together and realised that terrorism is a problem of not one country but all countries of the world.
We discussed matters between one power and another. There were lots of issues. We talked about nuclear issues; we talked about our knowledge skills. We are willing to share that with them. The US has not built a civilian nuclear reactor in the last 25 years. We have people who can set it up for them within the next five months.
Photograph: Paresh Gandhi