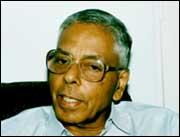 As President Bush and Indian Prime Minister Manmohan Singh addressed the joint press conference at the White House, India's National Security Adviser M K Narayanan passed a slip of paper with the words 'civilian reactors' clearly visible to United States Under Secretary of State Nicholas Burns.
Clearly, despite what the president and prime minister were telling us that morning, the deal was not done as yet. That exchange of paper is said to have finally ensured that the Americans and Indians were finally on the same page after so many years of mutual suspicion and occasional bitter hostility.
Even though he had been in the job a mere seven months -- he landed the assignment after J N 'Mani' Dixit died suddenly -- Narayanan, 71, played a stellar role in the long and tedious negotiations that preceded Dr Singh's triumphant visit to Washington, DC.
In an exclusive interview to Managing Editor (National Affairs) Sheela Bhatt and Editor-in-Chief Nikhil Lakshman, Narayanan -- a distinguished former director of India's Intelligence Bureau, its domestic intelligence agency -- revealed why he believes George W Bush admires the spirit of India.
The first of a four-part series, to be posted this week, focussing on India-US relations. In a second series, to be posted on rediff India Abroad later next week, the National Security Adviser will discuss domestic issues of concern.
I (Nikhil Lakshman) travelled with the prime minister on his visit to Washington and was intrigued to read that terrorism, which has so dominated the Indo-US discourse in recent years, was almost dismissed in a few sentences in the Joint Statement issued after the talks. Did terrorism come up for discussion in the talks between President Bush and Dr Singh? Has the US committed to any further action to dismantle the terror network in Pakistan?
It definitely came up. Both the United States and India are on the same side of the table. I think our prime minister made the point very clear on terrorism. You will find it in the speech he made to Congress. He was repeating what he mentioned to President Bush.
The basic point he made was that democracy is most vulnerable to terrorism. And if democracy is to survive, if open societies are to survive, we must put an end to terror. I think in this there is no difference between what the US perceives as terrorism and what India perceives as terrorism.
Let Pakistan not set the agenda
President Bush's reaction, I must say, was extremely positive on this front. He had some nice words to say about President Musharraf, but that didn't take away from the fact that he very strongly accepted the position taken by Dr Manmohan Singh.
Therefore, it was easy for the prime minister to talk of terrorism and how India has been a victim of terrorism. On the other side the vibes (between the president and prime minister) were so positive that it didn't require very much work in terms of explanation.
We talked of not only Pakistan but we talked about what is happening in Bangladesh, what is affecting our Northeast. I suppose, in that sense, it was possible to say it (the discussion on terrorism) in a few lines, what would otherwise have required, perhaps, much wider talks.
Have the Americans committed to any action to dismantle Pakistan's terror network?
He (George Bush) has promised to talk to President Musharraf again on this matter. We will see what President Musharraf has been saying -- that he is closing down all the (terrorist training) camps, that he is going to get rid of all these jihadis and things of that kind.
Now, we also know that almost immediately after the meeting (with Dr Singh, US Secretary of State) Condoleezza Rice had a talk with President Musharraf. We presume -- we have no information what she said -- that they spoke about terrorism. So, whether Musharraf will do what he has been saying is something we wait and see.
President Musharraf has spoken to our prime minister what he is proposing to do, and he has asked for time. So, therefore on terrorism, we have absolutely no reason to believe that we (India and the US) are on two different wavelengths.
I didn't assume you were on different wavelengths. I wonder if the US is concerned that Pakistan is really an ally in its war against terror in a true sense.
On the entire trip the prime minister was very careful not to point a finger at Pakistan. People like to speculate that the India-US bonhomie is anti-China. I think the prime minister was very careful to say that we are not looking at pointing a finger at country A or B.
We talked of issues, of terrorism. Therefore, there was no specific reference to them (Pakistan). We did refer to the fact that many jihadis are operating out of Pakistan or out of Bangladesh. But we didn't say it's up to you (the US) to pull up Musharraf or pull up so and so. The positions were explained, the issues were explained.
The prime minister went out of the way and explained that with both China and also with Pakistan we have a dialogue going on. And the dialogue is going reasonably well. But there are issues. We talked of what could have happened had Ayodhya happened differently. We pointed out instances what could have been and why it is important for the world to recognise the danger that jihadi groups and others represent.
Without saying that Pakistan is the epicenter of terrorism and all that kind of stuff, what he (Dr Singh) really said was that if they (the jihadis) are operating from Pakistani soil or Bangladesh it is for Pakistan and Bangladesh to see that it (the terror camps) does not happen. Because if you are having a dialogue with Pakistan, it (the talks) should not get derailed.
The prime minister said (to President Bush) I am the head of a democracy; I am part of a democratic dispensation. If the country doesn't want it, I cannot take the dialogue (with Pakistan) further. That was the entire tenor of the discussion.
And I think that is what went down extremely well with President Bush in a sense because I think he is really -- if I might use the word -- enthralled with the fact that this is a country of a billion people with almost a billion problems and yet it is willing to go on the path of democracy.
He brought this up twice or thrice during the discussion. He was really, really impressed with our experiments in democracy.
On the way back from Washington I constantly heard that while you, External Affairs Minister K Natwar Singh, Ambassador Ronen Sen, Foreign Secretary Shyam Saran, Joint Secretary S Jaishankar and others did a lot of hard work to bring this agreement about between India and the US, the tipping point was the prime minister himself.
Of course! I think, overwhelmingly.
'India was a major proliferator'
What impressed President Bush most about Prime Minister Singh?
I think you should ask President Bush that.
Ever since they have been meeting, President Bush seems to have been impressed with the candour, the credibility, the honesty of purpose of the prime minister.
And I would like to add that I think he is really impressed with India, in a certain sense.
Not so much, the GDP etc, etc which Americans look at. I think he is really impressed by the fact that we are carrying on in a manner that we are with all our problems using democratic methods. I think that comes through very clearly.
'India will soon be a big power'
I think Indian Americans have also made a deep impression on both the President and First Lady. In all the interactions where I was present -- which was most of the time -- I found both (the president and first lady) from time to time talking about Indian Americans, especially the doctors, and others who have sort of explained India to the US.
I think to some extent -- if I might say so, it's not so easy to describe -- the Indian philosophical character. And here I am putting myself out on a limb -- since I have a certain tendency towards that myself -- I think he is impressed with that part of it. Not so much that we have got GDP and.....