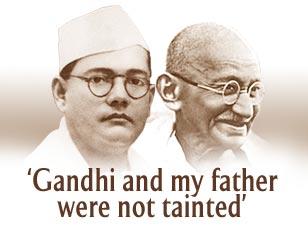 The final segment of an exclusive interview with Anita Bose Pfaff, Netaji Subhas Chandra Bose's only child, published to mark the release of Shyam Benegal's landmark film, Bose -- The Forgotten Hero.
Part I: 'India has not behaved honorably'
Part II: 'Gandhi was no saint'
What do you know of how your father died?
It seems quite plausible that he was killed in a plane crash in what is now Taiwan at the end of the Second World War. In Europe the war ended in May 1945; in Southeast Asia it only ended in August. The Americans tried to end the war faster by bombing Hiroshima and Nagasaki with a nuclear bomb.
At that time when the Japanese decided to capitulate he was on his way to Tokyo. At that time planes could not cover very long distances, so he flew from Saigon to Taiwan -- where he had a stopover -- and then took off from Taiwan. The plane caught fire. He was injured and died as a consequence. This was August 18, 1945.
Later he was cremated and his remains were taken to Tokyo and placed in a temple there. The idea was that his Japanese associates would keep his remains for a few months until they were transferred to India. This has never happened for the simple reason that there were a number of people who did not believe my father had died in that plane crash.
There were all sorts of stories that he had shown up as a sanyasi in some part of the Himalayas, that he was a prisoner of war in Russia. The only story that is consistent and is backed up by eyewitnesses is the plane crash.
My father was allowed to take along one person with him on this journey, a man called Habibur Rahman, who later went to live in Pakistan. He maintained up to his death that the plane crash took place; that my father was killed and he was a witness to that. Some people said there were inconsistencies in this evidence and that if he asked Habibur Rahman to spread the story of his death, he would do it.
It makes sense until independence, but as nothing was heard from my father after independence, Habibur Rahman would not have been bound by any such commitment.
Could British agents have sabotaged your father's plane?
I doubt it. This was after capitulation. One day after this happened the Americans moved into Taiwan. If anyone sabotaged it would be more (likely the) Americans than the British at the time. I very much doubt it because it would have been a question of trying to infiltrate at the end of the Second World War when it was clear that Japan was going to capitulate.
It does not make a lot of sense. It would have been a question of spite, maybe, or trying to remove someone who would have been a pain in the neck for the British, but I doubt it.
The Japanese feel rather strange about the whole situation. They feel it is a matter of honor that India should take the remains of one of their greatest independence fighters back to India.
Gandhi and my father were not tainted by corruption. They were not tainted by things people did not like. So some people in India now say, 'If they were alive, things would be different.' This is an emotional reaction.
Image: Uday Kuckian