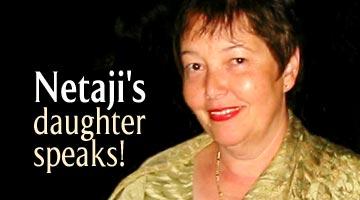 Shyam Benegal's film Bose - The Forgotten Hero releases on May 13, but already finds itself in the midst of controversy. The All-India Forward Bloc has protested against the depiction of events in Netaji Subhas Chandra Bose's life, including his marriage and death. Other researchers say they will file a case against the film, because they insist that Bose did not marry, and had no children.
In an exclusive interview, first published in India Abroad, the newspaper owned by rediff.com, last year, Anita Bose Pfaff, Netaji's only child, spoke to Shyam Bhatia about her father's legacy.
Subhas Chandra Bose -- or 'Netaji' as he is known to millions of Indians -- was one of the most charismatic and dynamic leaders of India's independence movement, and the issue of how the country would have fared with him at the helm is one that tantalises historians to this day.
In truth by 1939 when Netaji was elected president of the Indian National Congress party for the second time, over the objections of M K Gandhi, Jawaharlal Nehru was being groomed as the Mahatma's chosen successor.
Had Netaji lived, his Forward Bloc party may have posed a continuing challenge to the Congress party under Nehru and after independence the two rivals would almost certainly have gone their ways.
At the very least with Netaji alive, India's experience of multi-party politics, in which the Congress party was the only dominant political force for the first 30 years after Independence, would have started much earlier.
In the pre-Independence era both Netaji and Nehru were identified with the Left wing of the Congress party, well to the Left of other respected freedom fighters as Chakravarti Rajagopalachari, Vallabhbhai Patel and Rajendra Prasad.
But where Netaji parted company with Nehru and Gandhi was his strongly held conviction, which he voiced from 1939 onwards, that armed resistance was a perfectly legitimate tactic for India to use in the struggle for its independence.
It was this belief -- the British would only yield to force -- that led him to seek help from the Axis powers during World War II. He met Adolf Hitler and Benito Mussolini and was befriended by their Japanese allies in the lead-up to the formation of the Provisional Government of Free India that was recognised by the Axis powers and their Southeast Asian allies on October 21, 1943.
During his stay in Berlin in 1943, Netaji founded the Free India Center and the Azad Hind Radio station. It was also in Berlin that the foundation was laid for what later became known as the Indian National Army or INA.
Indian prisoners of war captured in North Africa by Field Marshal Erwin Rommel's Afrika Korps were released into Netaji's custody and went on to form the India Legion that fought against Allied forces on the Western front.
The idea taken up by the Japanese high command led to the release of some 30,000 Indian prisoners of war in South-east Asia. The resulting INA force traveled as far as Kohima, now in Nagaland in northeast India, in 1944. Then, as the tide started to turn against the Axis forces, the INA was forced to retreat into the jungles of Burma.
Netaji was born on January 23, 1897 in Cuttack, Orissa, one of the 14 children of a successful lawyer, Janakinath Bose, and his wife, Prabhavati Devi. A graduate of Kolkata's Presidency College, he was subsequently sent by his father to England to prepare for entry into the prestigious Indian Civil Service.
Although he passed his ICS exam with flying colors, Netaji's heart was in politics. Strongly influenced by Gandhi, Chittaranjan Das and the teachings of Swami Vivekananda, he joined the Indian National Congress and was jailed 11 times by the British between 1920 and 1941.
Like many Indians of his generation the turning point in Netaji's political education was the Jallianwalla Bagh massacre of April 1919 when hundreds of unarmed Indian civilians were shot dead at point blank range on the orders of a British general.
Unlike Gandhi who formulated his peaceful non co-operation movement as the preferred strategy for evicting the British from India, Netaji was increasingly of the view that a more direct and militant approach was required before India could gain its freedom.
Convinced that his enemy's enemy was India's natural ally, he escaped from house arrest in 1941 and made his way to the Afghan capital of Kabul. From there, assisted by German diplomats he traveled under an assumed name, Signor Orlando Mazzitto, to Samarkand, Moscow and eventually Berlin.
British analysts have vilified his subsequent meetings with Hitler, Mussolini and the Japanese government as evidence of Netaji's so-called fascist leanings. Quite the opposite was true. A Left wing activist to the end of his days, he held no brief for Hitler and Mussolini's racist and fascist ideologies and viewed his relationship with them purely in the context of India's freedom struggle.
Although he failed to win Hitler's unqualified endorsement for a free and independent Indian state, Netaji secured the freedom of Indian prisoners of war in German custody. The story of how some Germans and Indians subsequently fought side by side in the India Legion against British forces on the Western front has remained one of the best kept secrets of the Second World War.
Netaji died in a plane crash on the island of Taiwan in August 1945. At the time US troops were only two days away from occupying Japan and Netaji, on his way from Saigon to Tokyo, was trying to make contact with remnants of the Imperial Japanese government. What remained of the INA had started to disintegrate after Germany's surrender in April 1945, followed soon after by Japan's. Netaji's death accelerated the process.
Anxious to reassert their control over India the British attempted to try Netaji's senior commanding officers for treason. But the trial of commanders like Shah Nawaz Khan, Gurbaksh Singh Dhillon and Prem Sehgal in Delhi's Red Fort soon collapsed and a general amnesty for all INA soldiers was declared.
In life as in death Netaji acquired a cult following among millions of Indians who saw him as an authentic hero and the only political leader with the necessary legitimacy to lead India following the departure of the British. For years after his death stories continued to circulate about how he had gone into hiding and was only biding his time before he reappeared to claim his rightful place as head of a free Indian state.
Critics have questioned his belief in a more authoritarian system of government for the sake of India's development, but even they concede that his views on workers and women's rights and population control were considered far ahead of their time and are still relevant today. How India would have developed with Netaji in charge remains one of the great 'What Ifs' of 20th century history and politics.
Anita Bose Pfaff, Netaji's only child, was born in Vienna, her mother's city, which her father visited in 1934 for medical treatment. During his stay Netaji asked an Indian friend to locate an English-speaking secretary to help him with a book he was planning to write.
The friend, who ran an English conversation course, introduced him to Emilie Schenkl in June 1934. Emilie was the daughter of a prominent veterinary surgeon. They soon fell in love and married in December 1937 in Bad Gastein. Anita, who was born in 1942, is married to Professor Martin Pfaff, formerly a Green Party member of the Bundestag, the German parliament. They have three children: Peter Arun, Thomas Krishna and Maya Carina.
Click here for the first part of the exclusive interview with Netaji's daughter
Image: Uday Kuckian