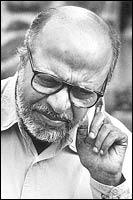 Talking to Shyam Benegal is a journalist's delight. As soon as you have posed a question he returns with a crisp, articulate answer and overwhelms you with his erudition. One gets to know of his uncle (Ramesh Benegal, one of the young members of the Indian National Army) after asking him. "What has been the catalyst for this film?"
And he does not stop at that. He goes on to portray, his voice laden with enthusiasm, the INA's status in Indian political history. "Nothing can be more inspiring than the fact that it was the first time that a national army was created," says Benegal. And then, he adds, "How can you speak of the INA without talking about Netaji?"
His new film, Bose: The Forgotten Hero, is his personal statement of respect for his uncle. "As a child," recalls the director, "he used to fire my imagination. I looked up at him with awe and try to fathom the guts it needed to fight for the country. This sentiment was at the back of my mind as I ventured into making the film. This project is my way of saluting my childhood idol."
| | |
| --- | --- |
| | More on rediff.com! |
| | |
He laments the fact that Netaji is one political hero who has disappeared from public memory. "As a filmmaker, I thought it was my moral obligation to rekindle people's thoughts about him. It was high time the achievements of Netaji and the INA were filmed."

Interestingly, Benegal has also filmed Gandhi's early life in his 1996 movie, The Making Of The Mahatma. To him, Gandhi and Netaji were kings in their respective domains.

"If Netaji was chasing an impossible dream, Gandhiji was following a more orderly route of satyagraha. Their paths were different but the destination was the same. Gandhiji said: 'I have two political sons, Jawaharlal (Nehru) and that mischievous Netaji.'"

Benegal says exploring such a 'mischievous' soul was a Himalayan task. It took him a year-and-a-half to do the groundwork. Exhaustive research, elaborate reading and numerous drafts later, the film was shot in places as varied as Ladakh, Uzbekistan, Germany, Myanmar and Malaysia.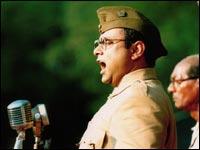 Produced by Sahara Entertainment and adorned with A R Rahman's music, the film captures the last five years of Netaji's life from the time he escaped house arrest in Kolkata to build an army of 80,000 soldiers.
Like always, Benegal is expected to elicit fine performances from his cast, including Sachin Khedekar who plays Bose (above), Rajit Kapur, Kulbhushan Kharbanda and Rajeshwari Singh.
Sahara had initially wanted a television series on the INA and Netaji. "I had numerous meetings with (Sahara Chairman)Subrata Roy, but in vain. After a while, we decided in favour of a feature film," says Benegal.
The film has had its share of achievements. "We were the first foreign crew, after the Japanese, to shoot in Myanmar since the Army took over. It was a moment of pride for each one of us," says Benegal, adding, "the Myanmarese have tremendous respect for our hero."
Tracing the hero's roots also took the filmmaker to Kolkata, an experience Benegal cherishes. "It was great shooting in that city. I met some of Netaji's descendants and got in touch with the Netaji Research Bureau. We were greatly helped by the information provided by the Bureau. For authenticity's sake, Netaji's Elgin Road house in Central Kolkata was recreated on the grounds of the New Theatres Studio."
But the film had its share of bottlenecks. Drawing a conclusion for one has not been easy. Benegal had to keep in mind all the existing schools of thought about Netaji's 'death', including the reports by the Mukherjee Commission probing the controversial demise.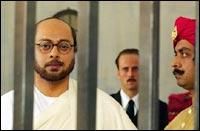 "I came across a book Back From Dead: Inside The Subhas Bose Mystery by a journalist named Anuj Dhar. The book provided me with some interesting facts and I had to incorporate some of them into the conclusion." That invites the next question. But there is no point asking Benegal how he ends it. "It is there for you to find out," is his reply.
Protests by the All-India Forward Bloc, the party Netaji founded, compelled Sahara to scrap plans for the film's grand premiere in Kolkata. The Forward Bloc objected to the film's depiction of Bose's death, his marital status and the title.
Controversy still shrouds the life and death of Bose, who allied with Japan and Germany in the Second World War during his fight against the British. Some Indians dispute that he died in a plane crash in Taiwan in August 1945. Opinions are divided about his marital status. He is revered by many people in Bengal as an unmarried freedom fighter who was willing to challenge British colonialism through force.
Benegal laments the fact that Indians are yet to respect democracy. "They won't give you the right to agree or disagree." The director says he has done extensive research, which points towards the fact that Bose was married to Austrian Emilie Schenkl, and had a daughter Anita Piaff, who lives in Germany.
As for depicting the controversial death, the director says, "I had to take into account the fact that the Mukherjee Commission is still probing it."