Increasing infiltration across the border. Terrorists sneaking into India. Regular skirmishes with men in uniform on the other side.
This is not Pakistan we are talking about. In recent times, another neighbour has swiftly emerged as a major security concern for India.
Rediff India Abroad Deputy Managing Editor Ramananda Sengupta visited Bangladesh recently looking for answers to the big question: Why is such trouble brewing on India's Eastern Front?
Part 1: New terror frontier?
Part 2: The rise of the Right
Part 3: Why Bangladesh hates India
Denial.
That seems to be the biggest roadblock facing India-Bangladesh ties today.
"We both have issues with each other, as all neighbours must," says a senior Indian diplomat who has dealt with Bangladesh closely. "But instead of addressing those issues like civilised nations, Dhaka insists on denying all Indian concerns, even when it is backed by irrefutable and solid evidence."
"This," says the diplomat, "makes it almost impossible to engage in normal, civil diplomatic relations with our eastern neighbour."
Apart from the longstanding worry of over massive illegal migration from Bangladesh, the main Indian concerns include:
Rebels from northeast Indian states who operate with impunity from Bangladeshi territory
The growing influence and activities of Pakistan's Inter-Services Intelligence and Al Qaeda in Dhaka.
Rapidly rising fundamentalism and anti-India sentiment in Bangladesh
Increasing cross-border traffic in drugs, arms, women, children, and cattle
The mushrooming madrassas springing up along the border, many funded by Pakistani and Saudi Arabian 'charities'
Repeated skirmishes between India's Border Security Force and the Bangladesh Rifles over disputed territory and the latter's attempts to stop the fencing work being undertaken by India
Dhaka's perpetual refusal to grant transit rights and permission to Indian companies like Tata to set up shop there.
Dhaka meets all these charges with staunch denial. In turn, it accuses India of bullying its smaller neighbour, interfering in its internal affairs, starving it of water and sheltering Bangladeshi criminals.
The massive influx of refugees fleeing persecution in East Pakistan -– as Bangladesh was called then -- was one of the reasons for India's decision to assist the Mukti Bahini, which was fighting for liberation from Pakistan.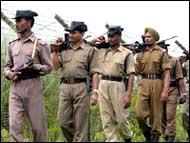 Image: Border Security Force troopers along the fenced India-Bangladesh border in Assam
Most of these people are economic migrants, people trying to escape the extreme poverty and lack of facilities in Bangladesh," says the Indian diplomat. "But this poses not just a demographic threat, as seen in states like Assam, but also a security threat, since it is impossible to separate the truly poor migrants from terrorists with an anti-Indian agenda who sneak in with them. Given the rising fundamentalism in the country (Bangladesh), the second component is increasing by the day."
As for offering shelter to insurgents, almost every northeast rebel captured by Indian forces insists they were given permission to operate out of Bangladesh, and the Indian government has repeatedly presented lists of such camps to Dhaka, only to be met with a wall of denial.
At a conference organised by the BSF in Kolkata on June 23, West Bengal Chief Minister Buddhadeb Bhattacharya said infiltration had dramatically changed the demographic pattern of certain parts of the country, including West Bengal.
'In many places, there are more Bangladeshi settlers than Indians. There are groups who spread the message of Islamic fundamentalism. Other groups are directly involved in subversive activities. The third group is that militants who have sought shelters in Bangladesh after being driven out of Bhutan. All these groups are receiving support from the Bangladesh government. We can't compromise on this,' Bhattacharya warned.
'From Bangladesh, they are operating Islamic fundamentalist groups. They are recruiting jihadis from India and sending their fundamentalist leaders to campaign in bordering states of India,' he added.
At the India-Bangladesh Border Coordination Conference that ended in New Delhi on September 30, BSF Director General R S Mooshahary clearly listed India's concerns before his Bangladeshi counterpart Major General Mohammed Jahangir Alam Chowdhury, director general, the Bangladesh Rifles.
Handing over a list of 172 Indian insurgent camps inside Bangladesh, the BSF chief said there was strong evidence that the leaders of outlawed organisations were operating from Bangladesh.
Among others, these included Paresh Baruah and Arvind Rajkhowa of the United Liberation Front of Asom, Ranjan Daimari of the National Democratic Front of Bodoland, Jeevan Singha of the Kamtapuri Liberation Organisation, Nayanbashi Jamatia and Bishwa Mohan Debbarma of the National Liberation Front of Tripura and Ranjit Debbarma of the All Tripura Tiger Force.
He urged Dhaka to arrest these insurgent leaders -- including Anup Chetia of ULFA, whose present jail term has ended -- and hand them over to India, and pointed out that ULFA has been declared as a terrorist organisation by the United States State Department.
He handed over a list of 307 Indian criminals/miscreants and insurgents who are wanted in India and suspected to be hiding in Bangladesh.
The BSF chief also expressed India's strong protests over the torture and killing of BSF Assistant Commandant Jiwan Kumar on April 16. Kumar, who had accosted a BDR patrol over the reported kidnapping of an Indian, was unarmed and not in uniform at the time, though his escorts were in uniform. The young commandant was roughed up and severely tortured by the BDR and finally shot at point blank range.
'No medical treatment was given to the injured BSF personnel who were lying in Bangladesh territory, and even the dead body of Jiwan Kumar was not accorded due dignity and respect,' Mooshahary said, rejecting a Bangladeshi probe which had exonerated the BDR as 'one sided and not factual.'
Other points raised by Mooshahary included the unprovoked firing by BDR personnel on Indian villagers, the 'marked increase in the cases of cattle lifting and dacoity in which Bangladeshi criminals have caused grievous injuries to Indian villagers,' and the large quantity of sophisticated arms and ammunition being smuggled into northeast India from Bangladesh.
Bangladeshi territory was being used for proliferation of counterfeit Indian currency, and the smuggling of cattle from India to Bangladesh remains unabated, he added.
He also sought the closure of several sawmills on the Bangladesh border, which were 'thriving on timber poached from India.'
He said although the BSF had allowed the construction of a 10 foot by 1,320 foot wall at Hilli, very close to international border on the Bangladesh side, the Bangladesh Rifles have been objecting to the barbed wire fence being constructed by India to check illegal migration and smuggling, on the 'untenable plea that it is a defence structure under pretext of 1975 border guidelines, which are unsigned.'
India has so far fenced off more than a third of its 4,095 km border with Bangladesh. This has caused immense resentment not just among the border villages which trade with each other, but also among the smugglers on both sides who fear losing their stranglehold on the region.
Both the BSF and BDR are said to be heavily bribed by the smugglers.
While denying almost all the Indian charges, the BDR chief admitted his force hands over seized cattle to Bangladesh customs, which imposes a fine of Taka 500 (about Rs 192) on each animal being brought from the border before allowing them into the country.
But at the joint press conference at the end of the conference, the Bangladesh Rifles chief accused India of masterminding the August 17 blasts, and said an Indian named Giyasuddin was responsible. Denying the charge, Mooshahary said although Giyasuddin was an Indian citizen, he has been living in Bangladesh for the last 17 years and the Indian government had no relations at all with him.
India is also concerned over the growing influence of Pakistan's ISI in Bangladesh, particularly after the pro-Pakistan Jamaat-e-Islami emerged as part of the ruling coalition in Dhaka in 2001.
"The Pakistani high commission in Dhaka has become a major watering hole for ISI agents, who blatantly conduct their anti-India operations from there," say Indian officials who have worked in Bangladesh.
"We hope Dhaka realises -- before it is too late -- that such activities will eventually backfire badly on the country since the ISI, supported by the Jamaat, is also actively promoting the rise of domestic fundamentalism in Bangladesh."
Domestic fundamentalism, as evinced by the series of explosions and attacks on government officials across Bangladesh by groups demanding the promulgation of Islamic law in the country, is matched by increasingly virulent anti-Indian rhetoric.
"What is more worrisome is the recent spate of suicide bombings, hitherto unknown in Bangladesh, but almost routine in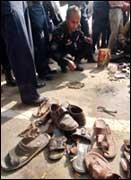 places like Pakistan and Iraq," say Indian officials.
Image: A Bangladeshi official inspects a bombing site
Bangladeshi politicians, however, insist the recent spike in violence is more political than religious in nature, and that the rising anti-Indian feeling is fuelled by India's 'bullying tactics' like erecting the fence and its 'baseless charges' against Bangladesh.
Yet, Bangladeshi State Minister for Home Affairs Lutfuzzaman Babar said he had reports that two outlawed fundamentalist groups -- the Jamaat-ul-Mujahideen and Jagrata Muslim Janata Bangladesh -- had set up a 2,000-strong suicide squad to help achieve an Islamic State.
After Opposition leader Hasina Wajed of the Awami League refused to cooperate with the government against terrorism until it publicly severed ties with the Jamaat, Prime Minister Khaleda Zia took a tough posture. 'The government has enough strength to combat terrorism in any form and restore peace in the country. It is needless to say that we will go all out against them,' she said.
"That is the most ridiculous assertion we have heard in some time," sneers a senior Awami League activist, pointing to recent comments by ruling Bangladesh Nationalist Party legislators about the government patronising militancy in the country.
He also points to the recent Bangladesh supreme court strictures against the government for its failure to control violence.
Upholding a high court ruling, the Bangladesh supreme court asked the police to submit a progress report on the investigation into recurrent bomb blasts since August 17 every two weeks.
Rejecting government appeals for a stay on the order which followed a petition filed by the Human Rights Committee of Bangladesh and Bar Council Chairman Z I Khan Panna, eminent jurist Dr Kamal Hossain told the court that 'on the face of our apprehension, the government has not done enough in combating militancy.'
Speaking after the recent South Asian Association for Regional Cooperation summit in Bangladesh where he also held a bilateral meeting with Khaleda Zia, Indian Prime Minister Manmohan Singh was cautiously optimistic.
Noting that Dhaka had promised 'some positive steps' to check northeast insurgent camps on its soil, he reiterated that India would do nothing to hurt the interests of Bangladesh.
"There are no insurmountable issues between us (India and Bangladesh)," and India would "do nothing to hurt the interest of Bangladesh and by helping Bangladesh, we would be helping ourselves. That is the motivation that guides me and my government," he said.
His meeting with the Bangladeshi leader had "helped improve the atmosphere," he added. A "strong and prosperous" Bangladesh was in India's interest, and "if there are any misgivings, I on behalf of the government of India, am always willing to discuss to remove these," he pledged.
"Which is all very fine," an Indian diplomat said later. "But the problem is that whenever we bring up our concerns, Bangladeshi bureaucrats and politicians continue to adhere to what seems to be their standard operating procedure: Absolute denial."
Next: Interview with the Indian high commissioner to Dhaka
Photograph: AFP/Getty Images