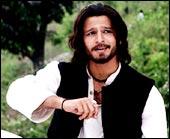 Vivek Oberoi might have had a lean 2004, but he seems to have suddenly sprouted nobility. The new year has seen him play saviour to the tsunami-struck people in Tamil Nadu, and his effort on that front is tremendous. His next film Kisna sees him play an uncompromising idealist. And in conversation with Raja Sen, the star displays another noble quality -- humilty. Excerpts: 
What was the experience like, working on your first period film?
It's amazing. It's like going into a completely different era, a different time. It was like a world of its own. There was so much research. Subhashji had 10 or 11 files of research on everything.
Once, I went up to Subhashji and asked him about my costume's fabric. He said they didn't have sophisticated fabrics in 1946-1947, and it won't look authentic. Immediately he pulled out a file, showed me a page, and it was right there. I was so shocked!

I went through the file and realised that we always think it's such a bygone era, but they had a lot of contemporary things even at that time. And to see how much research Subhashji and his team have done, it's heartening.
| | |
| --- | --- |
| | Kisna on rediff.com! |
| | |
What about Kisna? What can you tell us about the story?
I can tell you to go see the film! (Laughs)
It's a very different film. I know that sounds cliched, but for me, it's a film I have never seen before, heard before or read before. It's got a different take on things. A story from a perspective I've never seen before, and that was very fascinating.
What about the two women making their screen debut opposite you?
Beautiful girls, amazing to work with! Antonia Bernath is a sensational actress, a really, really fantastic girl. It was very good to see a girl from the UK, who's come so far away from home, working here so diligently and adjusting to everything -- the food, people, weather, the whole new style of working and acting.
And Isha Sharvani -- need I say more? She's breathtakingly beautiful whenever she dances. That rope dance she does -- she's the only one in India who has the technique to do it. Her mother Daksha Sheth is a brilliant dancer. I think Isha's going to make her mother proud and take the lineage one step further.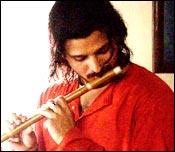 You've worked with some very big directors in recent times. How was it different working with Ghai?
Yes, I've had the privilege to work with fantastic directors -- Ram Gopal Varma, Mani Ratnam, Inder Kumar, to name a few. Working with Ghai sa'ab was just amazing.
When I heard the character of Kisna, I never thought I'd be able to perform such a layered, complex character. In terms of the emotional graph the character goes through, it's very difficult. And I kept telling him, repeatedly, 'Boss, how am I going to do it?' And he kept smiling, and patting me on the back, saying 'Karva lenge yaar. Chinta mat kar. [We will get it done from you, don't worry]'
And it was amazing. He had so much belief in me. He saw something in me that I didn't see in myself. Since then I always tell him, 'Sir, this is my face, but your performance.' And I really mean that.
Subhash

ji is one of the directors who actually performs for his actors...
Yeah, it's brilliant! He comes out, shows you the scene, performs the emotional graph of the characters. It was easier for me as an actor. I just coped, borrowed, mimicked him. It was his show all the way.
Now, when you work with other great directors with different approaches, how does it feel as an actor? Is it exciting?
Yes. Acting is a state of being, and the camera can tell instantly if you're lying. But there are many different ways to approach that state of being. Each director has his own approach to the situation, and that's really interesting.
Subhashji is fascinating. He's had three decades of experience, he's a master of the human psychology. He understands your feelings exactly, and knows how to use that to his and the film's advantage. In my opinion, I've grown as an actor.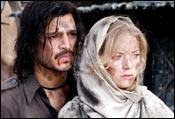 Do you feel this is among the most difficult roles you've ever performed?
Yes. It's very difficult. A very challenging role.
What else is coming up for you?
After Kisna, there is Kaal on April 29. Kaal is produced by Karan Johar and Shah Rukh Khan, and directed by a whizkid called Soham Shah.
You've worked with a lot of younger directors. Conversely, Ghai's the seniormost. Obviously, the experience factor helps tremendously; but how else is it different working with him?
He's relentless! First guy on the sets, last guy to go to sleep. He just works so hard. There were times when I said to myself that I'm going to beat him to the set, I'm going to be there earlier, before him. (Shakes head)
During the entire film, 10 months, I must have managed only nine or 10!
Do you think

Kisna will work for you? Will it be your Braveheart, your Lagaan?
I don't think so. This is very much a Subhash Ghai film. And as for performances, when you put me in that category, I'm insignificant. I'm just a young new actor who's had seven-eight releases. I have not even completed three years in the industry; I'll complete three years this April. So for me, I'm not expecting anything individually. If the film does well, it's a Subhash Ghai film. His contribution in every aspect is gigantic. He should be the one to take all the credit.
You've played, thus far, very contemporary, very relatable, very 'today' characters. As an actor, what was the greatest challenge getting under the skin of

Kisna?
Frankly, nothing! (Laughs)
I turned from a hardworking actor to a hardly working actor with Subhashji because he knew the character so well. The beautiful thing is that he knows his characters like he would know people. So when he talks about them, you feel like they really exist.
I spent hours with him and he'd just talk about Kisna. He'd tell me something new about the character everyday. And then, bang! In front of the camera, it would happen automatically.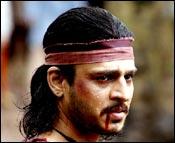 What can you tell us about Kisna, the character?
He's an ordinary man in an extraordinary situation. The spirit, the strength of Kisna is that while he doesn't have a halo, he hurts, he bleeds, he's real, he's all these things, but he's still very noble. He's a very passionate guy, and it's awe-inspiring, the amount of nobility he has.
For him, it's extremely important that he not leave the path of righteousness, the path of dharma. And that's his spirit. I think Kisna is like the inner voice all of us have. We're all taking shortcuts. But here's this guy who says no, no matter how difficult, this is the right way, and I'm going to take it.
Do you expect the film to do well?
There are no expectations, there is a lot of hope.
How much pressure do you feel for

Kisna? It's a big film, you're the title character, and last year wasn't commercially the best year for you.
I don't think I've made it to the point that there is such a thing as a Vivek Oberoi film. Yes, I had some bad flops last year, but there is no pressure. I don't expect a film to do this much business and my career to change in a certain way, but I just hope. We've all worked hard on Kisna, especially Subhashji. I just wish the film does well.