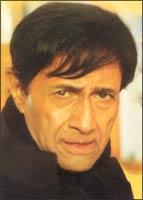 Dev Anand is a patriot. He loves India and its diversity, its rich cultural heritage and kind people. His earlier ventures -- Des Pardes and Hare Rama Hare Krishna -- highlighted this love of his country. That they were disasters that failed to prove his filmmaking prowess is another matter.
Now, once again, his latest Mr Prime Minister has an underlying tone of patriotism. And, once again, it makes people laugh at his attempt behind the camera.
Like every other octogenarian, Anand feels that someone needs to teach politicians a lesson, counter terrorism and fight society's many ills. The problem is the veteran decides to do everything himself. Apart from writing the script, he has directed and even produced the film. He argues with political leaders during pre-election meetings, draws people's attention with 'powerful insights' and has the grit to fight old age by living on peanuts alone.
| | |
| --- | --- |
| | More on rediff.com! |
| | |
Mr Prime Minister emerges as the slipshod work of an amateur punctuated by glaring glitches. Though the film brings to light several serious issues, its way of dealing with them evokes laughter rather then causes concern.
Set in earthquake-ravaged Kutch, the film revolves around Johnny Master (Anand). A survivor of the disaster, he is a happy-go-lucky elderly man who sells newspapers for a living in a small village in Gujarat. His life takes a new turn when the government declares post-earthquake parliamentary elections. Residents of the village decide to form a new political party and make Johnny their candidate. He wins, but destiny has something else in store. His opponents join hands and kidnap him. After being tortured, Johnny regains his memory to discover that he is Prem Batra, the third richest Indian in the UK, and that on the day of his arrival in Kutch, he had become a victim of the earthquake. How Johnny busts corrupt politicians and becomes India's prime minister is the crux of the story.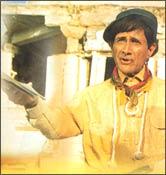 It is an extremely loose plot, the improbability accentuated by a ludicrous screenplay. As a director, Anand draws a bizarre picture in which nothing seems impossible. Johnny Master is a superman and magician rolled into one. He manages to terrorise an Al Qaida man, (appointed by none other than Osama bin Laden and played by Dev Gill), with a stick. By inspiring another Al Qaida plant, a pretty looking Roshenara (Tara Sharma), with his speech, Johnny makes her give up violence and lead the peaceful life of a cobbler. Amazing, isn't it?
Inconsistency and irregularity are the film's hallmarks. Johnny Master is clad in torn and tattered clothes with that signature scarf around his neck, but he goes to meet his political contender Raja Sahib wearing a designer suit. Interestingly, before regaining his memory, the local hero lives in a dilapidated house, tea and peanuts being his staple food. But that does not stop him from using a slick mobile phone or wear a huge red watch. Where do they come from? Your queries are answered towards the second half, after Johnny regains his memory. Yet, it is hardly satisfying.
In fact, the film's second half is a worse onslaught on your senses. Here you see the old Johnny Master as Prem Batra the billionaire trying to be flamboyant and smart, speaking flawless English and locking lips with an Italian wife half his age. The way Prem manipulates the politicians of this country to attain the post of prime minister raises another question – shouldn't there be a censor board evaluating the quality of films before they hit theatres?
As far as performances are concerned, Dev Anand desperately tries to look 40 and fails completely, Tara Sharma does nothing but pout, while Prem Chopra proves he is still Bollywood's most authentic villain. Boman Irani, as the scheming member of parliament, is the film's only redeeming feature. The cinematography is average, and Bappi Lahiri's music adds cacophony to this failed project.
Don't waste your time or money on this one.