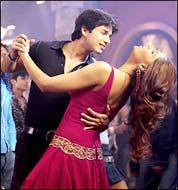 If you subscribe to Gordon Gekko's school of thought, it's G for greed, mind you, not giraffe.
I am not sure which B-school this desi GG, as he is unimaginatively nicknamed in the movie, went to, but he's sure seen Wall Street a lot many times.
Like the ambitious and ruthless protagonist of Oliver Stone's 1987 drama, GG Boy also adheres to the 'it's all about bucks' ideology.
Directed by John M Matthan, Shikhar is not nearly a flattering tribute. It borrows the essential structure of Wall Street while raising its own propaganda against the issue of deforestation at the hands of penny-pinching builders. Alas, what could have been a classic duel between avarice and virtue becomes an inconsistent battle of obstinacy with denseness.
| | |
| --- | --- |
| | More on rediff.com! |
| | |

Sushmita's Chingari in pix

The Bollywood shaadi Quiz



Top Malayalam Films 2005





How does that happen? I volunteer to tell. Let me guide you through ten simple steps to reach the pinnacle of disappointment, namely Shikhar.
Step 10:
Undoubtedly, Matthan's intentions are most honourable and relevant in today's scenario. Sending out the message of environmental preservation, he emphasises on the need to curb down the cutting of trees to build multiplexes and townships, takes up the issue of homeless tribal folk duped into selling their land and the havoc in climatic conditions ever since the trees were shown the axe.
He tries to put his point across through the character of Guruji (introducing Jawed Sheikh), a wealthy industrialist turned modern day Robin Hood. He takes a voluntary retirement from his business, to run a charitable institution, Krishivan, which comprises an orphanage school, green houses, tissue culture laboratory and in-house medicine.
Noble? Very! Convincing? Hardly! Sheikh doesn't have the required big screen magnetism to hold the viewer's attention while he mouths his well-rehearsed lines. His expressions lack the range and drama Guruji's role demand. As a result, his exerted sincerity pales out after a while.
Step 9:
Matthan's characters resemble a chessboard -- either they are ebony black or sparkling white. There are no shades of grey, blue or purple in anybody.
Shikhar's funda is: If you wear simple, half sleeved shirts, you are holier than thou. The minute you change into colourful clothing, you are corrupt.
Step 8:
As Guruji's misled son Jaidev Vardhan, Shahid Kapur just doesn't fit the bill. Shahid has played an uppity city boy in so many films that his discomfort at being dragged into smoky nightclubs or in the company of scantily clad ladies seems completely phoney.
To his credit, Shahid is never short of spontaneity and youthful exuberance.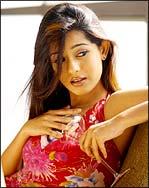 Step 7:
All this time, the viewer is subjected to a salwar-kameez or sari clad Madhavi (Amrita Rao) -- Jaidev's childhood pal romping about in the sugarcane fields. And why not? She is playing a simple girl after all, as opposed to the gold-digger super model, Natasha (Bipasha Basu).
Natasha does the same singing-dancing routine in the stuffy confines of a discotheque.
When Madhavi travels abroad with Jaidev and troupe (Sushant Singh and Farah) to get a crash course in tissue culture from Thailand, her luggage apparently gets left behind. It is informed her sari-filled suitcase will reach in three days. That, conveniently enough, never happens.
Instead, Madhavi coyly parades in tube tops, spaghetti straps and halter neck dresses. Now the hypocrisy of it all is that if the director wanted to insert glamour, despite the presence of Bips, why pull out a lame excuse like jaisa desh waisa bhes (dress like the locals of a country)? If that was the case, couldn't Madhavi simply insist on a regular tee and jeans?
Step 6:
Ajay Devgan! His ultra colourful wardrobe by Anna Singh evokes cringe, cringe and more cringe. As if copper-bronze streaks in his hair weren't hindrance enough, he goes a step further sporting flimsy fuchsia pinks and gaudy emerald greens.
Devgan's GG is supposed to be a money obsessed business magnet, who wont stop at anything. Self-centred to the core, he will use every relationship in his life to achieve his sole goal -- GG City. Even though he gets to utter some of the neatest lines in the film, one would have thought he'd lend his part furious doses of charisma and white-collar cold-bloodedness as seen in Ram Gopal Varma's Company. Horrifyingly enough, Devgan plays it with the air of a college canteen bully with a pig-headed motto. Gordon Gekko would be appalled!
Step 5:
What's so funny about a guy speaking in chaste Hindi? Not everyone can carry off Dharmendra's endearing Pyaare Mohan and his penchant to speak shudh Hindi. Sushant Singh as Bhajan Lal is one of Shikhar's miserable comic tracks that fails to tickle.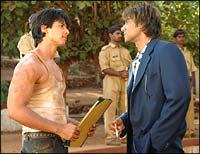 Step 4:
Anybody got a pair of scissors? Slow from the word go, Shikhar could do with King Kong-sized editing. In addition, there are endless boring songs to add to your woes. Those few occasions when the pace of the film finally gathers momentum, things are brought to a standstill by inserting yet another elaborate dreary number.
Step 3:
The greed versus conscience conflict theme has featured in many films like Shree 420, Trishul, Raju Ban Gaya Gentleman and Bas Itna Sa Khwaab Hai. Shikhar too follows the same route -- first the lure, then the trap, followed by the realisation and redemption and finally, its payback time.
The predictable nature coupled with the easy solutions the climax offers is entertaining in the least. Things fall too idealistically in place for an issue so complex in nature. By the end, Matthan has taken too much time to convey his story and too many cinematic liberties to let the proceedings meet its course.
Step 2:
After a spectacular debut in Sarfarosh, expectations were high from Matthan. Even more so, because it had been six years since he came out with his next. Six years is a long period. Sadly, a strictly okay film like Shikhar doesn't justify the wait. It is unbearable to settle for mediocre fare from someone who has formerly proved his mettle as an intelligent filmmaker.
Step 1:
Shikhar tries to impersonate a lot of ideas. It tries to preach. It tries to showcase the glamorous side of darkness. It oscillates crazily between the essence of Swades and Page 3. The final mishmash is neither realistic nor stylish.
Ultimately, all you are left with are a handful of poignant moments and a morsel of food for thought. The truth is good intentions do not make a movie. Execution does.