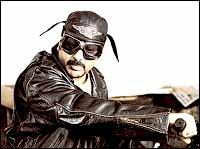 In the first part of an exclusive interview, Kamal Haasan spoke to Entertainment Correspondent Raja Sen about his new release Mumbai Xpress, and compared it to the now cult film, Munnabhai MBBS.
In the second and concluding part of the interview, the actor talks about Bollywood, why Aamir Khan and Shah Rukh Khan should make more films, and compromises.
What are your other upcoming projects?
| | |
| --- | --- |
| | More on rediff.com! |
| | |
I'm working on a Tamil film, Vettayadu Vilayadu. And another bilingual, in Tamil and Hindi. It's still conceptual, but I'd like to do it. I'm interested. That production will be mostly in America.

Don't you ever take a break?

It's only for people who don't like what they're doing that they need a holiday. I have not worked for the past 20-22 years. I just had another holiday with Mumbai Xpress! (Laughs)

You've had such a long career. Are there times when the excitement diminishes a little?

Well, when the film doesn't do well. That leads to a two-three week low. But then you come back with anger. And I'm very willing to accept my mistakes, which is why I've been around for so long.

Are there any of your films that you think weren't appreciated, but you personally think they were good films?

Hey! Ram. Absolutely! I won't say the same for Abhay, though technically it was far superior -- whatever Kill Bill wanted to do, we had done much before Kill Bill ever hit the script stage.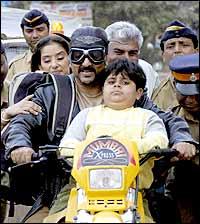 Hey! Ram is a very important film but highly neglected. I wish it was seen more. People said it was ahead of its time, but then it was set in 1947!
I think we'd publicised it wrong -- the public expected a love story between Shah Rukh Khan, Kamal Haasan and Rani Mukerji. That triangle was the image we gave through the posters, which was wrong. We should have made it clear that Shah Rukh just had a guest role. People need to be prepared. Even for wars, the army cannot just go and fight. They need to be conditioned to what is going to happen.
What about the trends in current Hindi cinema? What are the films that you've liked a lot personally?
Frankly speaking, I haven't see too many Hindi films. It's not that I have a snobby attitude; I like cinema very much. It's like I like people. But I avoid meeting certain people because I start getting influenced. If somebody uses a lot of expletives, and I like the person, I'll start getting into that kind of speech. I'm very impressionable. Not because of my age (laughs), but I am impressionable, so I'm very careful what I watch. I groom myself very carefully.
Why do you feel audiences should be bombarded with a certain kind of film?
Why not? Why can't there be a counter-insurgency? That's what we do with awful films that don't run, but we keep on making them and audiences settle down for it because only Vada Pao is available. They have to eat it.
Aamir (Khan) and all should get up and make more movies! I hate not working because we are not going to be physically able for the next 100 years. Aamir needs to realise this. Shah Rukh goes out and does his thing; if I were to tell him to go and do more, he might even get angry with me and say that I am already doing enough, but he should do even more. Because he can.
Aamir should speed up and stop taking this thing seriously endowed upon him -- that he is a perfectionist, so he'll take his time. The press has made him believe it. Nobody can be perfect. I would love for these guys to be positive in competition and make more films quickly. Gone are the days of Yusufsaab (Dilip Kumar) when they could do one and a half films in three years! You must do more and leave a mark.
In that way, I like Ram Gopal (Varma). I regularly see his films. Some amount of sensibility is always there. Not just production values, how can you refuse them even their street-smartness?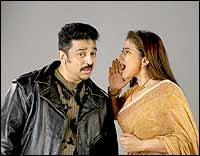 Do you make commercial concessions to your films?
Yes! All my films are aimed at the audience. I don't believe in a film that will reach me to the Berlin Bear or the Delhi Peacock (the National Award). These are animals and birds I can do without. What I can't do without are people.
But when you have your film, and then the production and distribution aspect, the financiers, they might impose changes on it that you might not wholeheartedly believe in. Do you make these compromises?
That's how all my good films get compromised and become dirty (laughs). I take that advice. It has slowed my progress. Why do you think I'm still so far behind? Only because I take their advice.
But why, then, are you still taking this advice? You being as established and successful as you are…
That doesn't work. Ultimately, you cannot thrust democracy or fascism on people. Germany was not forced into taking a Fuehrer; not even coerced. They wanted a Fuehrer! It is not by accident, but by a democratic process that a dictator was nominated for the post by the people of Germany. Six million people voted him in. How many people died because of it (smiles) is another thing. But that is very important. As I said, I can do without awards, but I can't do without people. Not because I will get money.
(The important thing is) Applause! The number of people who call me a good actor must increase; that's what I'm trying to work towards.
Don't Miss!
Kamal: It's better than Munnabhai