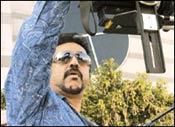 A rarity for an actor-producer, Kamal Haasan seems so taken by the script of his upcoming comedy, Mumbai Xpress, that he just can't stop chuckling about it!
In the first part of an exclusive conversation with Entertainment Correspondent Raja Sen, Kamal reveals why the new film with Manisha Koirala has him gushing, and how confident he is about Mumbai Xpress, which releases on April 14.
What's the first thing you'd like to tell us about Mumbai Xpress?
Watch it! (Laughs) Actually, I'll say 'watch out' because I don't want you sitting at home and watching the film on VCD. It's going to be an entertainer we're proud to present with great enthusiasm. I think it'll be equally met with audience enthusiasm.
We enjoyed making this film. We were laughing through the making of it, so hopefully the distributors and exhibitors will also laugh -- on the way to the bank!
You've written the script for the film?
Yes, but the dialogues are by Saurabhji (Shukla), which is a great value addition. The dialogues (Shukla has written) are based on my Tamil version, but I'd like to say -- this isn't humility but my duty to mention -- it's not a copy, it's not a replica. The dialogues are original in certain scenes, where it departs from the Tamil version. It's got the same content, and the difference between the two versions is five seconds: that's how close it is, in spite of the deviation.
| | |
| --- | --- |
| | More on rediff.com! |
| | |
The idea came about after we were disappointed after we went on full-length to make a film, and Madhuriji (Dixit) became pregnant. We didn't know it. We were negotiating for dates when we realised she wasn't going to be acting in films for some time.
Somehow we were fixated with her for the character. So we were in doldrums, and I came up with this strange name called Murdesh, and started on the subject. I worked out the storyline in three days, and then we changed the name to Mumbai Xpress. When I told this title to (director) Rameshji (Sippy), he said it was a good one.
I asked Saurabhji to write the story but he was busy directing his first film (Mudda). So he introduced me to his writer friends. All of them were interested, but for whatever reason -- logistics, time, etc -- none of them could take it up.
Then Saurabhji said it'll be silly of him not to do the film because he knew the film, the characters, everything. So he came aboard, and he's done an excellent job. He's also playing a character, Vinod Mehta.
Then there's Omji (Puri) in the film, who's added so much value. Like it was in Chachi 420, he's lifted the film to a different level.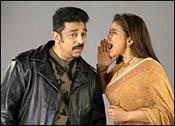 You've done comedy before, but someone like Manisha hasn't done an out-and-out comedy film previously. How was it working with her?
Well, nobody does comedy in this film. It's a comedy script. It's like how some people try to sing, but it turns into something else and the audience has a whale of a time. It's a comedy of errors and none of them are clowns -- it is only a point of view that you choose to look at them as clowns, or as characters. They're real people, they have their dignity, but we have given the audience an omnipresence in the theatre. They (the audience) can watch everything -- the characters are like soldiers who can't see, and the audience are like generals, because they can see everything. Hence, they can laugh more.
Any particular anecdotes while making the movie?
Filmmaking is strenuous stuff. Very rarely do you actually laugh or cry at your stuff. We're always shouting, hurrying for shots, tempers are rising -- it's like a marriage house. It's all about happiness, but the samdhis (in-laws) are fighting (laughs). In all that chaos, it's hard to find a happy moment, but we found many in the film. And most of them were connected to the film itself. It's not that somebody tripped and fell and we started laughing. We were laughing within the frame, and it's a strange humour. Please do not expect the kind of humour you've seen in other films. It's quite subtle.
You are working with director Singeetham Srinivasan Rao again. You've worked with him a lot…
Oh, a lot, a lot. We simply picked up where we left off. The comfort level is great, and in all his previous films, I almost worked as an A D (assistant director) so the working association was very strong. Here, having written the film, it was even more so.
Did the two of you ever think of revisiting your greatest glory, Pushpak?
We almost wanted to remake Pushpak with a different set of actors. With me, but a different cast around me. Change them, change the period, see what happens. Probably some hotel should sponsor it (laughs)!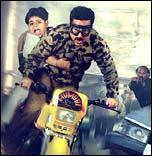 Are you happy with the way Mumbai Xpress has shaped up?
Oh yes, oh yes. What the audience will say is sometimes ambiguous, but in this film there is a minimum guarantee, and I'm quite confident. I want extraordinary reactions, but it can't be below ordinary. Let's see.
How does this compare to recent quality comedy fare, like, say, a Munnabhai MBBS?
It's way different. You'll see. The performances are far superior. I mean, I did the remake down South, Vasool Raja MBBS, and I still feel Munnabhai is a much superior version.
But what I feel is that it's hard to get a performance when everybody does so well. Boman Irani is such a fabulous actor that if he does anything less than excellent, the audience will lynch him. So, leaving him out, if you look at Mumbai Xpress, the performances are unanimously far superior.
Don't miss Part II of this interview next week, where Kamal discusses the highs and lows of his career, and advises Aamir Khan!