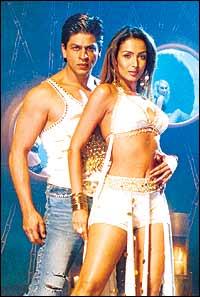 Shah Rukh Khan is back with his Chaiyya chaiyya co-star Malaika Arora Khan, grooving to Salim-Sulaiman's exciting item song, Kaal kaal mein hum tum kare dhamaal, in Karan Johar's production, Kaal.
When I tell Shah Rukh that Johar says he has presented his best friend as a stud in the song, the star laughs shyly. "Why do my friends keep embarrassing me? I feel shy being talked about as a stud. I've taken my shirt off before, even in Swades. But that was in a different context. In Kaal, Karan couldn't get a proper stud, so they made do with whatever they got!
"It was fun shooting Kaal dhamaal, especially since I got together with Malaika after so long. We had done Chaiyya chaiyya in Dil Se... long ago," he adds.
Did he enjoy being steamy? "I'm used to doing the song and dance (routine), so I'm fairly comfortable with that. But I must tell you, I still find some of our dance movements strange. Sometimes, I laugh through the movements. That's the only way to make them believable. But I don't think thrusting your pelvis in the camera is very sensuous. At least, for me it doesn't send off the right signals."
| | |
| --- | --- |
| | More on rediff.com! |
| | |
So is Shah Rukh conservative about dancing? "Yes, a bit. I find subtle things more sensuous than the in-your-face kind of aggressive sexuality. I think
Suraj hua madhyam
in
Kabhi Khushi Kabhie Gham
and
Tujhe jo maine dekha
in
Main Hoon Na
are very sensual. As for being the 'item boy' in
Kaal
, I did it because Karan asked me to. I can't say no to a friend. Actually, I've never done an item song before. Even the one in
Shakti
with Aishwarya Rai had several scenes attached to it. In
Kaal,
it's just one song that will come with the title credits."
Ask SRK about Karan's almost fatherly dependence on him, the actor laughs. "I think they take my age too seriously. Both Farah Khan and Karan think of me as a father figure. It isn't my wisdom. It's just my clear-headedness about the things I do and say. They get bored with my advice but finally, listen to what I've to say because I've (been) proven right many times."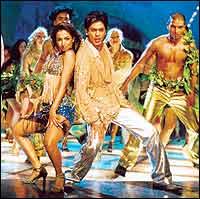 SRK, who is known to be very close to the Johars and the Chopras, says that they are close because "we don't step on each other's toes."
"We want the very best for all of us. We share a great equation. Our personal equations don't clash with the professional. If I'm not in a film by Yash Chopra, I'm still there to help in every way possible. The same is true of them. The other day the screw of my camera-magazine broke. I just called up Adi (Aditya Chopra) and he sent me not one magazine but two, just in case. There's a lot of love and trust among us. If the Chopras are making Dhoom 2, I wish it well, and offer to be in it as well. If I'm stressed, I call up Karan or Adi and they reassure me that all's well."
Shah Rukh brushes off the observation that the Khan-Chopra-Johar group dominates the film industry. "The power comes not from the fact that we've collaborated over a number of successful films but from our genuine comfort level. I'm more concerned about Dhoom 2 doing well than maybe even my own film, Paheli. And I genuinely believed Yash Chopra should have got the awards for Veer-Zaara. Here's a man who's earned my love and respect through his work and as a human being and I wanted him to win over my own production, Main Hoon Na. And when he reciprocates, I feel I'm part of a family. The Chopras, Johars and I are wonderful friends. We'd have been as close even if we weren't making films."