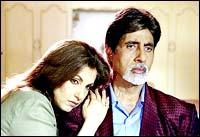 A
bookworm, a tourist, and a newly married couple, two bored housewives, a truant office
babu
, three guys who had just played football in the park (I could tell by their smell…argh!), my colleague Siddhant, my outspoken sister and I. These were 13 out of about 25 people, who decided to find out more about
Hum Kaun Hai
.
A couple of minutes into the film, the newly-weds decided they would rather discover each other in the theatre's darkness, the bookworm tried to read Da Vinci Code in the flickering 24-frames per second light and my hygiene-freak colleague actually lay down on the dusty theatre floor for a snooze.
| | |
| --- | --- |
| | More on rediff.com! |
| | |
The posters of this week's release
Hum Kaun Hai
showed Amitabh Bachchan as the leading man of this horror film, and one wonders why the busiest man in the industry would want to be part of something that promises to be a loser right from Day 1.
Amitabh, in fact, has an extended guest appearance. He is like a poster boy, trying to attract the audiences. Let's face it. Who would want to see a perpetually worried and overprotective mother (Dimple Kapadia) with 15 keys to 15 rooms, trying to shield her two children from the sun?
Apparently, the children are photo-sensitive, and the sun could make them blind. So mummy does everything to protect them, including warning the charming, crooked-toothed Catholic nanny Moushmi Chatterjee, whose crooked smile says that she has a secret.
Now, a film set in a lone haveli can't be tucked in the Swiss mountains and Dimple -- beautiful though she still is -- can't exactly do an item number with her two kids, can she? In such a film, the saving grace has to be power-packed performances, great dialogues, the right background score and perfect lighting. Unfortunately, the film falls flat on every front.
Dimple's lovely hair and sea grey (or are they green?) eyes, cannot compare to Nicole Kidman's pallid, eerie look and even acting style in The Others.
Oh! Did I forget to mention that it is a complete rip-off of that Hollywood film?
Except, of course, the inclusion of Jai (read Frank) and Veeru from our Sholay days. That is the only bit of originality Hum Kaun Hai offers. But maybe it was well worth it because the only time there was applause and catcalls in the theatre was when Frank said, "Nahi, Veeru" and Dharam Paaji replied "Magar Frank." Believe me, all of us heard "Magar Jai" instead!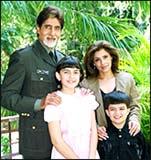 Let me move on to the child artistes. Gone are the days of the innocent Daisy Irani and the charming Baby Guddu. Now, we have children who believe that this is prep stage to be the next Kareena Kapoor, and so end up overacting.
Dimple's elder daughter, who is the first one to see spirits in the house, played by the over-exposed Baby Hansika is nothing short of irritating. She takes up every opportunity to 'act'. Not a shot goes by when the camera does not find her rolling her eyes, making exaggerated facial gestures or hamming dialogues. She improves only in the end, where she -- in extreme fear -- asks her brother to stay away from three others who she believes are ghosts.
Master Aman is cherubic and not bad in the three or four scenes that he appears in.
The background score startles you the first time when Dimple pulls a white cloth off a statue, but later, it jars.
The dialogues are insipid. At times, Dimple looks like she does not know what to do once she has muttered a half-baked line.
Speaking of dialogues, the film has a mini kavita session in a dream sequence when Amitabh holds Dimple and says in his baritone, "Zindagi woh jo tere pehloo mein guzar jaaye, raat woh jo tere khwabon mein guzar jaaye." [Sharing my life with you is what life really is, and nights are those that are spent dreaming of you]
Reminiscent of
Kabhi Kabhi
? Only for a moment. We all agree that chemistry
ho toh
Amitabh-Rekha
jaisi
. All else is
paani kum chai
.
The worst thing to do after a horror or suspense film is to write a review that bares all. I'm not one of those. And just because (director) Ravi Shankar Sharma and (producer) Soni Juneja managed to convince the likes of Amitabh, Dharmendra and Dimple to do THIS film, I will not divulge any more.
What's there to see?
Men: Watch this film to see how Dimple still looks like she has emerged from the sea just yesterday in Saagar, with Rishi Kapoor sneaking a peek.
Catholic women: Watch the film and be outraged at the dress sense of the Marias and the Mrs Pintos, who walk around in long black frocks, shawls and buns so they look stereotypically 'KATLIK.'
Also, to understand that just because you are a Catholic gardener, you should not weed in your wedding suit!
Conclusion: Films that ask a question in their title seem to be fated not to do well. Remember Kyun? Ho Gaya Na...?
Hum Kaun Hai
did not answer any questions for me. Instead, it left me asking, '
theatre mein iss waqt hum kyun hai?
[
Why are we in this theatre?
]'