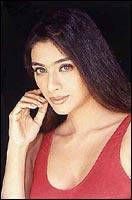 W
hy Tabu? Tabu is excellent, that's why! Frankly, you should ask her why she has agreed to work with a nobody like me. I have not done anything to prove I'm worthy of directing someone so talented. Tabu is kickass!" exclaims Zoya Akhtar, who is all set to direct her first film,
Luck By Chance
.
Zoya, executive producer on her brother Farhan's second film, Lakshya, had approached Madhuri Dixit to star in her film.
"She was approached," Zoya confirms. "But certain things did not work out between us."
And one of those was remuneration. Zoya says,
"I waited a while for her. But the negotiations fell through. That was for the best because now, Madhuri is pregnant again and I wouldn't have been able to make my film with her. Now that I have got Tabu, it's all for the best."
| | |
| --- | --- |
| | More on rediff.com! |
| | |
Zoya says Luck By Chance is an insider's look at Bollywood.
"It's real. It will look at the industry and its people as they are. Everyone is always on the brink, and my film will have that energy. I will be looking at everyone -- from superstars to spotboys -- the whole gamut. Yes, it's very much a Bollywood movie. I will look at the industry like never before. Everyone I have met here is a character in my film, though not in a direct way. A lot of characters are amalgamations of several people I have met. At the end of the day, I have only two hours to put all of Bollywood on screen."
"I had started other scripts," she says, "but Luck By Chance was the only one that worked. In between we got busy with Lakshya. But my interest in Luck By Chance never flagged."
Besides Tabu, some more big names will be finalised for the cast.
"Though Tabu is in the cast, it is not a female-oriented film. I am not going to make films about female protagonists alone. It's too boring! People of both genders fascinate me."
Luck By Chance
will have real life cameos by actors and journalists. "Not recognisable faces. It could be a studio-hand whom no one knows by name. Or a high-profile journalist whose picture appears in the papers every Sunday. In that sense,
Luck By Chance
would be like Robert Altman's
The Player
."
Zoya explains the reason behind the name. "It is a colloquial Mumbai phrase. Once people see the promos, they will know what it is about. If it still doesn't send the right signals, I'll add ' Bird In Danger' or something like that. But seriously, I am NOT changing the title. It's perfect for the film."
"Being part of a family of filmmakers is a double-edged sword," she says. "You can get your foot in the door, but your foot may get caught at the door. If I do a bad job, I'll be hammered! I'm nervous and excited. I've waited so long. Farhan is the producer. He is also writing the dialogues and doing a cameo, playing himself."
Shooting will start in February.