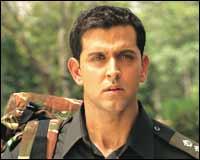 Think of all the Hindi war movies you can remember (not that there are many in the genre to begin with). Now, cast them all aside when you watch Lakshya.
Yes, yes, I know Lakshya isn't exactly a war film. It is a film about the maturing of an aimless upper-middle-class youth against the backdrop of a war that is still fresh in the memory of most Indians. I know all that.
But the point is that if you go to see Lakshya as a war film, you are unlikely to be disappointed. The battle scenes in the movie directed by Farhan Akhtar, all of two films old, are, I daresay, the best you have seen in an Indian film.
Don't miss the Rediff Lakshya Special! | The Lakshya Preview!
Of course, if you are not the sort that enjoys war movies, don't get put off by what you have read thus far. Watch Lakshya as normal drama and, more likely than not, you will still enjoy it.
What most ordinary moviegoers want to see in a film, more than technical wizardry, editing, lighting, special effects, choreography, and what-not that the 'cinematically literate' like to discuss, is a good tale well told. That is just what you get in Farhan's second film.
Three years ago, Farhan had announced himself with Dil Chahta Hai as another member of the new pack of young filmmakers seeking to transform the Hindi film industry. Unlike some of the others who are content to dress up old stories in flashy new clothes or rip off Hollywood themes, Farhan decided to base his story on his own experiences, though it did not fall into any of Bollywood's formulaic categories. DCH became something of a cult hit, with Farhan capturing the feelings, thoughts and desires of a section of the Now generation quite well.
Would you like to review this film? Send us your review!
In his second film, the son of accomplished screenwriter-lyricist Javed Akhtar and screenwriter-director Honey Irani again touches upon aspects of the existence and desires of that section of the young crowd. Written by Javed Akhtar, the story in its essence deals with the 'growing up' of a typically confused son of an affluent businessman who is not just content but happy to drift along. But the placid surface is gradually disturbed as the lad finds himself being left behind.
 Like so many of us he eventually lands up in a career rather than consciously choosing one.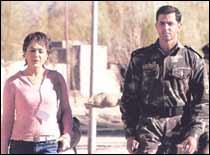 Hrithik Roshan, sporting a hairstyle reminiscent of father Rakesh, does a creditable turn as drifter Karan Shergill who finds his goal in the armed forces. Hrithik first showed with Koi... Mil Gaya that he can play a given character, unlike some other stars who are content to play themselves. But if you were among those uncharitable folk who made rude jokes about that role, Lakshya should help you change your mind. Hrithik's performance as the yuppie youth who is transformed into a soldier on a suicidal mission is clearly one of the highlights of this film.
Preity Zinta plays Karan's love interest, television journalist Romila Dutta, a character supposedly modelled on well-known NDTV journalist Barkha Dutt. Zinta has quite a good role and a good deal of footage in the film, and she does a fairly decent job of it without ever being spectacular.
But the supporting cast comprising the likes of Amitabh Bachchan, Om Puri, Amrish Puri in a special appearance, Sharad Kapoor, Boman Irani as Karan's father, Raj Zutshi, Sushant Singh and Nawab Shah give the film a real fillip with their finely nuanced performances. To be honest, Amitabh Bachchan is miscast as a colonel on the frontlines; he looks far too aged to be a field commander. In fact, he looks well past the age of retirement. But you cannot fault his performance.
Lakshya emphasises how important a proper storyline is to a good movie. Innumerable are the Hindi films that start off with a bang and end in a whimper, giving you the sense that the writer and director, having brought the tale to a particular pass, did not quite know how to conclude it. But not with Lakshya. Sure, the film does drag at times, and seeing its length, a shade over three hours, you get the feeling that maybe another 15 minutes or so ought to have been excised. But Javed and Farhan do not lose control of the story and the buildup to the climax is gradual but relentless.
Though the script is strong, the director has not neglected the other technical areas. Lakshya is a pretty slick, polished product. Of course, it helps that the film was largely shot in the Ladakh region, where the spectacular vistas ensure that you cannot go wrong with your cinematography unless you really want to. And you don't hire an ace cinematographer like the German Christopher Popp if you want to screw up.
The action scenes, as mentioned earlier, are taut and realistic, and have clearly had the benefit of the film's army consultants, just like the part dealing with Karan's training at the Indian Military Academy, Dehradun. The sequence in which Lt Shergill and his band scale a sheer cliff to surprise the Pakistani intruders on a peak in the Kargil region alone is worth the price of a ticket.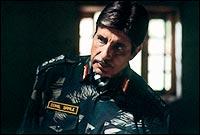 The music by Shankar-Ehsaan-Loy is of a decent standard, which is the least you expect of them. The songs are not exactly superhit material, though Agar main kahoon or Main aisa kyon hoon could prove me wrong. But at least three of the songs, including these two, could have been done without. Though they are woven into the story and not just planted at random, they tend to slow the movie down. Then again, where would Hrithik showcase his dancing skills?
It is towards the climax, however, as the director and the story come into their own, that the trio of music directors also seems to rouse itself. The background score for the sequences leading to the climax is fantastic, reminiscent of composers like Ennio Morricone and Harold Faltermeyer.
The dialogues, by Javed Akhtar, are good, not your usual filmi speeches. The humour in certain situations is conveyed quite well through the dialogues. And even the PJs bring a smile to your lips, though such jokes by their very nature tend to grate when cracked by someone else. If only we could have had a bit of subtlety too. Like when Om Puri's character, a veteran subedar major, points out, simply by the interval between two shots, that the Pakistani intruders must have two field guns rather than one. It should have been enough for Colonel Sunil Damle to say, "He's right," without having to add that this is the benefit of experience. Or when... oh, never mind, these are minor matters.
CREDITS
Director: Farhan Akhtar
Cast: Amitabh Bachchan, Hrithik Roshan, Preity Zinta, Om Puri, Sharad S Kapoor, Raj Zutshi, Sushant Singh, Prashant Chainani, Nawab Shah, Boman Irani, Amrish Puri
Story, screenplay, dialogue, lyrics: Javed Akhtar
Music: Shankar-Ehsaan-Loy