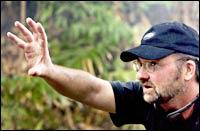 Anacondas: The Hunt For The Blood Orchid, will definitely be liked by the Indian audience," believes Dwight Little, the film's director.
He says he knows the Indian audience well as he filmed Bloodstone (1988) in India, which starred Rajnikanth among others.
Little's new movie is a sequel to the surprise hit Anaconda (1997), which starred Jon Voight, Jennifer Lopez, Owen Wilson and Ice Cube. The film raked in over $130 million at the US box office.
| | |
| --- | --- |
| | More on rediff.com! |
| | |
Anacondas is about a scientific expedition undertaken by a pharmaceutical company, to search for a rare blood orchid in the rainforests of Borneo. The orchid, which blooms for only six weeks every seven years, can be used to unlock the secrets of youth and immortality.
But on their arrival, the young scientists learn the flowers are being used by a swarm of giant anacondas that derive their super strength, size and vitality from the flowers, and who are now trying to kill them.
Little speaks to Imran Shaikh about his latest film.
How is the sequel different from the first movie?
We have a completely new cast. There isn't any character that is carried over from the old. All the characters are different. Also, we have a different story. The story is about a scientific expedition to find the blood orchid in the jungles of Borneo.
The only thing similar is the snake.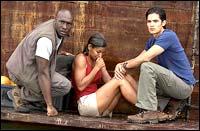 The first movie was a hit. Did that put any added pressure on you?
Yes, I think so.
I mean, you are always trying to do it differently but at the same time, you remember the things that made the first one a success. So yes, it is very complicated and you want to make your own movie and make your own statements but not forget what people liked about the first one.
The buzz about Anacondas seems good. The Daily Variety review was outstanding and the LA Times review was very good. The New York Times carried a mixed review.
You had earlier directed Free Willy 2, a film on a whale. Now,

Anacondas is about snakes. Why this fascination with animals?
Making Free Willy 2 really, really helped me with this movie. The digital, the use of real wildlife, all those really helped me. But honestly, this was not a plan. Its just that I always take the best script that's sent to me and it just happened to be about these things.
Why didn't you take Jennifer Lopez in the sequel?
First of all, she is very busy. And she is very expensive. (laughs)
How did you select the cast?
It was a very important and long process. We had two casting agents in Los Angeles. We saw hundreds and hundreds of actors and then picked the ones that we felt worked together the best.
I'm very proud of my cast. People haven't seen Johnny Messner and Kadee Strickland but they will hear a lot more from them. It's a chance for the audience to discover new faces, which they are going to be seeing a lot of. Messner is going to be a movie star!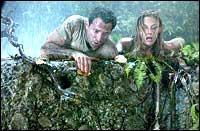 Eugene Byrd has a tremendous sense of humour and Matthew Marsden is a very fine actor. They all really did a wonderful job and I'm proud of their performances.
How do you think it will fare in India? Do you know the taste of the Indian audience?
I made Bloodstone in India. So I do know India a little. I think it is going to be fantastic because the Indian audience will appreciate the humour and the snakes. It's just real entertainment and I think they will like it a lot.
It will not do better than Spider-Man 2. But still, it will do very well.
How did you shoot the snakes?
The movie is made of some real anacondas -- some of which were 14-foot long, and were made to look larger. We also used puppets and digital anacondas.
The digital anacondas were created by a company in Australia. Millions of dollars were put in this.
Any exciting moments during the shooting?
The shooting took 55 days. We had some very exciting moments during the waterfall scene [the actors were in a boat that goes over a waterfall]. The actors fell into the water, which was very, very fast, but we were able to film them. We got some very realistic shots.
What kind of films do you like to watch?
I like adventure thrillers. They are my favourite. I liked Predator and Thomas Crown Affair.
What next?
I'm trying to do a movie called The Lost Tribe, based on a book by Mark Lee. It's another adventure film. It will be based in Africa.