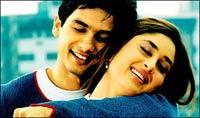 T
he offscreen chemistry between Kareena Kapoor and Shahid Kapur was supposed to take the box office by storm in their first film together,
Fida
, which released on August 20.
But the film, directed by Ken Ghosh and costarring Fardeen Khan, has proved to be a damp squib.

Fida's music had soared up the charts, and the movie was expected to become a hit. But trade figures tell a different story.

In the second week after its release, Fida is dropping in all the centres and is expected to make huge losses for its distributors. It received a lukewarm opening in the US and UK as well.
| | |
| --- | --- |
| | More on rediff.com! |
| | |
Confirming the slump, trade analyst Taran Adarsh claims one of the reasons for the film's failure is the script.
"The film is very gripping till the interval, but after that, it gets confusing. Another problem is that the film does not have a happy ending. So, families have stayed away from it. Fida is meant more for the youth and multiplex kind of audiences," he says.

Fida sees Kareena playing a negative role for the first time in her career. Since the plot  was kept under wraps, her fans were taken by surprise by the revelation.
However, Adarsh points out the film is very stylish and was promoted very well on television, the credit for which, he, says, must be given to director Ken Ghosh and the producer, TIPS.

Ghosh feels differently.
"I don't agree Fida has fared badly," the director told rediff.com
"It is an average hit. Nobody has lost money. Moreover, you can't give a verdict on a film after two weeks [of its release]. You have to wait for at least five weeks."

This is Ghosh's second film, after the surprise hit, Ishq Vishk, starring Shahid, Amrita Arora and Shenaz Treasurywalla.
"When we started with Fida," he says, "we knew it was a risky subject. There are two kind of filmmakers -- the first kind is those who go by the formula kind of films with a safe script; the second kind is those who take risks. We were from the second type, who takes risks."

Ghosh believes a certain section of the Hindi film industry want to sully his name by terming his film a flop.
"Some people don't want me and Shahid to succeed," he says, "therefore, they keep saying our film is not doing well. If you read the film reviews in all the major newspapers and web sites, you will see that they have liked it."
Another trade pundit Vinod Mirani feels the script did not match the cast.
"The stars were miscast in Fida. It was an adult kind of film. Kareena, Fardeen, Shahid did not suit those roles," he says.

"Now, feel-good films like Hum Tum are doing well," says Mirani. "A thriller like Fida will never work. I feel the film was bad overall."
Asked why Kareena and Shahid's real life romance didn't click in reel life, Mirani believes, "These things are in the past. You see them together in magazines and on television. So, the urge to watch them on screen is not high. If you want to see them making a hit, then you have to make a good film. That's it."